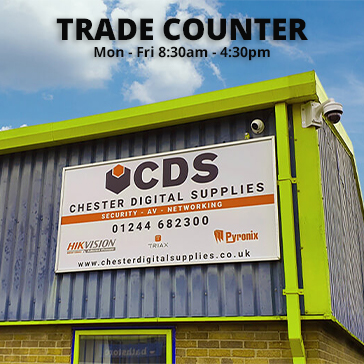 Welcome to Chester Digital Supplies
Authorised UK Wholesaler
Get great deals on professional security, networking, AV, and telecommunications products at our trade counter in Saltney, just on the outskirts of Chester.
The business was established in 2013 and having over 20 years of experience in this sector has enabled us to meet a clear client need in the marketplace to provide an honest and straightforward service.
Need help planning? We can plan your IRS, CCTV, Wi-Fi and other projects - just let us know!
Open a trade account to access hundreds of products at massive discounts, including the Hikvision range.
Click HERE to apply & start saving!
Call us on 01244 682 300 or email us by clicking HERE.