Qx16/2 2 Core Pink Speaker Cable 100m
Qx16/2 2 Core Pink Speaker Cable 100m

Qx16/2 2 Core Pink Speaker Cable 100m
QX16/2 LSZH is a high performance and exceptional quality installation speaker cable with the added bonus of a LSZH fire rated outer sheath. 
They are designed to deliver excellent levels of performance in all multi-room and home cinema installations. 
Features 
• LSZH (Low Smoke Zero Halogen) High Performance outer jacket. 
• Complete cable assembly exceeds IEC 61034-1:2005, IEC 61034-2:2005 IEC 60332-1-2:2004, IEC 60754-2:1991 for fire and gas emissions. 
• Large cross-sectional area of high purity copper conductors ensures good performance levels are maintained - even on longer runs. • Colour-coded conductor sheaths. 
• Sequentially metre marked. • Supplied in 100m (328ft)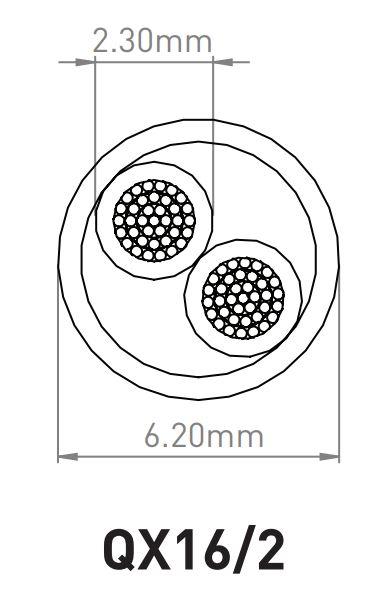 ADDITIONAL INFORMATION

SPECIFICATIONS

Conductor Size

16 AWG

Conductor Construction

30/0.25

Conductor Resistance

13.3 Ω/km

Conductor Cross-sectional Area

1.57 mm2

Insulation Colour

16/2: Red, Black

16/4: Red, Black, White, Green

Jacket Material

LSZH

Outside Diameter

16/2: 

6.20 mm

16/4: 

7.20 mm

Jacket Colour


Pink