Adastra BH5 Series Indoor / Outdoor Speakers - Supplied in Pairs
Adastra
Adastra BH5 Series Indoor / Outdoor Speakers - Supplied in Pairs
Adastra
Adastra BH5 Series Indoor / Outdoor Speakers - Supplied in Pairs
High quality IP44 weather resistant speakers with an extended low frequency driver and dome tweeter housed in an efficiently designed moulded cabinet. 
Each speaker is supplied with a laterally adjustable wall mounting bracket that can also set to various tilt positions for efficient directivity. 
Designed for indoor or outdoor background music and public address applications.
Weather resistant, IP44 rated
2-way, full-range sound production
Spring terminal connection with protective cover
Pan & tilt mounting brackets included
Supplied as a pair
Impedance 8 Ohms
Dispersion angle120° IP ratingIP44
The box for this item contains:
2 x BH series weatherproof background speakers
2 x curved mounting brackets.
2 x mounting plates.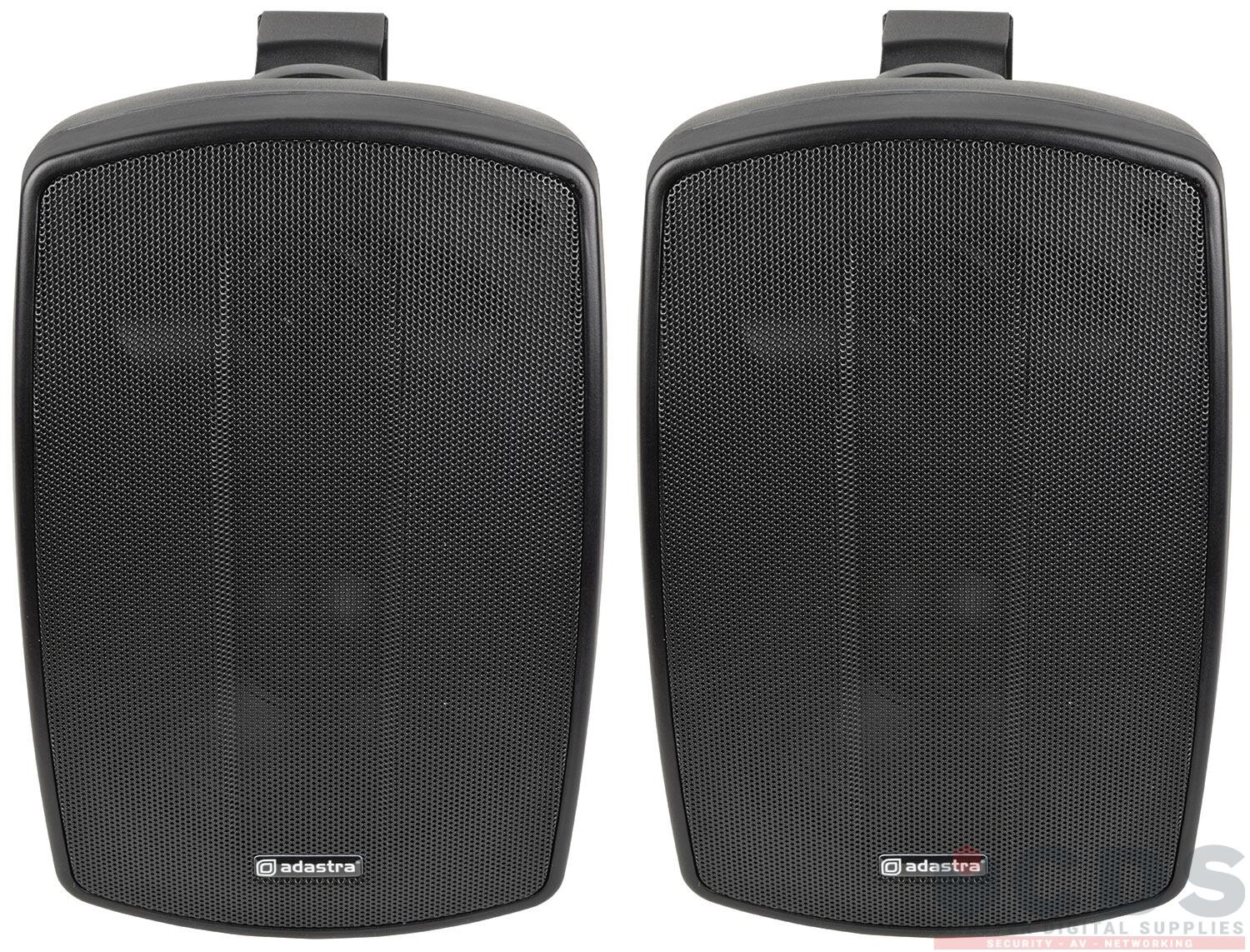 Share the love with your friend
Complete the form below and we'll email your friend about this product
You'll earn 0 reward points with this purchase.
Be one of the first to know!
We're sorry we're out of stock but we can let you know as soon as it's available if you enter your email address below.
Adastra BH5 Series Indoor/Outdoor Background Speakers are a range of speakers designed for both indoor and outdoor installations. These speakers are specifically engineered to provide background audio in various environments such as restaurants, retail stores, gardens, patios, and more. Here are some key features of the Adastra BH5 Series:
Weather Resistance: The BH5 Series speakers are built to withstand outdoor conditions and are weather-resistant. They are designed to resist moisture, humidity, and temperature fluctuations, making them suitable for outdoor installations.
Background Audio: These speakers are optimized for background audio applications, providing a balanced and consistent sound experience over a wide coverage area. They are designed to deliver clear and intelligible audio, making them ideal for background music or public address systems.
Indoor and Outdoor Installation: The BH5 Series speakers are versatile and can be installed both indoors and outdoors, depending on your requirements. They can be mounted on walls, ceilings, or even placed on the ground using optional accessories.
Wide Dispersion: The speakers offer a wide dispersion angle, which means they can distribute sound over a broad area. This helps to ensure even coverage and prevents audio drop-off in larger spaces.
Multiple Sizes and Power Options: The BH5 Series is available in different sizes and power ratings, allowing you to choose the right speaker model based on your specific needs and the size of the installation area.
Durable Construction: These speakers are built with durability in mind, featuring robust enclosures and sturdy components that can withstand the rigors of both indoor and outdoor environments.

Instruction Manual