Adastra Multi Zone 100V Amplifier 100V - 5 x 60w
Adastra
Adastra Multi Zone 100V Amplifier 100V - 5 x 60w
Adastra
Adastra Multi Zone 100V Amplifier 100V - 5 x 60w
1U 5-ZONE MIXER-AMPLIFIER 5 x 60W

Multi-channel 100V slave amplifier with independent outputs for 100V or 4-16 Ohm speakers. 
Each amplifier channel has its own independent line input, which can be switched to a global auxiliary, providing the option of the same input to several of the amplifier channels if required. 
A paging microphone input is provided for voice alerts and a 24V mute terminal can be connected to an alarm panel for emergency evacuation override. 
Class D circuit design and efficient toroidal transformers have enabled a design which fits into a 1U rack-mount housing. 
The RMS-series amplifiers can be applied as high power slave units or equally as a fully independent zoning system for a multi-room installation.
Independent high efficiency class-D amplifiers

Outputs for 100V or 4-16 Ohm speakers

Separate channel inputs and optional global aux input

Paging microphone input with vox override

Switchable +20V phantom power for paging microphone

24V contacts for emergency muting

Power supply170-264Vac, 50/60Hz (IEC)

Microphone input : Balanced XLR (rear panel)

Mic controls : Gain, Bass, Treble & Vox (rear panel)

Auxiliary input : L+R RCA

Output controls : Level, Bass, Treble & Ch/Aux switch

Phantom power : +20V switchable (paging mic)

Emergency control : 24V mute contacts (Euroblock terminal)

Share the love with your friend
Complete the form below and we'll email your friend about this product
You'll earn 0 reward points with this purchase.
Be one of the first to know!
We're sorry we're out of stock but we can let you know as soon as it's available if you enter your email address below.
Adastra 1U 5-zone mixer-amplifier is a compact and versatile audio system designed for commercial installations such as offices, shops, restaurants, and other similar venues. The device features 5 separate amplifier channels, each capable of delivering up to 60 watts of power to drive loudspeakers in different zones or areas.
The mixer section of the device allows for the connection of up to 8 different audio sources, including microphones, CD players, and other line-level devices. Each input can be adjusted independently, allowing you to mix and balance the sound from each source.
The amplifier section includes individual volume controls for each of the 5 zones, as well as bass and treble controls for tone adjustment. A priority system ensures that important announcements or emergency messages can be heard above other sources, and an integrated limiter protects the system from damage due to overloading
The device is housed in a 1U rack-mountable chassis, making it easy to install in a standard equipment rack. It also includes a range of additional features such as a built-in chime and tone generator, zone-specific muting, and an external amplifier output for connecting additional speakers or amplifiers.
Adastra 1U 5-zone mixer-amplifier is a powerful and flexible audio system that is ideal for a wide range of commercial applications.
Zoning Systems
Sound systems are often installed in public spaces to deliver spoken word, music and other audible information to listeners in many different environments.
The most simple sound system might be a microphone connected to an amplifier and speaker unit to deliver speech at a volume loud enough for a group of people to hear. More sophisticated systems may need to be able to deliver high quality stereo background music and voice announcements with different sound sources delivered to different areas or groups of listeners.
Zoning systems are flexible sound systems that provide control for the sound that is delivered to different areas, called "zones". A zone can be a room or a group of rooms. Equally, a zone could be part of a room or even an outside space. Essentially, wherever separate control over the amplified sound is needed would be considered as a separate zone.
In the example diagram below, a building has been separated into 5 zones.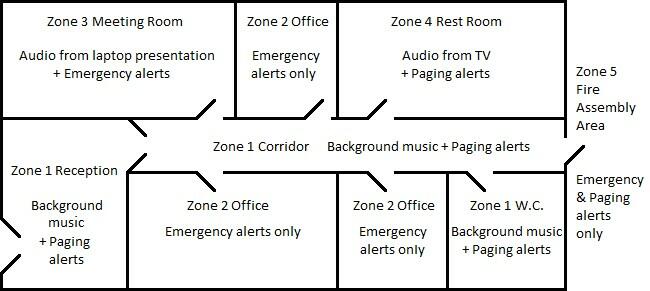 This is a flexible 5 zone system, allowing different sound sources to different zones.
Public areas, such as reception, corridor and W.C. are served by Zone 1 output to receive the same background music along with voice paging alerts.
All offices are served by Zone 2 because they never require background music and only ever need the emergency alerts that are broadcast to all zones

Instructions