Antiference ASM01 Signal Meter
Antiference
Antiference ASM01 Signal Meter
 Digital Terrestrial & Satellite Meter
Complete your tool kit with this simple to use and cost-effective signal strength meter.
It has the capability of analysing both the satellite and terrestrial bands, the Antiference ASM01 Digital Terrestrial & Satellite Meter is perfect for a professional Aerial & Satellite or AV engineer.
Features include a spectrum analyser, full signal reading such as MER, BER & C/N plus the unit is compact, lightweight and the onboard user interface is large, bright and easy to navigate.
Portable DVB-T/T2 + DVB-S/S2 signal analyser
Full-colour LCD screen
Spectrum analyser function on both bands
Tone generator
DiSEqC control
Demodulator
Speaker & LED flashlight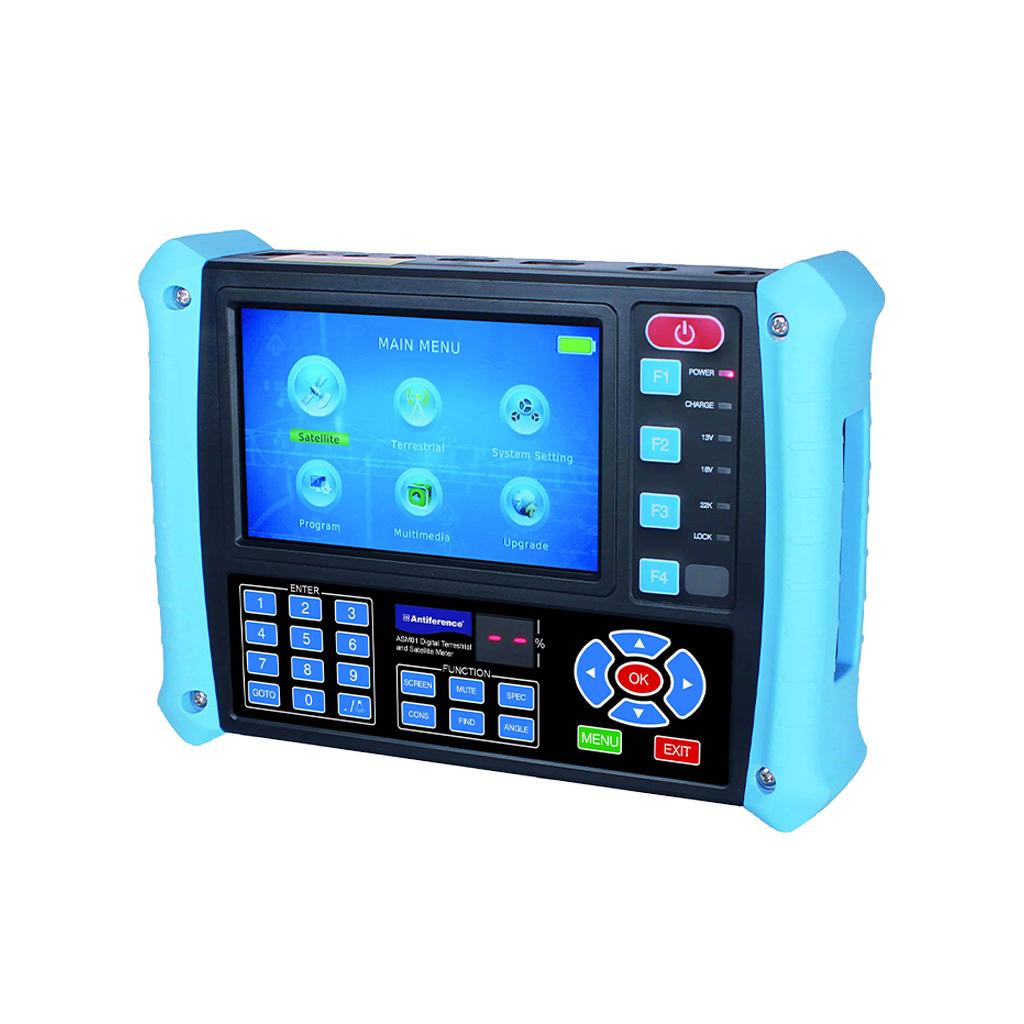 Share the love with your friend
Complete the form below and we'll email your friend about this product
You'll earn 0 reward points with this purchase.
Be one of the first to know!
We're sorry we're out of stock but we can let you know as soon as it's available if you enter your email address below.
The Antiference ASM01 Signal Meter is a device that is used to measure the strength and quality of a TV signal. It is typically used by technicians and installers to ensure that TV signals are properly aligned and optimized for maximum performance.
The signal meter measures the signal strength in decibels (dB) and can be used to identify areas of weak signal strength or interference. This information can then be used to adjust the antenna or other components of the signal distribution system to improve signal quality and reception.
The Antiference ASM01 Signal Meter is compact and easy to use, with a clear LCD display that shows signal strength, quality, and frequency information. It is compatible with a wide range of TV signal standards, including DVB-T, DVB-S, and DVB-C.
When using the Antiference ASM01 Signal Meter, it's important to follow proper safety procedures and to ensure that the meter is properly calibrated for the specific signal standard that you are measuring. Additionally, it's important to ensure that the signal distribution system is properly grounded to prevent electrical hazards.
1 LCD: TFT LCD display screen 2 On/Off (Press for 3-4 seconds) 3 Power Indicator 4 Battery Indicator (Red:charging, Green:charged) 5 13V Indicator 6 18V Indicator 7. 22KHz Indicator 8 Signal Locked Indicator 9 Remote Control Input 10 F1~F4: shortcut keys 11 Navigation keys: moves cursor up, down, left right 12     OK: Confirm key 13 EXIT: exit menu (main menu or sub menu) 14 MENU: Show main menu 15 LED: Shows current signal quality 16 SPEC: spectrum analyser 17 ANGLE: Angle calculation 18 MUTE: turn sound on/off 19 FIND: Satellite search key 20 SCREEN: Display on/off (Long press close backlight) 21 CONS: constellation analyser 22 [ • ]: use for input data, press 3-4 seconds for torch.