Antiference ATR1013 - Reversible Ratchet Offset Wrench 10mm & 13mm
Antiference
Antiference ATR1013 - Reversible Ratchet Offset Wrench 10mm & 13mm
Antiference
Antiference ATR1013 - Reversible Ratchet Offset Wrench 10mm & 13mm
Antiference ATR1013 Reversible Ratchet Offset Wrench is a versatile tool designed for tightening or loosening nuts and bolts. Specifically, it features a reversible ratchet mechanism and is equipped with two different sizes: 10mm and 13mm. 
This makes it suitable for working with nuts or bolts of those specific dimensions.
The offset design of the wrench provides added flexibility and ease of use in tight or hard-to-reach spaces. It allows you to apply torque with less effort and maneuverer the wrench around obstacles more effectively.
Whether you're a professional tradesperson or a DIY enthusiast, the Antiference ATR1013 Reversible Ratchet Offset Wrench offers convenience, efficiency, and durability for a wide range of applications.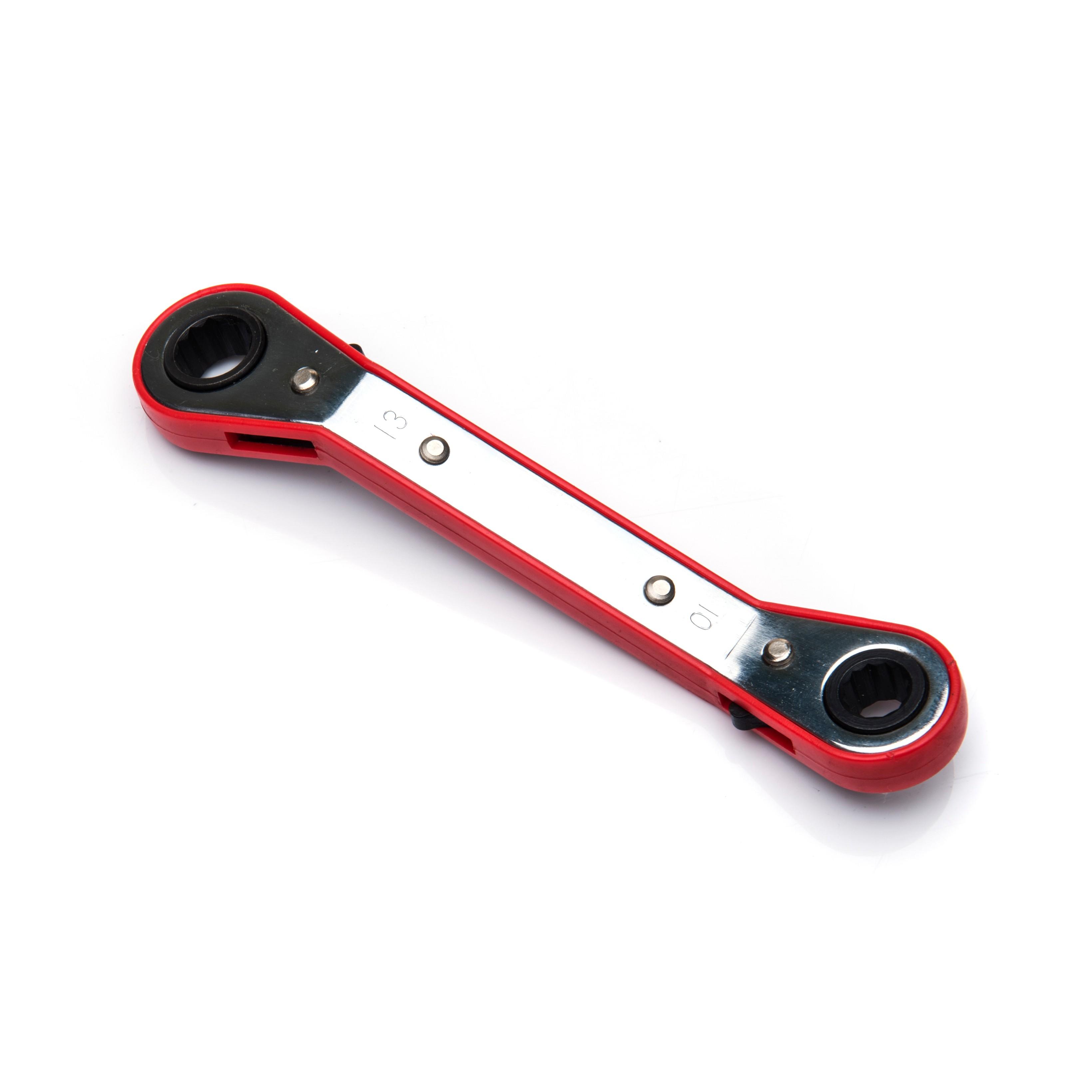 Share the love with your friend
Complete the form below and we'll email your friend about this product
You'll earn 0 reward points with this purchase.
Be one of the first to know!
We're sorry we're out of stock but we can let you know as soon as it's available if you enter your email address below.
Antiference ATR1013 is a reversible ratchet offset wrench designed to handle fastening and loosening tasks that involve nuts and bolts with 10mm and 13mm sizes. This tool provides versatility and convenience for various applications. Here's more about the Antiference ATR1013 Reversible Ratchet Offset Wrench:
1. Reversible Ratchet Mechanism:
The reversible ratchet mechanism of the wrench allows you to turn fasteners in both directions without having to lift and reposition the tool. This makes tasks quicker and more efficient, as you can continue applying torque to the fastener without needing to reverse the tool's position.
2. Offset Design:
The offset design of the wrench means that the heads for the 10mm and 13mm sizes are positioned at an angle to the handle. This offset allows for easier access to fasteners in tight or confined spaces where a straight wrench might not fit comfortably.
3. Dual Head Sizes:
The Antiference ATR1013 features dual head sizes – 10mm and 13mm. This dual-size feature makes the wrench versatile, as it can be used for fasteners of different sizes without needing to switch to another tool.
4. Versatility:
The reversible ratchet offset wrench is suitable for a range of tasks involving nuts and bolts, including assembly, disassembly, maintenance, and repair work. Its versatility makes it a handy tool to have in various settings, such as automotive work, home improvement projects, and more.
5. Efficient Torque Application:
The ratchet mechanism allows for continuous torque application without the need to reposition the wrench, which can be particularly useful for tasks that require repetitive turning.
6. Ease of Use:
The offset design and reversible ratchet mechanism make the wrench ergonomic and user-friendly, reducing strain on the user's hands and wrists during use.
7. Durable Construction:
The wrench is typically made from durable materials that can withstand the forces involved in tightening and loosening fasteners. This ensures the longevity and reliability of the tool.
8. Compact and Portable:
The compact size of the wrench makes it easy to carry in a toolbox or tool belt, allowing you to have it readily available for various tasks.