Pulse-Eight Digital Audio over Cat 5e / 6 Extender
Pulse-Eight Digital Audio over Cat 5e / 6 Extender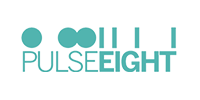 Pulse-Eight Digital Audio over Cat 5e / 6 Extender
Digital audio over extreme distances can be tricky in isolation, our audio extender uses a standard Cat 5e or better cable to seamlessly transmit S/PDIF (Toslink) audio over 200m. 
The Pulse-Eight Digital Audio over Cat 5e/6 Extender is the perfect solution to extending audio signals up to distances of 200m over a single CAT 5e or CAT 6 cable. 
During installation you can select between optical or coax digital audio input, and obtain both optical and coax streams on the output side, thus eliminating the need for an optical/coax converter. 
Sufficiently low power that a USB cable is able to supply the requirements of either the transmitter or receiver reducing the need for power supplies behind the TV.
Compact design
Supports coaxial or S/PDIF digital audio signals
Supports Stereo and Multichannel digital audio
Supports 2ch PCM audio inputs
5.1 Compressed audio supported
Extension length up to 200m
ADDITIONAL INFORMATION

WHAT'S IN THE BOX

Audio Extender
Audio Receiver
Power Cable
USB to DC Adapter
Installation Guide













INPUT TYPE(S)

Transmitter: Digital Coax or Optical
Receiver: CAT5e or CAT6




OUTPUT TYPE(S)

Transmitter: CAT5e/CAT6
Receiver: Digital Coax or Optical

Connectivity

AUDIO INPUT ZONES

1




DIGITAL COAX AUDIO INPUTS

1




DIGITAL COAX AUDIO OUTPUTS

1

Special Features

LIP SYNC DELAY

No

Dimensions and Weight

DEPTH

6.2 cm / 2.4 inches each




HEIGHT

2.2 cm / 0.9 inches each




WIDTH

6.3 cm / 2.4 inches each




WEIGHT

0.10 kg / 0.1 lb each

Sound (processing)

SUPPORTED AUDIO FORMATS

Input: 5.1 Dolby Digital / 2ch Stereo PCM

Regulatory

POWER CONSUMPTION

Max 5W




OPERATING TEMPERATURE

0 to +35°C (32 to +95°F)




STORAGE TEMPERATURE

-4°F to 140°F (-20°C to 60°C)




SAFETY & EMISSION

CE, FCC, RoHS