E-Mod CAT 6 UTP Network Cable Grey - 305M
Chester Digital Supplies Ltd
E-Mod CAT 6 UTP Network Cable Grey - 305M
Indoor Cat6 cable Grey, 305m
CAT 6 UTP cables are perfect for all your high-speed networking applications. 
You can connect all your WAN/LAN segments to all your networking gear and run full throttle without any bottlenecked lines. 
Great for all high bandwidth applications like VOIP and Gigabit networks. Cat6 cables and connectors are made to Solid that reduce crosstalk and system noise. Unshielded Twisted Pair (UTP) Solid core conduits provide better performance over longer cable runs. Chester Digital Supplies brings you UTP, solid strand Cat6 cables that are of unmatched quality at unrivalled prices. These cables are your best value for building your network. 
Competitors may be cheaper, don't fall for the imitation (CCA) cable. This is made from SOLID copper. This Cat6 550 MHz UTP PVC cable is manufactured and tested to meet the highest standards. Provides higher performance and headroom featuring more stringent specifications ideal for Gigabit Ethernet, broadband, audio/video, and security network installations.
550 MHz UTP PVC cable is performance optimized with 4 balanced twisted pairs of 23 AWG insulated solid bare copper conductors. Each pair is separated by a centre spline to reduce interference. This Cat6 550 MHz UTP cable is constructed to create a round and flexible cable for easy pulling and stripping of the PVC jacket. Suitable for 10baseT, 100BaseT, 1000baseT Gigabit Ethernet Token Ring, ATM 155Mbs & 622Mpbs 4 Pairs insulated cables, 
Marked 0-305m Tested and verified according to ISO11801, EIA/TIA standards NB:- outer packaging may vary from one shown.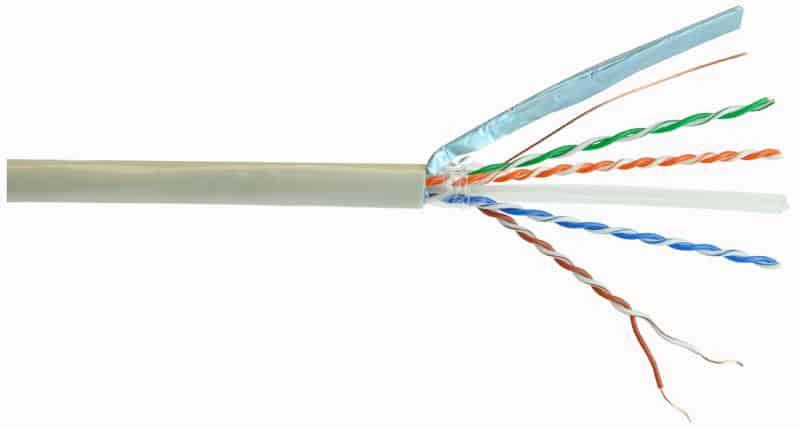 Share the love with your friend
Complete the form below and we'll email your friend about this product
You'll earn 0 reward points with this purchase.
Be one of the first to know!
We're sorry we're out of stock but we can let you know as soon as it's available if you enter your email address below.
Cat6 network cable Grey refers to a specific type of Ethernet cable that is designed for high-speed data transmission and has a grey outer jacket. The CAT6 specification ensures that the cable is suitable for Gigabit Ethernet networks and other high-speed data transmission applications.
The grey outer jacket is a common colour for Cat6 cables and can be useful for organizing and identifying different cables in a network setup. Grey cables are often used in commercial or industrial settings where aesthetics are not a major concern. They are also popular for residential installations, as they can blend in with most interior decor.
When choosing a Cat6 network cable, it is important to look for reputable manufacturers and verify that the cable meets the required specifications for your network setup. This includes the cable's length, AWG size, and performance characteristics such as crosstalk, attenuation, and impedance. Overall, Cat6 network cable Grey is a reliable and high-performance choice for Ethernet networking applications that require fast and efficient data transmission.