CK Tools RedLine VDE Plier Set of 3
CK Tools
CK Tools RedLine VDE Plier Set of 3
CK Tools
CK Tools RedLine VDE Plier Set of 3
VDE Pliers Set - 3 Piece
CONTENTS:
Combicutter1 160mm.
Combination Pliers 185mm.
Snipe Nose Pliers 200mm.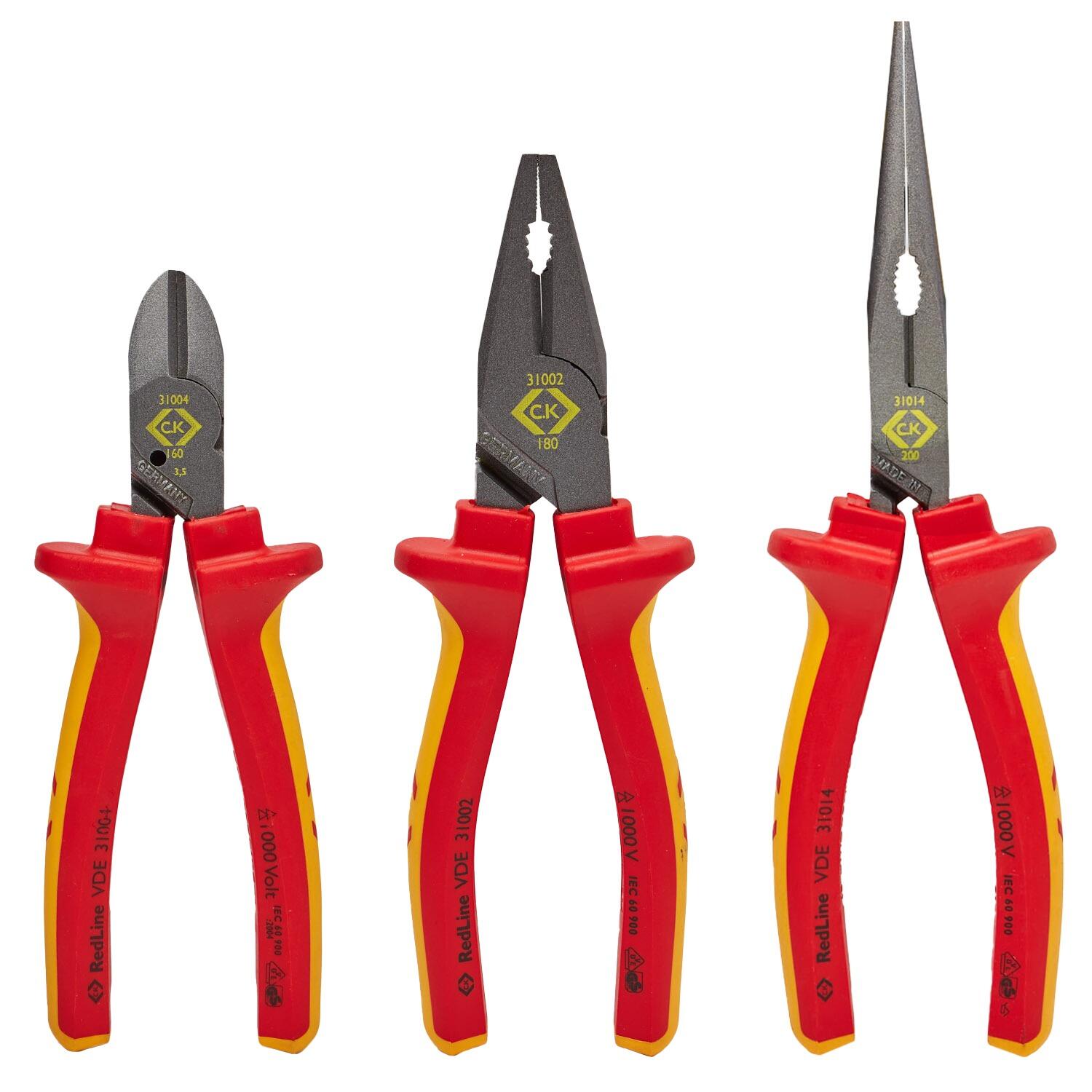 Share the love with your friend
Complete the form below and we'll email your friend about this product
You'll earn 0 reward points with this purchase.
Be one of the first to know!
We're sorry we're out of stock but we can let you know as soon as it's available if you enter your email address below.
CK Tools VDE Pliers Set you mentioned consists of three different types of pliers, each with specific uses and features. VDE stands for "Verband der Elektrotechnik, Elektronik und Informationstechnik" in German, which translates to the "Association for Electrical, Electronic, and Information Technologies." VDE-certified tools are designed for electrical work and offer protection against electric shock. Here's a brief description of each plier in the set:
Combicutter1 (160mm): This is a combination pliers with cutting capabilities. Combination pliers typically have a flat gripping surface for holding and turning objects, as well as a cutting edge near the pivot point. They are versatile tools used for a wide range of tasks, including gripping, bending, twisting, and cutting wires and other materials.
Combination Pliers (185mm): Combination pliers, as mentioned earlier, are versatile tools used for various tasks. They are often used in electrical work for gripping and manipulating wires and components. The 185mm size likely refers to the overall length of the pliers.
Snipe Nose Pliers (200mm): Snipe nose pliers, also known as long-nose pliers or needle-nose pliers, have long, slender jaws with pointed tips. They are designed for precise gripping, bending, and manipulating in tight spaces. Electricians often use snipe nose pliers for tasks like bending and shaping wires and reaching into confined areas.
The VDE certification on these pliers indicates that they are designed to meet safety standards for electrical work and reduce the risk of electric shock when working on live electrical circuits. It's important to use VDE-certified tools when working with electricity to ensure safety.
1 x 31004 Combicutter
Pattress screw shear for damage free cutting of 3.5mm pattress screws
Two component, ergonomic design, with anti-slip horns for increased comfort, control & safety
Induction hardened jaws for outstanding long term performance
Cutting jaws with C.K optimised geometry for unsurpassed cutting performance
Special alloy steel, drop forged, hardened & tempered for exceptional strength & durability.
VDE approved.
individually tested to 10,000V for safe live working up to 1,000V
Conforms to VDE0682/201
EN60900
ISO5749
Cutting capacities: Hard: 2,0 mm / Medium hard: 2,8 mm / Soft: >4,0 mm
Total length: 160 mm
1 x 31002 VDE Combination Pliers
Precision engineered jaws for exceptional grip.
Extra long cutting edges for increased cutting capacity.
Two component, ergonomic design, with anti-slip horns for increased comfort, control & safety
Induction hardened jaws for outstanding long term performance
Cutting jaws with C.K optimised geometry for unsurpassed cutting performance
Special alloy steel, drop forged, hardened & tempered for exceptional strength & durability
VDE approved
individually tested to 10,000V for safe live working up to 1,000V
Conforms to VDE0682/201
EN60900
ISO5746
1 x 31014 VDE Snipe Nose Pliers - Straight
Serrated inside jaws for secure gripping.
Two component, ergonomic design, with anti-slip horns for increased comfort, control & safety
Induction hardened jaws for outstanding long term performance
Cutting jaws with C.K optimised geometry for unsurpassed cutting performance
Special alloy steel, drop forged, hardened & tempered for exceptional strength & durability
VDE approved
individually tested to 10,000V for safe live working up to 1,000V
Conforms to IEC 60900:2004 ; VDE0682/201 ; ISO 5745