Reyee Gigabit Smart Cloud Mananged PoE Switch
Ruijie | Reyee
Reyee Gigabit Smart Cloud Mananged PoE Switch
Ruijie Reyee ES200 Series
Cloud managed switches provide simple and easy-to-use management features while offering plug and play with default factory configuration, which can quickly locate the surveillance network faults, initiate PoE port restart, perform VLAN configuration, etc. Mobile app and Ruijie Cloud remote management is also supported, making the operation and maintenance of the surveillance network easier and more convenient, while reducing operation and maintenance costs.
Highlights
Cost-Effective Smart Cloud Managed Switches
IP Camera Recognition, Unique Value for CCTV Network
Automatic Loop Prevention Ensures Service Continuity
Lifetime management on Ruijie Cloud at anytime anywhere
Cloud,
Make Your Business Easy
SON, zero touch provisioning to Cloud
Configure VLANs on Ruijie Cloud APP
Monitor switch statistics at anytime anywhere
Easy maintenance, save onsite time and cost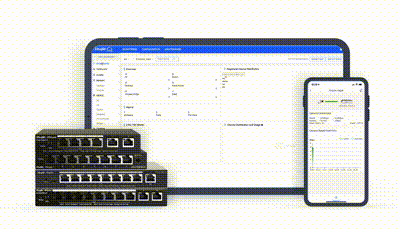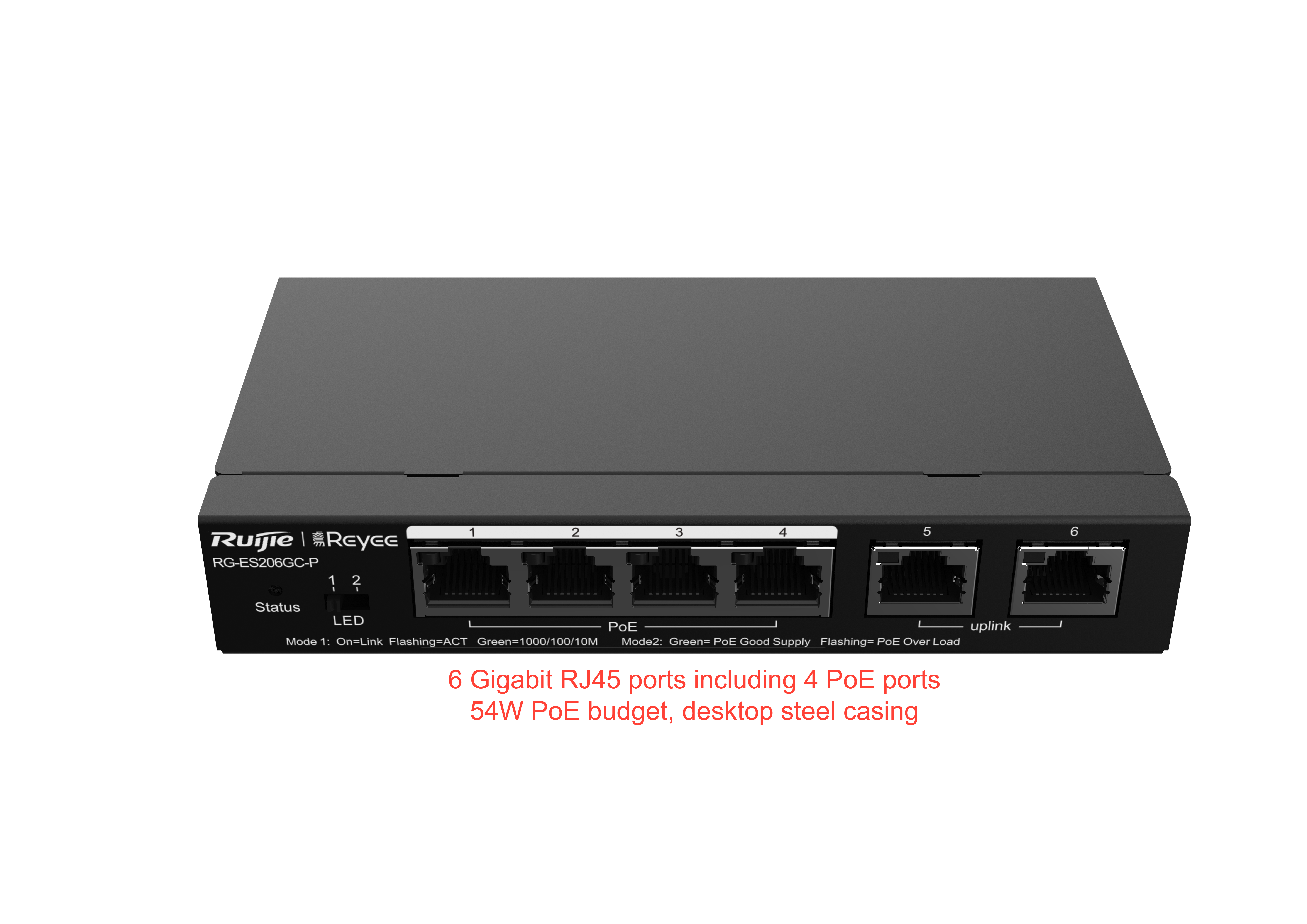 Share the love with your friend
Complete the form below and we'll email your friend about this product
You'll earn 0 reward points with this purchase.
Be one of the first to know!
We're sorry we're out of stock but we can let you know as soon as it's available if you enter your email address below.
Ruijie \ Reyee Gigabit Smart Cloud Managed PoE Switch is a type of network switch that combines several key features and capabilities:
Gigabit Ethernet Ports: These switches typically offer multiple Gigabit Ethernet ports, which support data transfer rates of up to 1 gigabit per second (Gbps). Gigabit Ethernet is significantly faster than traditional Fast Ethernet (100 Mbps) and is suitable for high-speed data transfer.
Power over Ethernet (PoE): PoE technology allows the switch to provide power to connected devices, such as IP cameras, VoIP phones, and access points, through the same Ethernet cable used for data transmission. This eliminates the need for separate power cables, simplifying installation and reducing clutter.
Smart Features: "Smart" switches are designed with advanced management features that go beyond basic, unmanaged switches. They offer features like VLAN support, Quality of Service (QoS) settings, and basic traffic management capabilities. These features help optimize network performance and prioritize traffic based on specific criteria.
Cloud Management: The "Cloud Managed" aspect refers to the management and monitoring capabilities of the switch being accessible through a cloud-based interface. This allows network administrators to remotely configure, monitor, and troubleshoot the switch from anywhere with internet access. It often includes features like remote firmware updates and real-time analytics.
Managed Functionality: While "smart" switches offer some management capabilities, a "managed" switch typically provides more advanced control over network settings, such as port mirroring, link aggregation, and SNMP support. However, the exact capabilities can vary depending on the specific switch model.
Gigabit Smart Cloud Managed PoE Switches are commonly used in businesses, organisations, and enterprises where there is a need for high-speed data transfer, power delivery to networked devices, and advanced network management features. They are particularly useful in scenarios where remote management and monitoring are essential, as the cloud-based interface allows for centralised control of multiple switches across different locations.
Plug and Play with Zero Configuration Under factory default state, the smart surveillance switches require zero configuration after plugged in. The video surveillance network can be set up quickly after connecting the devices correctly. 
Auto PoE Power Adjustment for Safety and Energy Saving The PoE ports support 802.3af and 802.3at, providing sufficient power to the connected device. The switches will negotiate with the connected devices to automatically adjust the PoE power, thereby saving energy. When the PoE port is connected to non-PoE device, the switch will not output power to such device to ensure equipment safety.
Fast Fault Positioning The smart surveillance switches support monitoring the network status in real time. When failure occurs, the location and cause of failure can be displayed in a timely manner, and the notification can be sent via the mobile app.
Mobile APP / Ruijie Cloud Platform Remote Management The switches are not only supporting web interface management, but also supports mobile app and Ruijie Cloud platform remote management. Users can view the network status, modify the configuration, and troubleshoot at home.
High compatibility for network cable The smart surveillance switches not only support standard cat5/5e/6 network cables, but also support data transmission via network cables of non-standard materials (such as 0.38/0.40/0.45-diameter copper-clad steel/iron), facilitating the construction and cabling.

RG-ES200 Series Datasheet