Antiference ASM02 Signal Meter
Antiference
Antiference ASM02 Signal Meter
 Digital Terrestrial & Satellite meter with dSCR & data logging 
The ASM02 is a simple-to-use advanced meter for analysing digital satellite or terrestrial signals. 
It is fitted with an 8.9″ touchscreen and features various modes for analysis such as DVB-S/S2, DVB-T/T2, DVB-C/C2 and DAB/DAB+.
Features include dSCR & wideband modes, a data log function, spectrum, constellation and LNB type modes.
It is also fitted with an HDMI output, LED flashlight and LED mode indicators on the front panel. 
The meter is supplied with a protective 'bump' case, soft carry case & 4 point neck strap.
Allow 2/3 days delivery on this item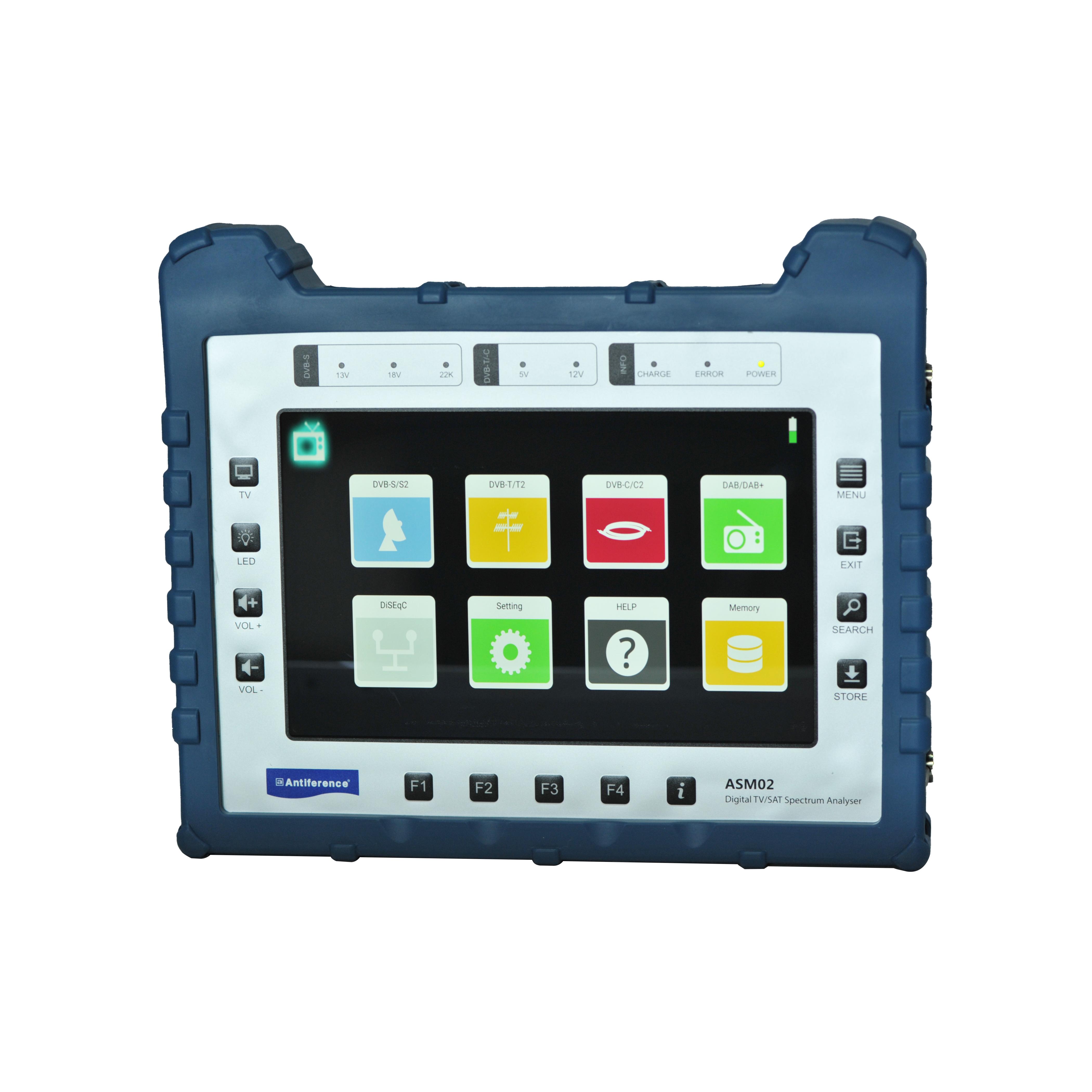 Share the love with your friend
Complete the form below and we'll email your friend about this product
You'll earn 0 reward points with this purchase.
Be one of the first to know!
We're sorry we're out of stock but we can let you know as soon as it's available if you enter your email address below.
Antiference ASM02 Signal Meter is a specialized tool used in satellite and terrestrial signal installations for measuring, analyzing, and optimizing signal quality. It is designed to handle both digital terrestrial (DTT) and satellite signals, including those using dSCR (Digital Satellite Channel Routing) technology. Here's more about the Antiference ASM02 Signal Meter:
1. Signal Measurement:
The ASM02 Signal Meter is used to measure the strength, quality, and other parameters of both digital terrestrial (DTT) and satellite signals. This is crucial for ensuring optimal signal reception and performance.
2. Dual Functionality:
The signal meter is capable of handling both digital terrestrial (DTT) signals and satellite signals. This dual functionality makes it a versatile tool for technicians working with various signal sources.
3. dSCR Support:
The inclusion of dSCR support is significant. dSCR technology allows multiple satellite receivers to share a single coaxial cable by assigning different frequency ranges to different receivers. The ASM02 can help technicians configure and troubleshoot dSCR setups.
4. Signal Optimization:
The signal meter aids technicians in aligning satellite dishes and antennas to receive the best possible signal quality. It assists in achieving strong signal strength and optimal signal-to-noise ratio.
5. Data Logging:
The data logging feature allows the meter to record signal measurement results over time. This can be helpful for diagnosing intermittent signal issues or tracking signal performance changes.
6. Professional Installation:
The ASM02 is a professional-grade tool designed for use by technicians, installers, and engineers who work with satellite and terrestrial signal installations on a regular basis.
7. LCD Display:
The device typically features a clear LCD display that provides real-time information about signal strength, quality, and other relevant data.
8. Portability:
The portable design of the signal meter makes it easy to carry to different installation sites. This is important for on-site installations and troubleshooting.
9. User-Friendly Interface:
While it's a professional tool, signal meters often come with intuitive user interfaces and menus that assist technicians in navigating and using the features effectively.
10. Efficiency and Accuracy:
Using a signal meter like the ASM02 ensures that signal installations are performed accurately and efficiently, reducing the need for rework and improving overall customer satisfaction.
In summary, the Antiference ASM02 Signal Meter is a specialized tool designed for technicians and installers working with both digital terrestrial and satellite signal installations. Its support for dSCR technology, data logging, and signal optimization features make it an essential tool for professionals in the satellite and terrestrial signal industry.
Product Description
DVB-S/S2, DVB-T/T2, DVB-C/C2 modes supported
DAB/DAB+ mode
8.9″ touchscreen
dSCR & wideband modes
Signal lock audio
Data log function
HDMI output
LED flashlight

User Guide