Chester Digital Supplies Ltd
60W PoE Midspan Injector
For Hikvision PTZ Cameras
This 60w POE is designed to extract power from a conventional twisted-pair Category 5 Ethernet cable, 
Conforming to the IEEE 802.3at Power-over-Ethernet (PoE) standard. 
The converter signature and control circuit provides the PoE compatibility signature and power classification required by the Power Sourcing Equipment (PSE) before applying up to 60W power to the port.
RoHS compliant
Compatible With All IEEE pre 802.3af, 802.3atand Legacy Powered Devices
Input voltage:90Vac~264Vac
Support 300Vac input for long time work
Output over current protection
Short circuit protection
MTBF ≥1,000,000 hrs
Surge protection
CE mark
WEEE compliant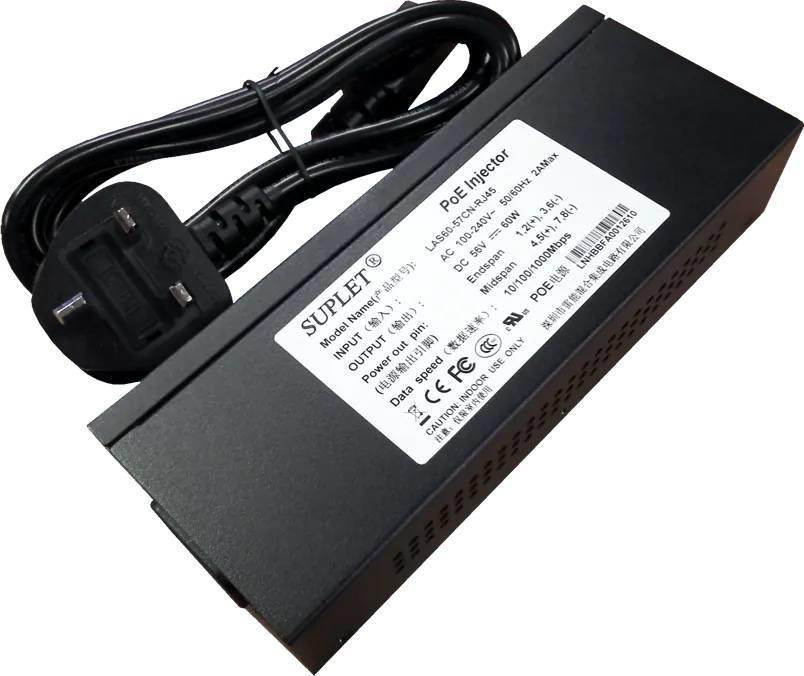 Share the love with your friend
Complete the form below and we'll email your friend about this product
You'll earn 0 reward points with this purchase.
Be one of the first to know!
We're sorry we're out of stock but we can let you know as soon as it's available if you enter your email address below.
60W PoE midspan injector is a device used to provide Power over Ethernet (PoE) to network devices that require power but don't have a built-in PoE capability. Here's some information about a typical 60W PoE midspan injector:
Power Output: A 60W PoE midspan injector is capable of delivering up to 60 Watts of power over Ethernet cables to connected devices. This power output is often sufficient for a wide range of PoE-powered devices, such as IP cameras, wireless access points, VoIP phones, and small network switches.
PoE Standard: The midspan injector is typically designed to comply with the IEEE 802.3af/at PoE standards. These standards define the specifications for delivering power and data over Ethernet cables. The 802.3at standard, also known as PoE+, supports higher power levels than the 802.3af standard.
Gigabit Ethernet: A 60W PoE midspan injector usually supports Gigabit Ethernet (10/100/1000 Mbps) for data transmission. This allows for high-speed network connectivity in addition to providing power over the same Ethernet cable.
Safety Features: A reliable PoE midspan injector will incorporate safety features like short-circuit protection, overload protection, and surge protection to ensure the safe and stable operation of connected devices.
Compatibility: The injector is designed to be compatible with various network devices that support PoE, such as IP cameras, wireless access points, and VoIP phones. It should be compatible with both 802.3af and 802.3at PoE standards, allowing it to power devices from both categories.
Installation: The midspan injector is typically installed between the network switch and the PoE-powered devices. It requires an AC power source to provide the necessary power to the connected devices.
Input Current: 2A
Output Voltage Range: 54V~57V
Output Power: 60W
Pass-Through Data Rates: 10/100/1000 Mbps
Ports: Two 10/100/1000M adaptive RJ45 ports, one is DATA/IN, another is PoE/DATA
LED Indicator: Power & PoE Status(The module operates normally when MID and END are on)
Base Function: Compliance to IEEE 802.3 at/af Standard for PD
Network Medium:
- 10BASE-T: unshielded twisted pair category 3, 4 or 5
- 100BASE-TX: unshielded twisted pair category 5 and above
- 1000BAST-TX: unshielded twisted pair category 5 and above
Protection Methods: Output Over Current Protection, Short Circuit Protection

Spec Sheet