PROception
CAT6 FTP Patch Lead
Comprised of four pieces of twisted pair copper wire and it has a longitudinal separator, this allows the cables to be separated from each other and in turn, allows not only for an increased data transfer speed but less crosstalk with double the bandwidth. 
CAT6 FTP cabling is a good choice for IP Camera & NVR, especially those that are evolving and might need more options in the future. 
CAT-6 is perfect for 10 Gigabit Ethernet and can work at up to 250 MHz.
Features:
High quality Solid copper, FTP (foil twisted pairs) CAT6 patch cables.
Twisting the cores together and covering with the foil shield helps to reduce cross–talk and electromagnetic interference.
For data networking applications.
Compatible with our range of patch panels such as PROPATCH2U48-6.
Pack of 12 x 25cm CAT6 Patch Leads include:
Black (x3)
White (x3)
Green (x3)
Violet (x3)
Also available in different lengths: 0.5m PROPATCH005M-6, 1m PROPATCH010M-6, 3m PROPATCH030M-6, 5m PROPATCH050M-6, 10m PROPATCH100M-6 and 20m PROPATCH200M-6.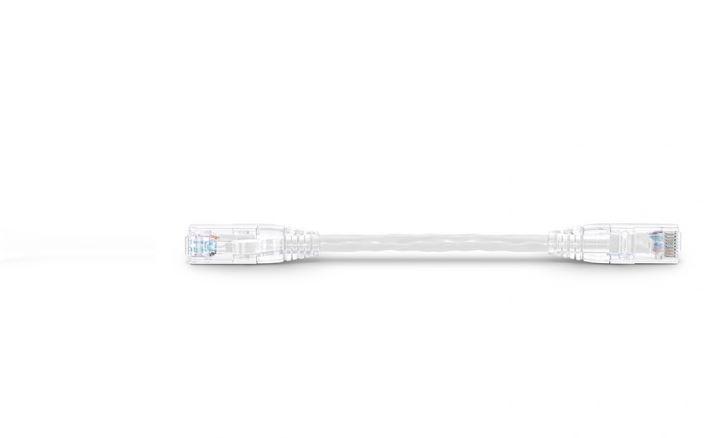 Share the love with your friend
Complete the form below and we'll email your friend about this product
You'll earn 0 reward points with this purchase.
Be one of the first to know!
We're sorry we're out of stock but we can let you know as soon as it's available if you enter your email address below.
Chester Digital Supplies CAT6 FTP patch cable is a type of Ethernet cable used to connect devices in a local area network (LAN). CAT6 stands for Category 6, which is a standard set by the Telecommunications Industry Association (TIA) to specify the performance of Ethernet cables. FTP stands for Foiled Twisted Pair, which refers to the cable's construction.
The CAT6 FTP patch cable has four pairs of twisted copper wires encased in a protective outer jacket. The FTP shielding provides extra protection against electromagnetic interference (EMI) and radio frequency interference (RFI), which can degrade the quality of the signal transmitted through the cable.
Our CAT6 FTP patch cable is capable of supporting speeds up to 10 gigabits per second (Gbps) over distances of up to 55 meters, and 1 Gbps over distances of up to 100 meters. It is commonly used for high-speed data transfer in office and home networks, as well as in data centres and server rooms.
The patch cable is called a "patch" because it is typically used to make short connections between devices, such as between a computer and a switch or a router and a modem. The ends of the cable are terminated with RJ45 connectors, which are designed to fit into Ethernet ports.