Pyronix Security
Pyronix EURO 46s V10
PRODUCT FEATURES
Hybrid 76 zone control panel
Fully menu-driven programming
Connect with the vast range of communication options.
Remote maintenance with Pyronix InSite UDL software
Grade 2 & 3 security with a fully compliant app
Connect from anywhere with the ProControl+ App
No on-site IT configuration
Supplied with a EUR-064 keypad. Product shown with optional chrome keypad.
FREE PyronixCloud subscription for first 12 months*
Future-proof the installation, fit one panel
It's time to streamline your security installations and maximise your opportunities. Wire in the panel and expand wirelessly with the EURO 46 V10; delivering everything from bells-only to ProControl+ App functionality. Pick the panel, then add the communication preference.
Get to know one & master them all, with fully menu-driven programming
Easily navigate through the menus of the EURO 46 V10 with similar uniform menu-driven programming. Simple 'YES/NO' questions allow fast and efficient installing to save both time and money.
Connect as required with the vast range of communication options
Whatever the communication need, the EURO 46 V10 gives you the option. Simply purchase the communicator you want and fit it into the panel.
Save yourself time and money with Automatic Remote Maintenance
Using the Pyronix InSite UDL software, the EURO 46 V10 can be remotely programmed and diagnosed. The software also enables one of the compulsory twice yearly system maintenance calls to be performed remotely.
Completely secure control from anywhere in the world
The ProControl+ App and PyronixCloud communications are encrypted to the highest standard, so the user can securely set and unset the system, get system status and receive custom push notifications from any event from anywhere.
No on-site IT configuration
The EURO 46 V10 is connected through a cloud server, so there is no need to set up static IP addresses or configure the network connection on site; instead you simply set up an account on PyronixCloud.com.
Recurring revenue & retention
Streams of recurring revenue can be established by offering PyronixCloud management services; managing this or passing access to users. This increases customer retention and makes the system more profitable.
Android & Apple compatible
The ProControl+ App is available in two versions: on Android™ from the Google Play Store and on iOS™ from the Apple App store.
Meet the required security standard with Grading options
The EURO 46 V10 can be either Grade 2 (EURO 46S V10) or 3 (EURO 46L V10) with full ProControl+ App capability, for the superior security any installation needs.
One-Push-To-Learn
A feature in all Enforcer wireless devices that means learning them onto the system can be done in seconds. A simple one button learning feature for easy installation.
Signal Strength Indicators (SSI)
SSI in all Enforcer wireless devices allow the optimum positioning of devices during installation, without the need to refer back to the panel.
Instant Two-Way Device Control (ITDC)
This enables the instant wake up and instant sleep of each wireless device on the system to preserve battery power and operability.
Ultimate flexibility with one range of Pyronix accessories
With a whole host of wired and wireless security and life safety peripherals available, the EURO 46 V10 will provide the security solution for any property.
*Please Note: PyronixCloud is FREE for the first 12 months, after which subscription charges will apply. For more information please contact your installer.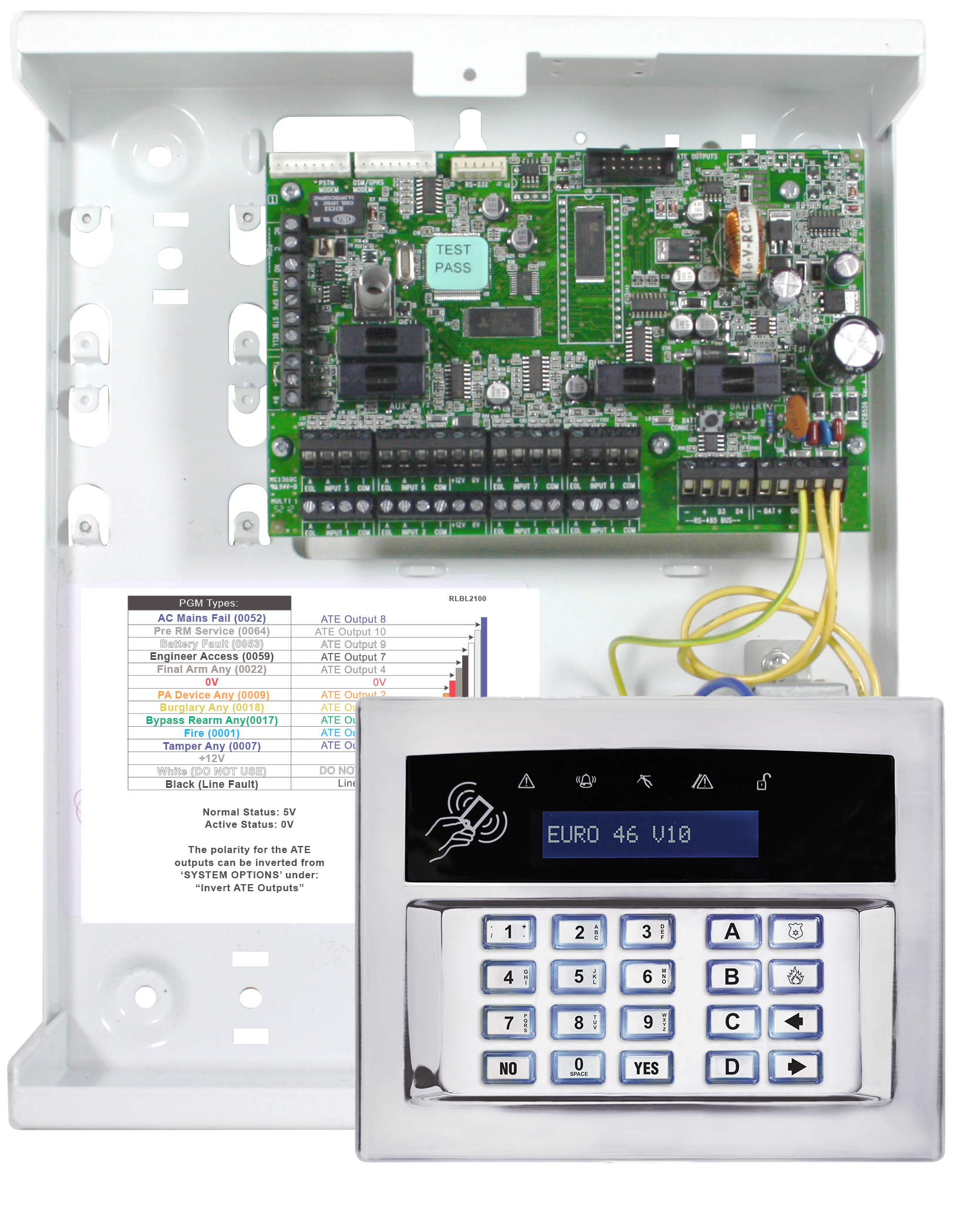 Share the love with your friend
Complete the form below and we'll email your friend about this product
You'll earn 0 reward points with this purchase.
Be one of the first to know!
We're sorry we're out of stock but we can let you know as soon as it's available if you enter your email address below.
Pyronix EURO 46s V10 is a security alarm control panel produced by Pyronix, a leading manufacturer of security systems and devices. The EURO 46s V10 is designed to provide advanced security features and functionality for both residential and commercial applications.
Key Features of the Pyronix EURO 46s V10:
Security Zones: The control panel supports up to 46 wired or wireless security zones, allowing you to protect various areas of your property, such as doors, windows, and motion-sensitive areas.
Multiple Keypad Support: You can connect multiple keypads to the control panel, providing convenient access to arming, disarming, and configuration functions from different locations within your property.
Expandable System: The EURO 46s V10 supports expansion modules, enabling you to add additional features and capabilities as needed. These modules may include outputs for controlling external devices, additional zones, or even integration with other home automation systems.
Remote Control Options: The control panel can be remotely controlled and monitored through various means, such as key fobs, smartphone apps, and computer software. This allows you to arm or disarm your security system, receive notifications, and check the system status from a distance.
Alarm Communication: The EURO 46s V10 supports multiple communication options for alarm reporting, including PSTN (landline), GSM (mobile network), and IP (Internet Protocol) connectivity. This ensures reliable and fast transmission of alarm signals to a monitoring station or directly to your mobile device.
Integration and Compatibility: The Pyronix EURO 46s V10 is designed to integrate with other security devices and systems, providing a comprehensive security solution. It can work with Pyronix peripherals, such as wireless sensors, detectors, and sirens, as well as being compatible with third-party devices for enhanced functionality.
User-Friendly Interface: The control panel features an intuitive user interface with LCD displays and backlit keypad buttons for easy operation and programming. It offers various user modes, access codes, and customizable settings to meet specific security requirements.
Control panel technical characteristics
Two-way wireless technology    Requires EURO-ZEM32-WE
Independent areas    6
Tamper protection    Front and back
LCD keypad with intergrated prox reader    EUR-064
User codes and prox tags    75
Guard codes    10
Reporting formats    Contact ID (standard and IP) | Fast Format (standard and IP) | SIA3 (standard and IP)
System logs    1250 events (EEPROM)
Areas    6
Inputs & outputs
Input type    Double pole, DEOL and 3EOL | Wireless with additional EURO-ZEM32-WE
Two-way wireless inputs    64 (with 2 x EURO-ZEM32-WE)
Onboard wired inputs    8 (10 including keypad inputs)
Total inputs    76
Outputs on board    1 relay | 4 transistor | 10 low power ATE outputs
Two-Way Wireless Keypads    4 (requires EURO-ZEM32-WE)
Output modules    2
Wired automation outputs    30
Maximum outputs    85
Two-way wireless keyfobs    32 (requires EURO-ZEM32-WE)
Two-way wireless sirens    2 (requires EURO-ZEM32-WE)
Wired keypads    6
Readers and entry control    5
Communications and modems
GPRS modem (optional)    Yes
GSM modem (optional)    Yes
PSTN modem (optional)    Yes
LAN modem (optional)    Yes
WiFi modem (optional)    Yes
Supports PyronixCloud & HomeControl+ App    Yes
SMS numbers    10
Remote speaker and microphone    16 ohms speaker wired to endstation
Event Signalling to Insite    Yes
ARC compatibility    Yes
Compatible with UDL software    Yes
Environmental and operating features
Storage temperature    -20C to +60C
Certified operating temperature    -10C to +40C
Physical dimensions (H x W x D)    PCB 110 x 170 x 40 mm | Small case 297 x 250 x 82 mm | Large case 390 x 305 x 100 mm
Weight    Small case 4.8kg inc. battery | Large case 11.5kg inc. battery
Electrical & battery
Battery capacity    Small case 7Ah maximum | Large case 17Ah maximum
Battery voltage    ~13.8VDC
Battery low voltage protection    ~10.5VDC
Low battery threshold    ~10.5VDC
Recharge time    <24 hours
Mains supply    ~230VAC at 50Hz | -15% +10 %
Quiescent current consumption    80mA (PCB)
Transformer    Power Supply Type A.
Fuse (battery)    T 1.5A anti-surge slow blow 250V
Fuse (12v outlets)    F800mA quick blow 250V
Fuse (mains)    T500mA H anti-surge slow blow 250V
Fuse (RS485 data BUS)    F800mA quick blow 250V
Relay outputs    3A, max 30V
Resistance (wired inputs)
Normal    1k4 to 2k9
Intruder    4k2 to 7k8
Tamper    <1k4 or >22k
Fault    8k to 11k3
Masking    11k6 to 22k
Certifications and warranty
Security Grade    Small case 2 | Large case 3
Environmental class    II
EN Certificate    PD6662:2017+IA501:2015 | EN50131-1:2008+A1:2009 | EN50131-3:2009
Warranty    2 Years

Spec Sheet