Q Acoustics E120 In Wall Audio System
Q Acoustics E120 In Wall Audio System

Q Acoustics E120 In Wall Audio System
Q Acoustics E120 key features include:
Easy wall-mounting installation in any room in a home or garden space.
Zero clutter design – pair with two or four Q Acoustics ceiling or wall speakers.
High-quality built-in class D stereo amplifier serving up 2 x 25W of power.
IP54-rating makes it suitable for kitchen, bathroom and garden installations.
Features Bluetooth 5.0 for wireless streaming of music from compatible devices.
Built-in DAB+ and FM radio with one-touch presets.
Touch sensitive facia control, both a splash proof and full-size remote controls supplied.
3.2-inch colour display.
Boasts digital and analogue inputs for connection of audio sources such as the TV audio.
Audio output suitable for a subwoofer.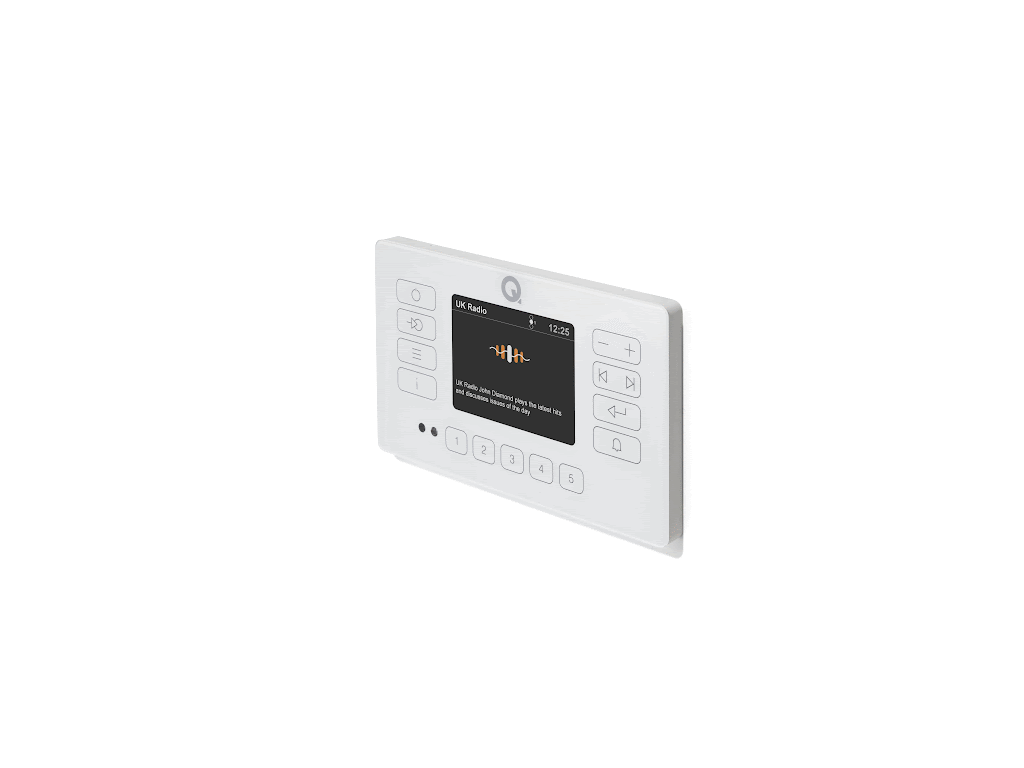 ADDITIONAL INFORMATION

Wireless streaming and radio

Once installed into the living space wall (all cabling is supplied) and connected to chosen speakers, users can wirelessly stream music from popular music services, via Bluetooth, from compatible devices such as smartphones, tablets, laptops and DAPs. Support for Bluetooth 5.0 provides greater range and a more stable wireless connection when streaming. Radio fans can enjoy broadcasts over DAB+ or FM with up to five presents configurable to access favourite stations with a single button touch.

Enhance the sound on your TV

With digital and analogue connections on hand, the E120 enables connection to a TV to enhance the audio, delivering a more immersive and dynamic television and movie watching experience. In addition, a rear analogue audio output can be configured to plug into a subwoofer for extra low-end bass sounds, an external power amplifier or even another E120 system.

Suitable for kitchens and bathrooms

Boasting an IP54-rating enables the system to be installed into bathrooms, kitchens and garden verandas where humidity and the ingress of water is possible. Using the supplied splash proof remote control (or control via the app/device they are using), homeowners can listen to their favourite music and radio stations while relaxing in the bath or preparing an evening meal.










SPECIFICATIONS

Technical specifications

                                               

Audio Sources: DAB / DAB+ / FM with RDS           

Bluetooth: Version 5.0, A2DP

Analogue input:

Type: 3.5mm stereo
Sensitivity: 350mV
Max level: 1.5V
Impedence: 10k ohm

Optical input:

Type: mini TOSLINK
Resolution: 16bit 48kHz

Speaker outputs: Left & right, stereo or dual mono

Analogue output:

Type: 3.5mm stereo
Modes: Fixed or variable
Max level: 670mV

Amplifier:

Type: Class D
Continuous power: 2 x 25W @ 6ohm
THD: 0.07% @ 1W / 0.2% @ rated power
SNR: >75dB @ Rated power
Frequency response: 20Hz - 20kHz +/- 1dB

IP ratings:

E120 wall panel: IP54
Splash proof remote: IP67

Control:

Touch sensitive buttons
Infra-red remote control              
Bluetooth AVRCP v1.6: Play, pause, skip, track, artist, album name           

Menu languages:

English, German, Dutch, French, Danish, Spanish, Italian, Norwegian, Polish, Finnish         

Alarms: x2 once, daily, weekdays, weekends      

Power supply:

Input: 100 - 240V AC 50/60 Hz
Output : 22V DC 1.5amps
Dimensions (HxWxD): 30mm x 50mm x 115mm

Power consumption:

Typical: 10W
Standby: <1W

Wall panel

Net weight: 0.251kg
Dimensions (HxWxD): 91mm x 151mm x 33mm

Speaker cable supplied:

Gauge   19 AWG
Lengths: 2 x 7m

Power cable supplied:

Gauge: 16 AWG
Lengths: 5m
Connectors: 5.5mm x 2.5mm DC male / 5.5mm x 2.5mm DC female