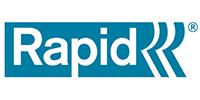 Rapid R28 10mm Staples
Rapid R28 10mm Staples  With their rounded crown, these flat wire staples are specifically designed for fastening low voltage cables up to 50 V such as a computer, hi-fi speaker or telephone cables. 
Can secure cables up to 4.5 mm in diameter. Diverging points, DP, makes leg points go in opposite directions, for extra-strong bonding.
10 mm leg length
For cable diameter up to 4.5 mm
Galvanised
Diverging points
1000 pcs
For R28