Reyee 5KM Wireless Bridge
Ruijie | Reyee
Reyee 5KM Wireless Bridge
RG-EST310 and RG-EST350 are 802.11ac wireless bridges for video surveillance backhaul or remote wireless transmission in scenarios such as elevators, tower cranes, factory buildings, campuses, and construction sites. Operating in the 5GHz band, RG-EST310 and RG-EST350 support two spatial streams (2x2 MIMO technology) and provide up to 867 Mbps bridging rate, which can fully meet the data link bandwidth requirements of user services
RG-EST350 V2 Highlight Features

RG-EST310 V2 Highlight Features


RG-EST350 V2 can easily transmit data from 5KM away in real time
Automatic pairing at long distance, without complex alignment
IP54 Weatherproof, -30℃~65℃ guarantee stable operating
Support maximum 45 * 2MP cameras loading at 3KM, 20 * 2MP cameras loading at 5KM
Visually Intuitive statistics monitoring on Ruijie cloud, easy maintenance at remotely

RG-EST310 V2 provide stable traffic transmission from 1KM away.
Automatic pairing and automatic healing
IP54 Weatherproof, -30℃~55℃ ensures stable operating.
Cost-effective wireless solution for elevator CCTV to avoid cable loss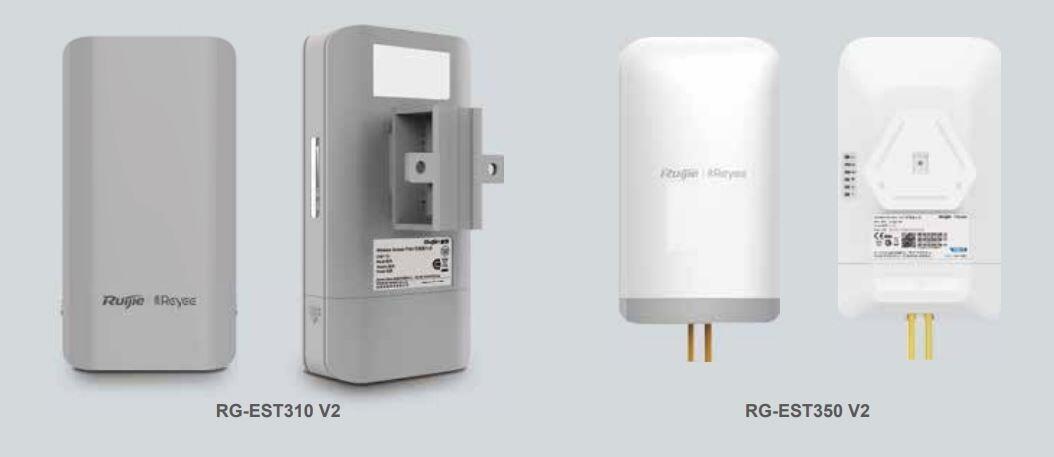 Share the love with your friend
Complete the form below and we'll email your friend about this product
You'll earn 0 reward points with this purchase.
Be one of the first to know!
We're sorry we're out of stock but we can let you know as soon as it's available if you enter your email address below.
Reyee Cloud-managed Wireless Bridge is a networking device that enables the connection of two or more separate wired network segments over a wireless link while being managed and monitored through a cloud-based platform. This type of technology is often used to extend network connectivity over large distances where running physical cables would be impractical or expensive. 
Here are some key features and benefits of a Cloud-managed Wireless Bridge:
Wireless Connectivity: The primary function of a wireless bridge is to establish a wireless connection between two or more locations, allowing data and network traffic to flow seamlessly between them.
Cloud Management: The "cloud-managed" aspect means that the bridge's configuration, monitoring, and management are done through a centralized cloud-based platform. This allows administrators to remotely configure and monitor the bridge from anywhere with internet access.
Scalability: Cloud-managed wireless bridges can be easily scaled to accommodate changing network requirements. New bridges can be added, configured, and integrated into the existing network through the cloud management interface.
Remote Monitoring: Administrators can monitor the performance and status of the wireless bridge in real-time through the cloud platform. This makes it easier to identify and resolve network issues and ensure that the network is running optimally.
Security: Security features, such as encryption and access controls, can often be configured and monitored via the cloud management interface to ensure that the wireless bridge connection is secure.
Flexibility: Cloud-managed wireless bridges are versatile and can be used in various scenarios, including extending network coverage to remote locations, connecting separate buildings or facilities, and providing internet access in outdoor or challenging environments.
Firmware Updates: Cloud management allows for easy firmware updates, ensuring that the wireless bridge remains up-to-date with the latest features and security patches.
Analytics and Reporting: Cloud platforms often provide analytics and reporting tools that allow administrators to gather data on network performance and usage, helping them make informed decisions about network optimization and capacity planning.
Zero Configuration
RG-EST310 and RG-EST350 both consist of 2 devices including the recorder-end and camera-end device. They
are paired by default and can be used without requiring any configurations. It supports one-to-many expansion.
and it is recommended to support one to five at most.
Easy Installation
Straps are provided for easy equipment installation including wall/pole-mount, improving implementation.
efficiency.
High Reliability
Both wireless bridges can provide dustproof and waterproof IP65 protection for outdoor environments and
operate in a wide temperature range from –30°C to 50°C. The high-quality weather-resistant materials enable.
RG-EST310 to maintain excellent structural strength without embrittlement, yellowing, or deformation for long[1]term outdoor operation.
Convenient Maintenance
Both wireless bridges support Ruijie Cloud App management for the current connection latency, channel
utilization, signal strength, rate, device connection, configuration modify cation, entire network upgrade and
wireless bridge restart on the mobile phone. The two bridges also support E-Web management.