Reyee WiFi 6 Ceiling Access Point
Ruijie | Reyee
Reyee WiFi 6 Ceiling Access Point
Reyee cloud-managed access points(APs)
High performance for indoor / outdoor, scenarios. 
In conformance with  802.11ac Wave2, Reyee cloud-managed  series APs support Multi-user Multiple Input, Multiple Output(MU-MIMO) dual-stream technology.
Reyee APs are easy to install and maintain with the industrial design.
Good Performance Based on Dual-band Wi-Fi The AP supports 2.4GHz and 5GHz dual-band communication, providing the rate of 400Mbit/s at 2.4GHz, 867Mbit/sat 5GHz,and up to 1267Mbit/sper AP. 
It can provide 5GHz frequency band with less interference, wider channel, and faster speed for terminals, allowing users to enjoy excellent wireless experience.
Seamless Layer 3 Roaming The AP supports Layer 3 roaming on a complex Layer 3 network. When users move across Layer 3 networks, seamless roaming can be achieved without service interruption. SON Support Self-Organizing Networking (SON) eliminates product limitations and realizes auto-discovery, auto-networking, and auto-configuration between routers, switches, and wireless APs without the need for controllers or Internet access. 
The mobile app allows  you  to quickly complete device deployment and configuration, remote management, operation and maintenance(O&M)of the entire network, which greatly reduces the investment of device, labour, and time cost during wireless network construction.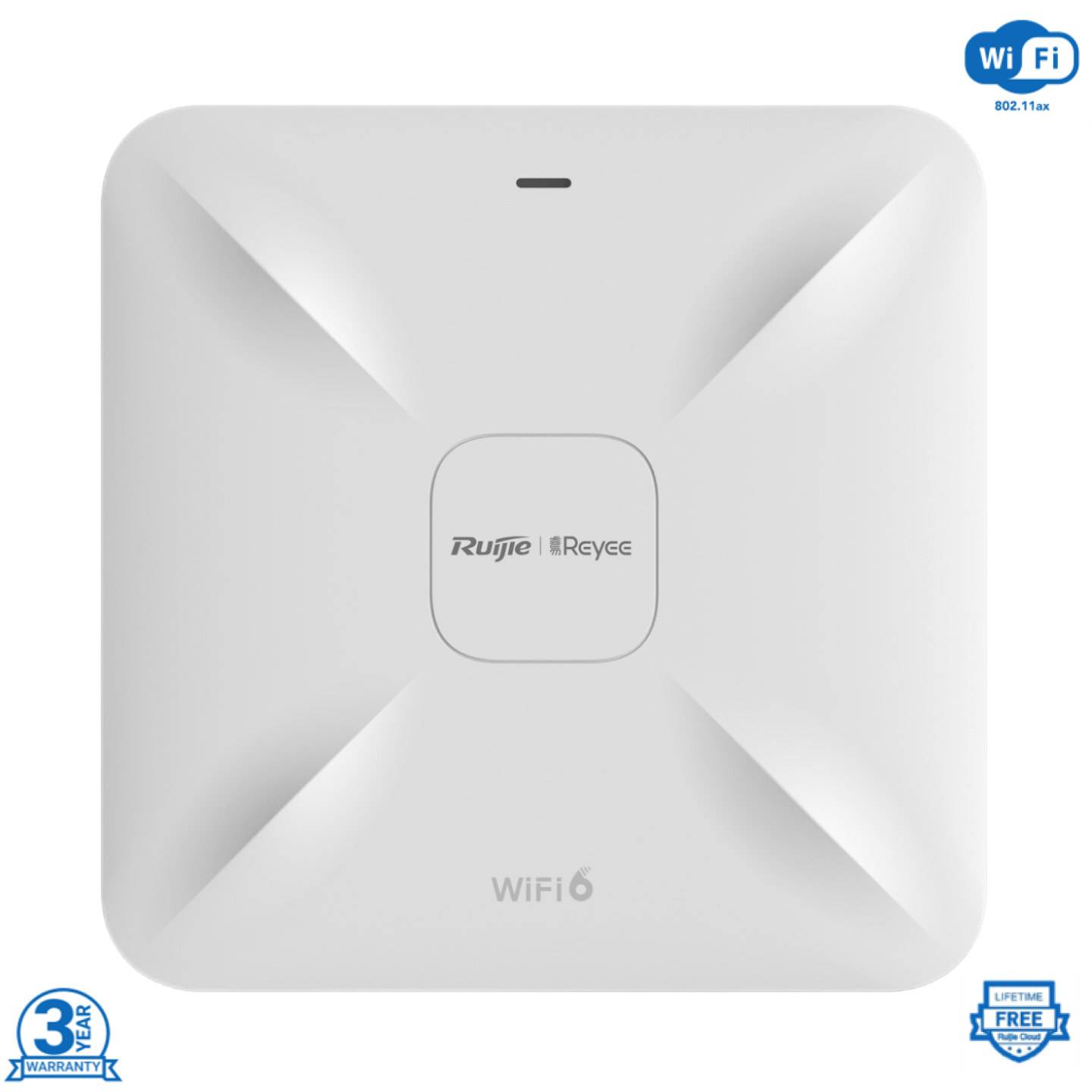 Share the love with your friend
Complete the form below and we'll email your friend about this product
You'll earn 0 reward points with this purchase.
Be one of the first to know!
We're sorry we're out of stock but we can let you know as soon as it's available if you enter your email address below.
Reyee Wi-Fi 6 Ceiling Access Point is a networking device used to provide wireless connectivity in indoor environments, typically in commercial or enterprise settings. 
Lifetime Free Cloud Management Users can perform comprehensive local management or remote management of the equipment in the entire network via the mobile app, equipment EWEB management, Ruijie Cloud platform, etc. Users can also share the network with a third party for network hosting and collaborative management, thereby achieving simpler, easier to use, more secure and convenient enterprise network operation and maintenance.
Improved Wireless Connectivity: Wi-Fi 6, also known as 802.11ax, is the latest generation of Wi-Fi technology. It offers significant improvements in terms of speed, capacity, and performance compared to older Wi-Fi standards (e.g., Wi-Fi 5 or 802.11ac). The "AX1800" in the name suggests a maximum theoretical throughput of 1800 Mbps, although real-world speeds will be lower.
 High-Density Environments: Wi-Fi 6 access points are designed to handle high-density environments with many devices connecting simultaneously. This makes them suitable for crowded areas like airports, stadiums, hotels, conference centre's, or large office spaces.
Ceiling Mounting: The "Ceiling Access Point" part of the name indicates that it's intended to be mounted on the ceiling. This positioning provides optimal coverage since the signal can propagate downwards effectively. It's a discreet way to provide wireless coverage without the need for visible cables and equipment.
Enterprise and Business Use: These access points are typically used in business and enterprise environments. They are capable of handling a large number of connected devices and offer advanced security features to protect sensitive data.
Seamless Roaming: Wi-Fi 6 access points often support technologies like MU-MIMO (Multi-User, Multiple Input, Multiple Output) and OFDMA (Orthogonal Frequency Division Multiple Access), which help improve the efficiency and stability of connections, even as devices move around the coverage area.
IoT Devices: With the increasing number of Internet of Things (IoT) devices in use, Wi-Fi 6 access points are better equipped to handle the growing demand for wireless connectivity from a wide range of devices with different data requirements.
Enterprise-Grade Security: These access points usually come with robust security features, including WPA3 encryption, guest network isolation, and support for enterprise authentication methods like RADIUS.
Network Management: Wi-Fi 6 access points are often managed through centralized network management systems, allowing IT administrators to monitor and configure multiple access points from a single interface.
In summary, a Wi-Fi 6 AX1800 Ceiling Access Point is used to provide fast, reliable, and secure wireless connectivity in high-density indoor environments, making it a valuable tool for businesses and organizations looking to provide a seamless and efficient Wi-Fi experience for their employees, customers, or guests.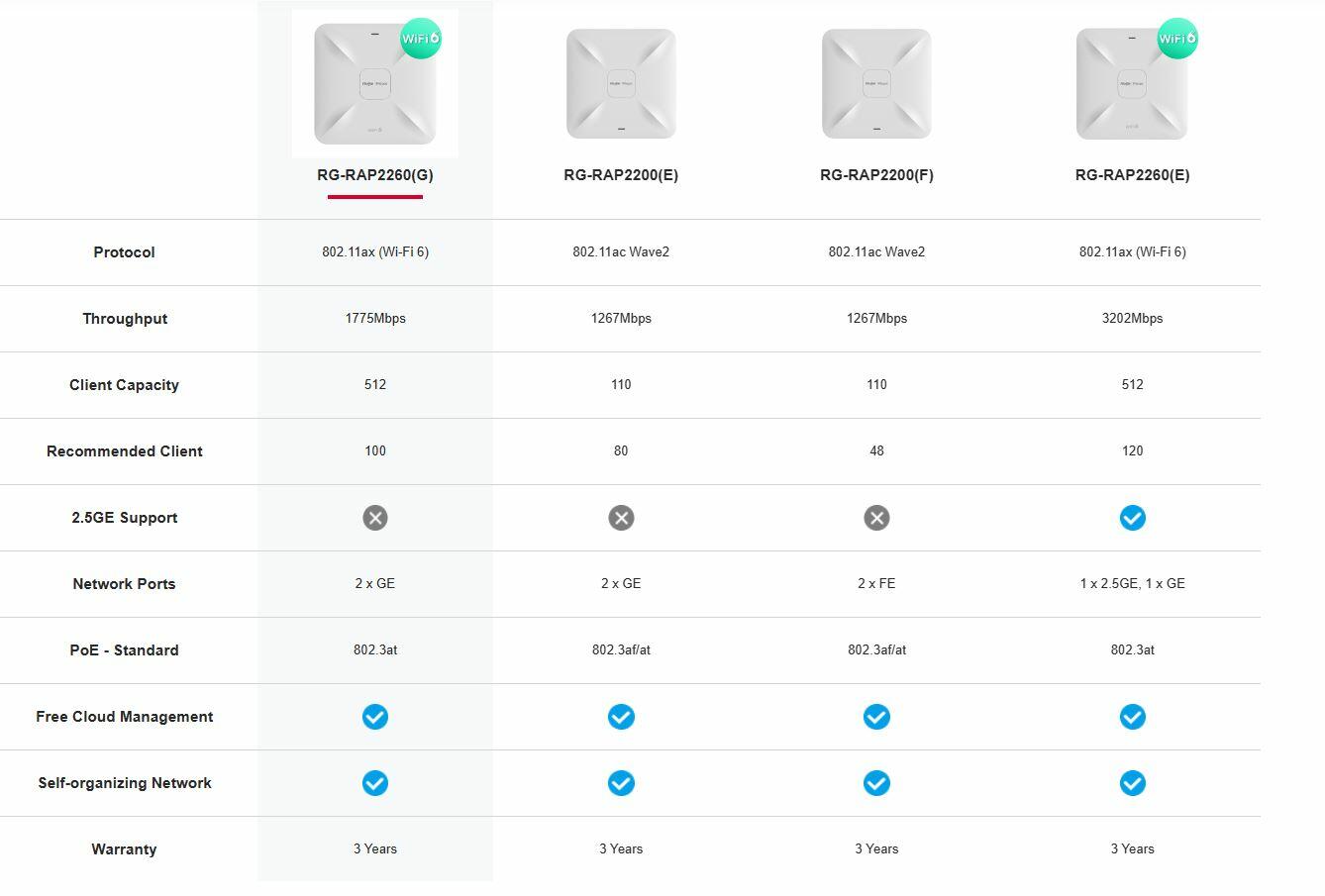 | | | |
| --- | --- | --- |
| RG-RAP2260(H) Datasheet | RG-RAP2260(G/E) Series Wi-Fi 6 Access Point Datasheet | RG-RAP2260 AX3000 Multi-G AP Datasheet |