Triax SCS 8 - 8 Way Splitter
Triax
Triax SCS 8 - 8 Way Splitter
Triax
Triax SCS 8 - 8 Way Splitter
TRIAX 8-way splitter ideal for SAT-IF and MATV distribution networks.
Frequency range 5-2400 MHz
DC pass through over diodes from all outputs
High shielding
Return loss Grade 3
High-quality die-cast housing tin (Sn) coated
Acc. to EN 50083-2 & EN 60728-4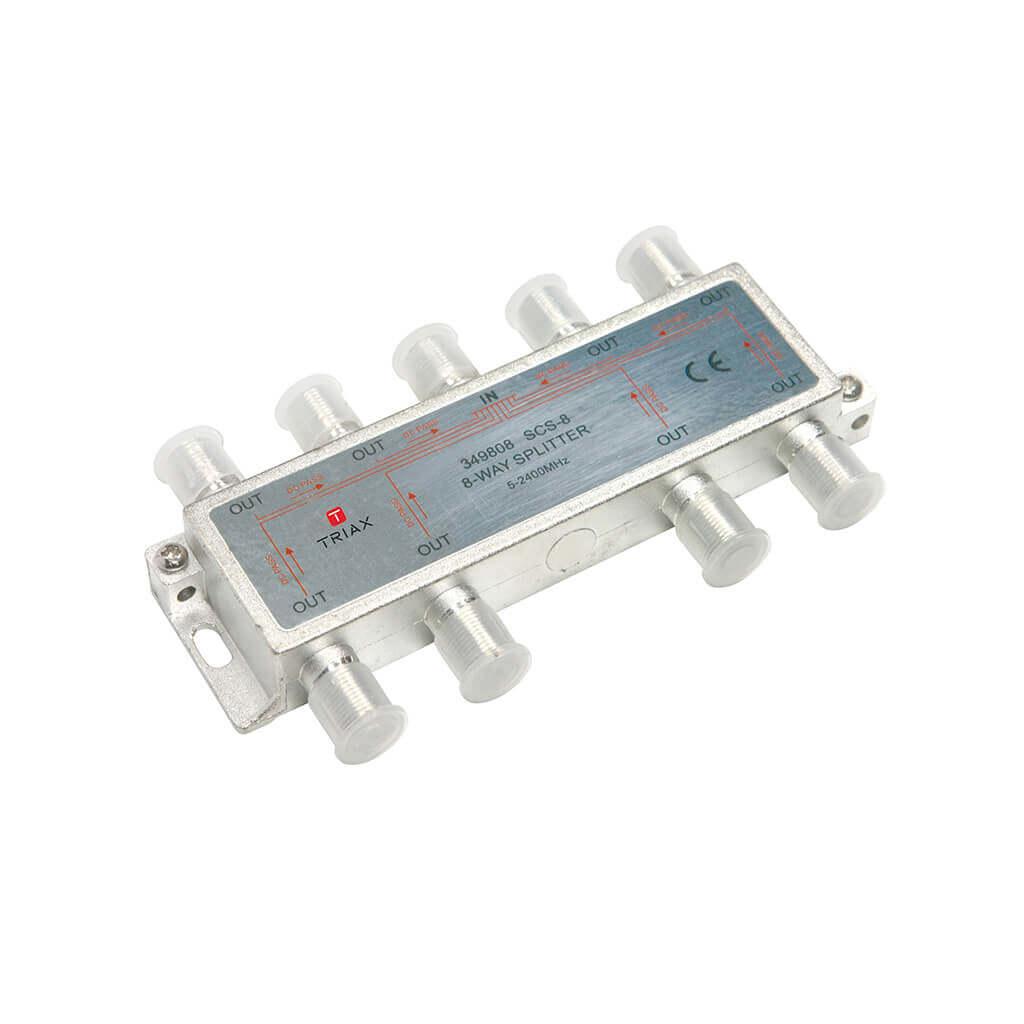 Share the love with your friend
Complete the form below and we'll email your friend about this product
You'll earn 0 reward points with this purchase.
Be one of the first to know!
We're sorry we're out of stock but we can let you know as soon as it's available if you enter your email address below.
Triax SCS 8 is an 8-way splitter used in signal distribution systems, commonly employed in cable television (CATV), satellite TV, or other audio/video applications. It allows you to split a single input signal into eight separate outputs, enabling multiple devices to receive the same signal simultaneously.
Here are some key features and details about the Triax SCS 8:
Signal Distribution: The splitter takes a single input signal and divides it evenly among eight output ports, allowing you to connect up to eight devices or distribution points.
Frequency Range: The Triax SCS 8 is designed to operate within a specific frequency range, typically used for TV signals, satellite signals, or other RF (radio frequency) applications. The exact frequency range may vary depending on the model and version of the splitter.
Signal Loss: It's important to note that every time you split a signal, there is some loss in signal strength. The Triax SCS 8, like any splitter, will introduce a certain amount of signal loss, usually measured in decibels (dB). The specification for signal loss should be provided by the manufacturer and may differ based on the frequency range.
Power Pass: Some splitters, including the Triax SCS 8, may feature power pass functionality on one or more ports. Power pass allows you to send DC power (typically used to power devices like amplifiers or preamplifiers) through the splitter to the connected devices. This can be useful in setups where devices require power from the main source.
Build Quality: The Triax SCS 8 is typically designed with durable materials to ensure signal integrity and long-lasting performance. The connectors are often threaded F-type connectors, which are commonly used for coaxial cables in audio/video applications.
When setting up a system with the Triax SCS 8, you would connect the incoming signal to the input port of the splitter and then use coaxial cables to connect the output ports to the devices or distribution points you want to feed with the signal.
ORDER INFORMATION 

EAN Number

5702663498082

SHIELDING 

Shielding effeciency VHF/UHF

>110 dB

CHARACTERISTICS 

Type

COAX splitter

FREQUENCY 

Frequency range

5...2400 MHz

LOSS 

Insertion loss (in-out) 5-40 Mhz

11.8 dB

Insertion loss (in-out) 40-1000 Mhz

13.0 dB

Insertion loss (in-out) 1000-2150 MHz

16.5 dB

Insertion loss (in-out) 2150-2400 Mhz

17.0 dB

ISOLATION 

Isolation (tap-tap) 5-40 MHz

25 dB

Isolation (tap-tap) 40-1000 MHz

23 dB

Isolation (tap-tap) 1000-2150 MHz

23 dB

Isolation (tap-tap) 2150-2400 MHz

23 dB

RETURN LOSS 

Return loss (in-out) 5-40 MHz

8.5 dB

Return loss (in-out) 40-1000 MHz

11.0 dB

Return loss (in-out) 1000-2150 MHz

13.0 dB

Return loss (in-out) 2150-2400 MHz

12.0 dB

ELECTRICAL 

Impedance

75 Ω

OPERATIONAL 

Application

SAT, MATV 2.4Ghz +DC

Screening Efficiency

EN50083-2 (Class A)

DC Passthrough

Yes (max. 500mA)

Environment

Indoor

CONNECTORS 

Number of inputs

1

Number of outputs

8

MECHANICAL 

FormulaTest

65 mm x 119 mm x 20 mm

Bracket (optional)

2x BL / Art No 342102

Packing QTY

1

Product Height

65 mm

Product Width

119 mm

Product Depth

20 mm

Packaging Height

0,182 m

Packaging Width

0,128 m

Net Weight

0,125 kg

Total Weight

0,125 kg