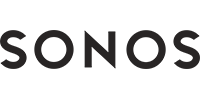 Sonos Beam ( GEN2 )
Sonos BEAM GEN 2 BLACK Soundbar
Enrich all your entertainment with the latest generation of our compact smart sound bar, now with Dolby Atmos.
Oscar-winning sound engineers helped fine-tune Beam to make sure you hear every word and can always follow the story. For even greater clarity when characters whisper or the action intensifies, turn on Speech Enhancement in the Sonos app.
Stream from all your favourite services with detailed stereo sound, and feel more dimensions of the song with support for the highest-resolution formats, including Dolby Atmos Music.




ADDITIONAL INFORMATION

Experience panoramic sound and crystal clear dialogue for shows, movies, and games. 

When the TV is off, stream music and more from all your favourite services. 

Control is easy with the Sonos app, your voice, and Apple Air Play 2. 

Add speakers to create a wireless surround sound system and enjoy multiroom listening. 

Everything connects over WiFi 













 

SPECIFICATIONS

Brand    Sonos

Model Number BEAM GEN 2 BLACK

Height   69

Width    651

Depth   100

Dimensions Unit               cm

Tooltip Colour    Black

Weight 2.800000

Weight Unit        kg