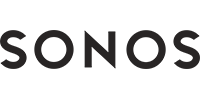 Sonos Subwoofer (Gen 3)
The wireless subwoofer for deep bass. Hear and feel the difference when you connect Sub to your Sonos system. 
No buzz, just bass 
Two force-cancelling drivers at the centre of Sub eliminate vibration and rattle so you get powerful bass without any distortion. 
Made to be seen and heard 
The award-winning and versatile design features a sculptural shape and high-gloss finish. Stand Sub upright or lay it on its side.
Lower lows and higher highs
Sub takes over the lowest frequencies, enhancing the midrange playback from paired speakers so you experience fuller, more detailed sound. 
ADDITIONAL INFORMATION

Dimensions

Height: 15.3 in (389 mm)
Width: 15.8 in (402 mm)
Depth: 6.2 in (158 mm)




36.3 lb (16 kg) 

SPECIFICATIONS

Specifications

Feature

Description

Amplifier

Two Class-D digital amplifiers.

Speakers

Two force-canceling speakers positioned face-to-face for deeper, richer sound and zero cabinet buzz or rattle.

Dual Acoustic Ports

Tuned to enhance Sub performance.

Frequency Response

Plays down to 25 Hz.

All Digital Sound

All filter settings, active equalization, and time alignment are done digitally through state-of-the-art DSP (Digital Signal Processing) circuitry for zero-loss audio quality and energy.

Automatic Equalization

The system automatically adjusts audio settings across all connected components.

Networking*

Ethernet Port

One 10/100 Mbps Ethernet port. You can plug a Sonos product directly into your router if your WiFi is unstable.

Wireless Connectivity

Connects to WiFi network with any 802.11a/b/g/n 2.4 or 5 GHz broadcast-capable router.

General

Auto-switching 100-240 V, 50-60 Hz 2 A AC universal input.

15.3 x 6.2 x 15.8 in. (389 x 158 x 402 mm)

36.3 lb (16 kg)

Operating Temperature

32° F to 104° F (0° C to 40° C)

Storage Temperature

-4° F to 158° F (-20° C to 70° C)

Multiple Orientations

Stand upright or lay flat for flexible placement.

Rubber and Felt Feet

Built-in rubber feet; optional felt feet.

Supported Devices

Sub is designed for use with most Sonos speakers, except Sonos Connect, Port and Move.

Package Contents

Sonos Sub, power cord, and Quickstart Guide.