Triax KOKA 110 Cable: CAI Benchmarked (151622)
Triax
Triax KOKA 110 Cable: CAI Benchmarked (151622)
Triax
Triax KOKA 110 Cable: CAI Benchmarked (151622)
TRIAX KOKA 110 A+ Cable - LSZH white 
Class Cca CPR EN50575 Compliant, CAI approved - 250m reel
TRIAX flagship CAI certified, Class Cca, cable is designed for indoor applications and has been independently tested and certified as 'limited contribution to a fire'.
Meeting the standards of today and the network demands of tomorrow, this triple shielded class A+ coaxial cable delivers high quality TV signals with low LTE interference.
With superior build quality, this is the right choice for demanding installations requiring crystal clear images and safety in case of fire, for example, public and high rise buildings.
Class Cca -S1a,d1,a1  - CPR EN50575 Compliant – Suitable for indoor application
LSZH (Low Smoke Zero Halogen) sheath with limited contribution to a fire
CAI approved - cert. CAI 0150C
Class A+ (EN 50117-2-4) & PE cable (EN 50117-2-5)
Superior build quality and materials
High performance even over long distances
LTE protected – tinned copper braid & two layers foils protect signals
LSZH (Low Smoke Zero Halogen) jacket is ideal where fire resistance is a requirement.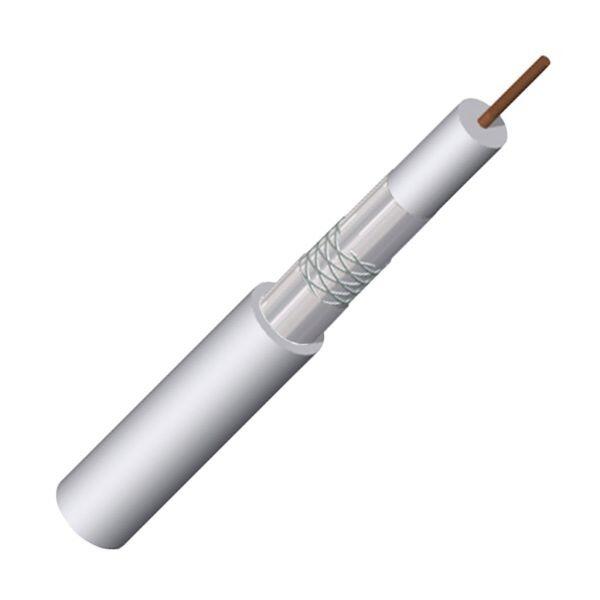 Share the love with your friend
Complete the form below and we'll email your friend about this product
You'll earn 0 reward points with this purchase.
Be one of the first to know!
We're sorry we're out of stock but we can let you know as soon as it's available if you enter your email address below.
ORDER INFORMATION
EAN Number      5702661516221
MECHANICAL
Cable length       250 m
Colour   White
Packaging Height              0.150 m
Packaging Width               0.360 m
Packaging Depth               0.360 m
Packaging Volume            0.019 m3
Net Weight         13.200 kg
Tara Weight        0.000 kg
Total Weight       13.200 kg
CONSTRUCTION
Inner conductor - material            Cu
Inner conductor - dimension       1.02 ± 0.01 mm
Dielectric - material         Foam PE
Dielectric - dimension     4.6(+0.2-0.3) mm
1. Shield foil – material   Alu/PET copolymer bonded
1. Shield foil - overlap     20 %
2. Shield braid - material                CuSn
2. Shield braid - coverage              60 %
3. Shield foil – material   Alu/PET
Jacket - material                LSZH
Jacket – dimension          6.8 ± 0.1 mm
OPERATIONAL
Application         Indoor
Fire Class             EN 50575 (Cca)
Fire SubClass      S1a,d1,a1
DoP number       TR0012
Notified Body     2479
Screening Efficiency         EN50117 (Class A+)
TRANSFER IMPEDANCE
Transfer Impedance @ 5-30 MHz               < 2.5 mΩ/m
SHIELDING
Screening attenuation @ 30-1000 MHz  ≥ 106 dB
Screening attenuation @ 1000-2000 MHz             ≥ 90 dB
Screening attenuation @ 2000-3000 MHz             ≥ 80 dB
ELECTRICAL
Impedance          75 ± 3 Ω
Capacity               53 ± 2 pF/m
Velocity ratio      83 ± 1 %
Inner DC resistance          < 20.4 Ω/km
Outer DC resistance         < 11.7 Ω/km
LOSS
Attenuation (20°C/100mtr) @ 5 MHz       1.3 dB
Attenuation (20°C/100mtr) @ 200 MHz  8.5 dB
Attenuation (20°C/100mtr) @ 470 MHz  13.5 dB
Attenuation (20°C/100mtr) @ 862 MHz  18.8 dB
Attenuation (20°C/100mtr) @ 1000 MHz               19.8 dB
Attenuation (20°C/100mtr) @ 2400 MHz               32.5 dB
RETURN LOSS
Structural return loss @ 5-470 MHz         ≥ 25 dB
Structural return loss @ 470-1000 MHz  ≥ 23 dB
Structural return loss @ 1000-2400 MHz               ≥ 19 dB