Triax MOD103T - HDMI to COFDM Modulator
Triax
Triax MOD103T - HDMI to COFDM Modulator
Triax
Triax MOD103T - HDMI to COFDM Modulator
Watch + control HD content at each TV location using existing coax cable infrastructure
New compact design
All inputs and outputs on one side for ease of installation
Full HD Video and HDMI Loop through
IR Control when used with Digital Links and IR Pass Amplifiers
Enhanced viewing experience
Combine multiple modulators together for more HD channels on your network – watch different sources on different TV's
Output combined with existing RF signals
RF Output level control
Fully agile output
IR Emitter required at HDMI source (supplied)
Compatible with HDMI sources
Ideal solution for domestic and commercial installations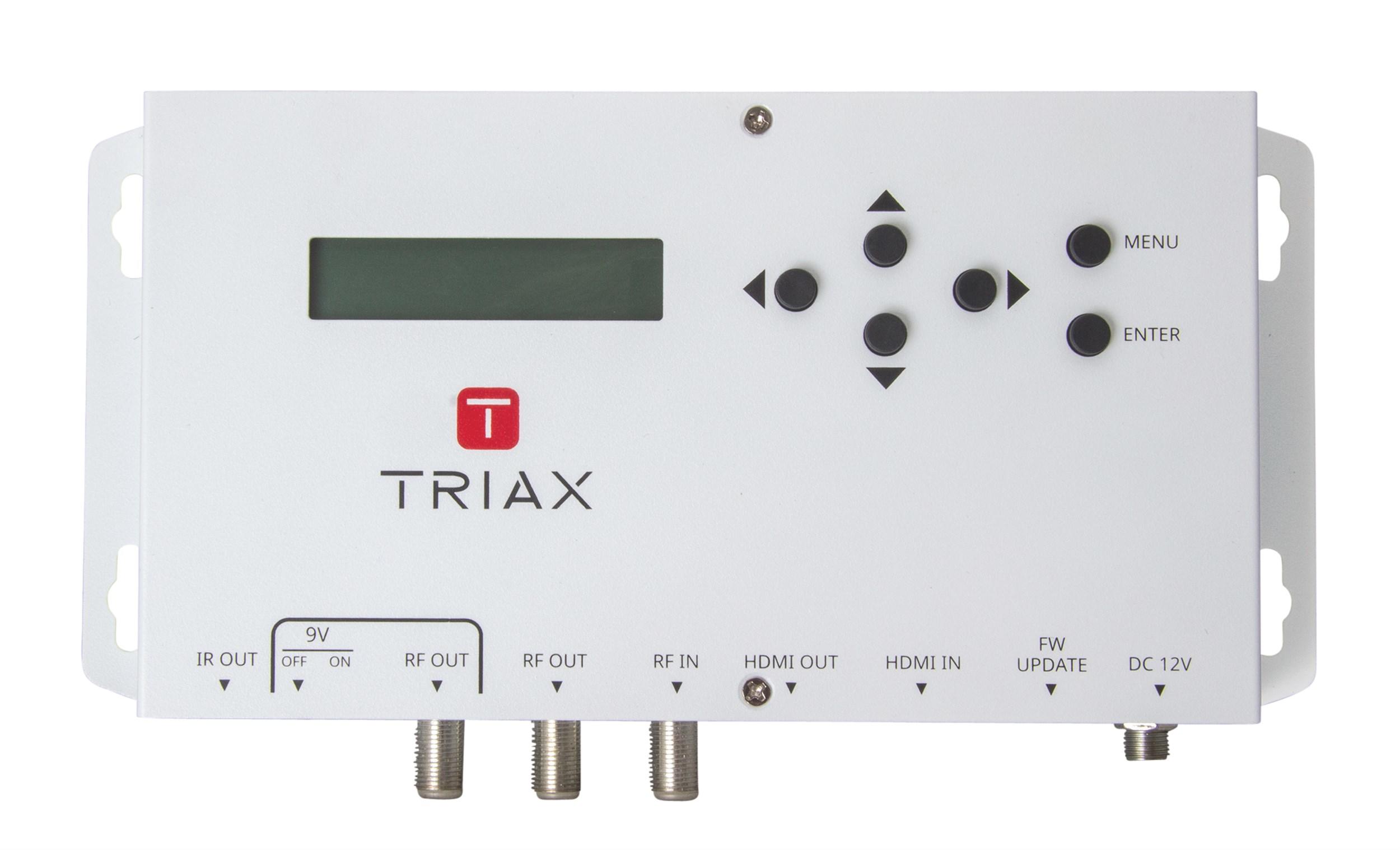 Share the love with your friend
Complete the form below and we'll email your friend about this product
You'll earn 0 reward points with this purchase.
Be one of the first to know!
We're sorry we're out of stock but we can let you know as soon as it's available if you enter your email address below.
Triax MOD103T is an HDMI to COFDM Modulator, which is a device that converts a high-definition multimedia interface (HDMI) signal into a COFDM (Coded Orthogonal Frequency Division Multiplexing) signal. This type of modulator is commonly used in broadcasting, cable distribution, and video distribution systems to convert and distribute HDMI content to multiple televisions or monitors over coaxial cable networks. 
1. HDMI to COFDM Conversion: The Triax MOD103T is designed to convert HDMI signals, which typically carry audio and video data from sources such as media players, Blu-ray players, cameras, or computers, into COFDM signals. COFDM is a modulation scheme used for digital terrestrial television broadcasting and distribution.
2. Video Distribution: This modulator is used for distributing HDMI content to multiple televisions or monitors in environments such as hotels, hospitals, stadiums, educational institutions, and commercial spaces.
3. COFDM Modulation: COFDM is a modulation technique that is efficient in transmitting digital signals over air or cable. It provides resistance to multipath interference and offers robust transmission of signals, making it suitable for reliable distribution in various settings.
4. Channel Configuration: The Triax MOD103T allows users to configure the COFDM channel parameters, including frequency, bandwidth, and modulation settings. This customization ensures compatibility with the receiving devices and optimal signal quality.
5. HD Content Preservation: The modulator maintains the high-definition quality of the HDMI input signal during conversion, allowing viewers to experience the content in its original clarity.
6. RF Output: The modulator outputs the converted COFDM signal in radio frequency (RF) format, which can be distributed through coaxial cable networks to various television sets or monitors.
7. Compatibility: The Triax MOD103T is compatible with various types of HDMI sources, making it versatile for connecting different types of media devices.
8. Easy Installation: The modulator is typically designed for easy installation. It can be mounted in equipment racks or enclosures, and its user-friendly interface simplifies the setup and configuration process.
9. Commercial Applications: The MOD103T is often used in commercial applications where centralized content distribution is required, such as in hotels where guests need access to TV channels or multimedia content.
10. Professional Use: The Triax MOD103T is intended for professional use in broadcasting and distribution systems, and it is commonly used by AV integrators, installers, and professionals in the audio visual industry.
Triax MOD103T - HDMI to COFDM Modulator is a device that converts HDMI signals into COFDM signals for distribution to multiple televisions or monitors over coaxial cable networks. Its capabilities in preserving HD content, customization of channel parameters, and ease of installation make it a useful tool for distributing high-quality multimedia content in various commercial and professional settings.
ORDER INFORMATION
CHARACTERISTICS
| | |
| --- | --- |
| Video Input | HDMI |
| Audio Input | Stereo, HDMI |
| Video resolution | Up to 1080p@30Hz Pixel |
| Video Compression | H.264 4.0 |
| Audio Compression | MPEG-2, AAC |
| Number of carriers | 2K / 8K |
| Guard Interval | 1/4, 1/8, 1/16, 1/32 |
| Constellation | QPSK/16QAM/64QAM |
| Code rate | 1/2, 2/3, 3/4, 5/6, 7/8 |
| Output level | < 95 dBµV |
| MER | <30 dB |
CONNECTORS
| | |
| --- | --- |
| Input connector | HDMI, F-terrestrial loop through |
ELECTRICAL
RETURN LOSS
FREQUENCY
| | |
| --- | --- |
| Frequency range | 177...858 MHz |
| Bandwidth | 6/7/8 MHz |
OPERATIONAL
| | |
| --- | --- |
| DC Operating voltage | 12 VDC |
| Service Settings | Serv. Name: Edit service name Serv. ID: 1-65535 |
| Stream Settings | Orig Netw ID: 1-65535 Netw ID: 1-65535 TS ID: 1-65535 Netw Name: Edit Network Name |
| Parameter Settings | Const: QPSK/16QAM/64QAM Code Rate: 5/6, 7/8 Guard Interval: 1/4, 1/8, 1/16, 1/32 Trans Mode: 2K, 8K Bandwidth: 6,7,8 MHz |
MECHANICAL
| | |
| --- | --- |
| Display | LCD panel and buttons |
| Packing QTY | 1 |
| Product Height | 25 mm |
| Product Width | 190 mm |
| Product Depth | 120 mm |
| Packaging Height | 0.058 m |
| Packaging Width | 0.254 m |
| Packaging Depth | 0.204 m |
| Packaging Volume | 0.003 m3 |
| Net Weight | 0.750 kg |
| Tara Weight | 0.180 kg |
| Total Weight | 0.930 kg |