White 12 Core Alarm cable 6 Pair Round Tinned Copper PVC
Chester Digital Supplies Ltd
White 12 Core Alarm cable 6 Pair Round Tinned Copper PVC
6 Pair Round Tinned Copper PVC

A general-purpose Signal and Alarm cable manufactured supplied in 12 core configuration. 
The cable is ideal for use in alarm installations or where low voltages are used. Jacket material is PVC.
Manufactured to BS4737
External Diameter: 5.6mm PVC Wall Thickness 0.50mm
Current Rating: 1 Amp Max Voltage : 50V rms
Resistance: 98.7ohms/km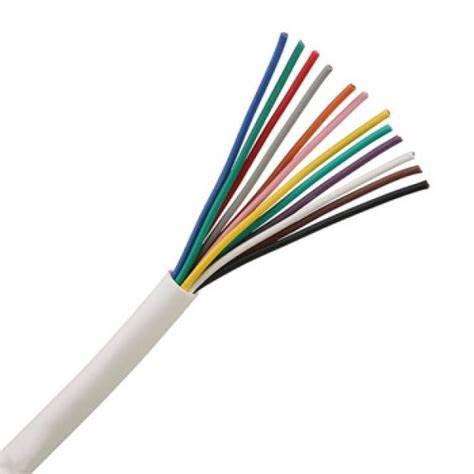 Share the love with your friend
Complete the form below and we'll email your friend about this product
You'll earn 0 reward points with this purchase.
Be one of the first to know!
We're sorry we're out of stock but we can let you know as soon as it's available if you enter your email address below.
1. Outer Sheath: The cable is encased in a durable and protective outer sheath, which is typically white in color. This sheath provides insulation and protection to the individual conductors (wires) inside, shielding them from environmental factors like moisture, physical damage, and electromagnetic interference.
2. Multi-Conductor Design: Inside the outer sheath, the cable contains 12 individual insulated conductors. These conductors are separate wires bundled together within the same cable, allowing for the transmission of multiple signals or electrical connections using a single cable.
3. Color-Coded Insulation: Each of the 12 conductors has its own distinct color-coded insulation. This color coding simplifies the installation process by helping to identify and differentiate between the individual conductors. Additionally, the color-coding aids in connecting the right components to the correct conductors.
4. Core Identification: The term "12 Core" indicates that the cable has 12 individual conductors or wires. The word "Core" is often used to describe the individual conductive elements within a cable.
5. Versatile Use: This cable is specifically designed for alarm and security systems. It is suitable for connecting various devices commonly found in these systems, such as sensors, detectors, control panels, keypads, and sirens.
6. Flexibility: The cable is designed to be flexible and easy to handle, which is essential during installation. It can be routed through walls, ceilings, conduits, and other pathways without excessive difficulty.
7. Applications: The 12 conductors in the cable can be used for a variety of purposes within a security or alarm system. For example, they can carry power to sensors, transmit signals between devices, and establish communication between components.
8. Installation: When installing a White 12 Core Alarm cable, it's crucial to follow industry best practices and guidelines to ensure proper functionality and reliability of the security or alarm system. This might involve carefully connecting the correct conductors to the appropriate terminals on devices and control panels.
9. Professional Assistance: Depending on the complexity of the alarm system and the installation process, it's advisable to seek professional assistance from individuals experienced in security system installation or electrical work.