Blake Uk 5G MiMo Antenna with SMA Male Plugs
Blake UK
Blake Uk 5G MiMo Antenna with SMA Male Plugs
Blake UK
Blake Uk 5G MiMo Antenna with SMA Male Plugs
5G MiMo Cross polarised Panel Antenna with SMA Male Plugs
This 5G antenna enables you to receive and transmit mobile phone signal in areas where this may be difficult, such as underground buildings, basements, rural areas or weak signal areas in general.
With MIMO technology (Multiple-Input Multiple-Output) the antenna uses multiple transmitters and receivers to transfer more data at the same time.
It is to be used in conjunction with a 5G router (not provided) which will work with a sim card from your provider. The contract with your provider will determine how much 5G you will be able to use within the time frame agreed so make sure you chose a deal that is right for you.
The antenna is pointed towards a local 5G transmitter which it will receive and transmit data to. The router allows your device/s to receive the data and transmit data back.
There are extension leads and adapters available if needed however we don't recommend extending more than 10m (5m cable already attached to aerial so a total of 15m) because this will affect the quality of the signal.
Pre-fitted 5m dual coax SMA lead, can be used with SMA adapters: PROCON80, PROCON81, PROCON82, PROCON83, PROCON84.
Extension cables available in 3m , 5m and 10m
Suitable for outdoor use. Please make sure any connections are fully waterproof.
Check out this website to see what frequencies your provider is on CLICK HERE.
Backwardly compatible with 4G and 3G.
Frequency Bands: 698-3800MHz.
Fractal antenna design.
MIMO technology.
Use with an LTE router (not supplied).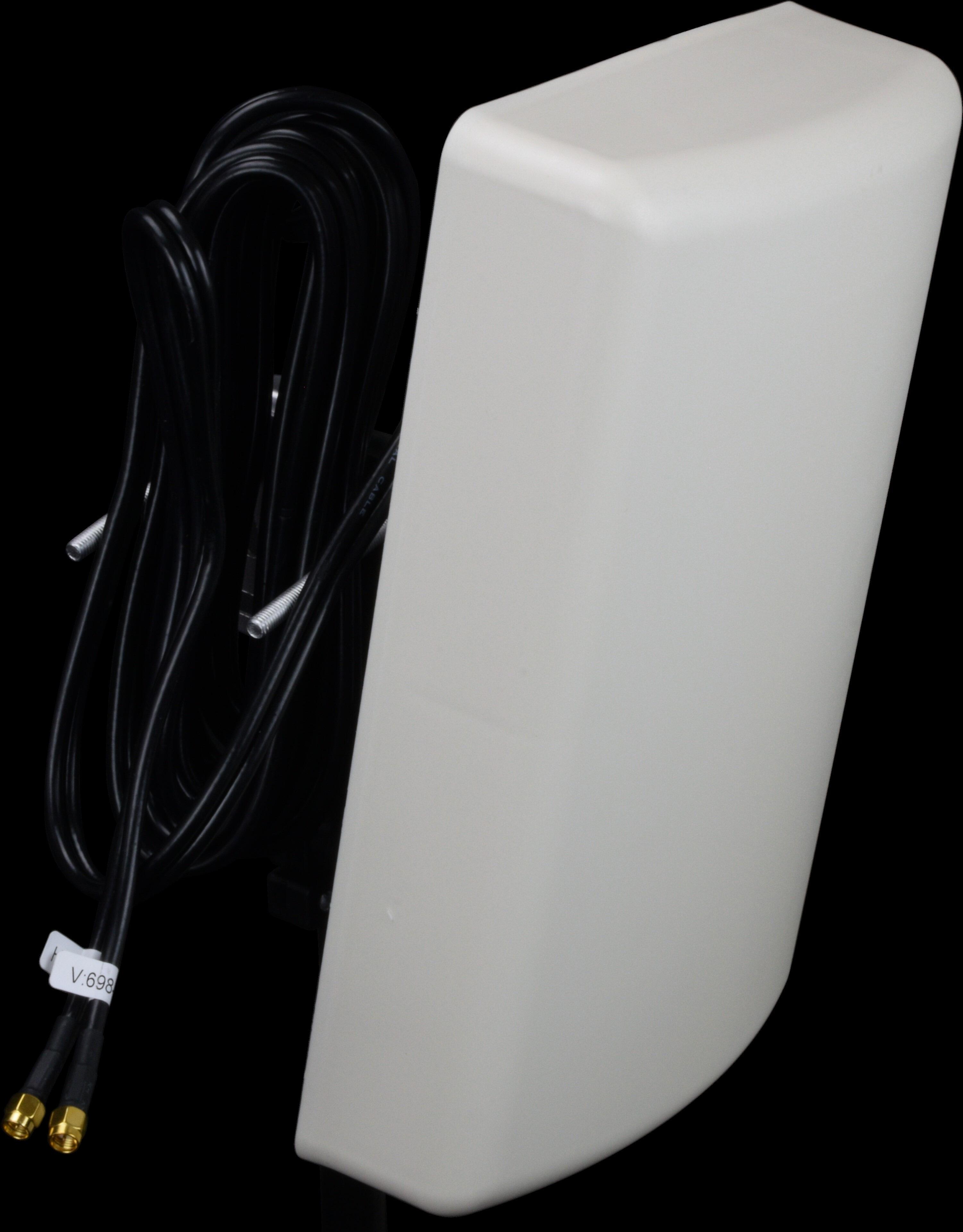 Share the love with your friend
Complete the form below and we'll email your friend about this product
You'll earn 0 reward points with this purchase.
Be one of the first to know!
We're sorry we're out of stock but we can let you know as soon as it's available if you enter your email address below.
5G MiMo cross polarised panel antenna is a type of antenna designed for use in 5G communication systems. MiMo stands for Multiple-Input Multiple-Output, which means that the antenna has multiple inputs and outputs for transmitting and receiving data. The cross polarised design means that the antenna has two sets of elements oriented at right angles to each other, one set for horizontal polarization and the other set for vertical polarization.
The panel antenna is a flat, rectangular antenna that is designed to be mounted on a wall or other flat surface. It typically has a low profile and a directional radiation pattern, meaning that it focuses its energy in a specific direction. This makes it ideal for use in point-to-point and point-to-multipoint communication systems.
The use of a cross polarised design in a 5G MiMo panel antenna provides several advantages. First, it allows for the antenna to transmit and receive signals in both the horizontal and vertical polarizations, which improves the signal quality and reduces interference. Second, the directional radiation pattern of the panel antenna allows for better coverage and improved signal-to-noise ratio, which can result in faster data speeds and more reliable communication.
5G MiMo cross polarised panel antenna is a high-performance antenna that is well-suited for use in 5G communication systems, particularly in outdoor environments where directional antennas are needed to achieve the best possible signal quality and coverage.
Product name    5G MiMo Cross polarised Panel Antenna with SMA Male Plugs
Frequency Range MHz   698-3800
Connector           SMA
Gain dBi               12-14
VSWR    <1.8
Impedance         50
Dimensions mm                295x180x70
Compatible Transmissions            GSM, DCS, UMTS, HSDPA, LTE

Spec Sheet