Chester Digital Supplies Ltd
Bird Spike Strips
Spikes designed for protecting digital TV Antennas & Ledges. 
It will protect TV antennas and ledges that have a depth of 1 to 8 inches 25mm to 200mm. 
They won't affect the TV antenna performance and are suitable against even the heaviest bird infestation. 
They won't hurt the bird but they'll always deter them.
Strip length of 33cm 13 inches or one-third of a meter
They're simple and quick to install using either silicon fixative or cable ties
They protect larger TV antennas
They also deter pigeons etc from settling on bracketry masts etc
They can offer ledge protection of up to 8 inches 200mm.
These types of spikes are used by most pest control companies and councils in the country
They allow the antenna installer additional products and services to offer every customer
Plastic is made from durable UV stabilised polycarbonate.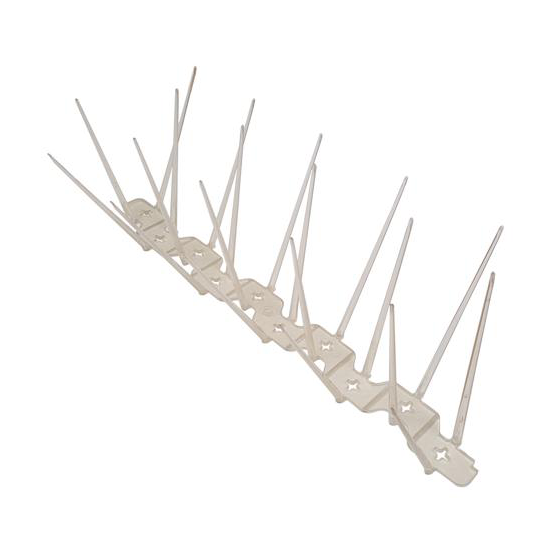 Share the love with your friend
Complete the form below and we'll email your friend about this product
You'll earn 0 reward points with this purchase.
Be one of the first to know!
We're sorry we're out of stock but we can let you know as soon as it's available if you enter your email address below.
Bird spike strips are a humane bird control solution that can be used to prevent birds from perching or roosting on buildings, ledges, fences, or other structures. The spike strips are typically made of plastic and consist of rows of thin, pointed spikes that make it uncomfortable or impossible for birds to land or roost on them.
Bird spike strips work by creating an uneven surface that makes it difficult for birds to find a comfortable place to land. The spikes are typically around 3-6 inches tall and spaced a few inches apart, making it difficult for birds to perch between them. The strips are typically easy to install and can be affixed to a variety of surfaces using screws, adhesive, or cable ties.
Bird spike strips are considered a humane and effective bird control solution, as they do not harm the birds in any way. They are also a long-lasting solution that can withstand harsh weather conditions and last for years. Bird spike strips are commonly used in commercial and residential settings, and they can be particularly effective for deterring pigeons, seagulls, and other large birds from perching on buildings, roofs, and ledges.
However, it is important to note that bird spike strips are only effective in preventing birds from landing or roosting in specific areas. They do not solve underlying issues such as a bird infestation or nesting. Therefore, it is important to consider the root cause of the bird problem and address it in addition to using bird spike strips for effective bird control.