Premium CT100 LSZH Coax Cable 250m
Chester Digital Supplies Ltd
Premium CT100 LSZH Coax Cable 250m
A high-quality cable manufactured to the industry standard CT100 type. 
Ideal for professional TV and CCTV system installations including digital satellite, terrestrial and cable TV.  
LSZH (Low Smoke Zero Halogen) High-Performance Outer Jacket
Complete Cable Assembly Exceeds IEC61034-1:2005, IEC 61034-2:2005 Iec60332-1-2:2004, IEC 60754-2:1991 For Fire And Gas Emissions.
Dual Screen Of Conductive Foil And Woven Braid For Excellent Noise Rejection
True 75 Ohm Characteristic Impedance
Low Loss foamed-polyethene Dielectric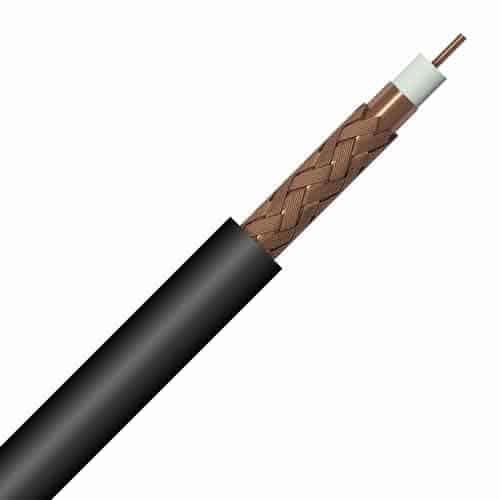 Share the love with your friend
Complete the form below and we'll email your friend about this product
You'll earn 0 reward points with this purchase.
Be one of the first to know!
We're sorry we're out of stock but we can let you know as soon as it's available if you enter your email address below.
Premium CT100 LSZH Coax Cable is a type of high-quality coaxial cable that is commonly used in various applications, such as in television and radio broadcasting, telecommunications, and CCTV systems. LSZH stands for Low Smoke Zero Halogen, which means that the cable has a flame-retardant outer sheath that produces low smoke and does not emit toxic halogen gases in the event of a fire.
 The CT100 designation refers to the specific design and specifications of the cable. It is a 75-ohm impedance cable that is designed to carry high-frequency signals over long distances. The cable features a solid copper core, which is surrounded by a layer of dielectric material, and then a braided copper shield. This shield helps to prevent signal interference and ensure the highest possible signal quality. One of the key benefits of using a Premium CT100 LSZH Coax Cable is its superior signal quality. 
The cable is designed to minimize signal loss and interference, which means that it can transmit high-quality video and audio signals over long distances without degradation. This makes it an ideal choice for use in professional applications where signal quality is critical. Another important benefit of using a Premium CT100 LSZH Coax Cable is its durability and reliability. 
The cable is made from high-quality materials that are designed to withstand harsh environmental conditions and frequent use. The LSZH outer sheath provides additional protection against damage and ensures that the cable meets the highest safety standards. In summary, if you are looking for a high-quality coaxial cable for professional or industrial use, a Premium CT100 LSZH Coax Cable is an excellent choice. Its advanced design and LSZH construction make it a safe and reliable option that can provide superior signal quality over long distances.
Description:

Item
  Conductor
Nominal O.D.:
1.00- 0.01 mm
Material
Bare Copper
Dielectric
Nominal O.D.:
4.6- 0.01 mm
Material
Foam PE
Shielding
Foil Width
17 mm
    Shielding  
Material
Copper clad Aluminum Foil
Braiding wires
16*4*0.12 (0.12 mm 0.01 mm)
Braid Material
Copper Clad Aluminum wire
    Jacket    
Material
LSOH (Eca)
Colour
Black
Thickness
0.8-0.1 mm
Nominal O.D.
6.6 -0.1 mm
            Electrical Characteristics
Impedance
75 - 3 Ohm
Nominal Capacitance
50 pf/m
Return Loss
5MHZ~4700MHZ23 dB 470MHZ~1000MHZ20 dB
Velocity of Propagation
82%
Frequency, MHZ
Attenuation dB/100 m
50
6.0 dB
100
7.0 dB
200
9.5dB
550
16.8 dB
870
19.5 dB
1000
21.05 dB