Clear Flow Core Gateway Controller
Clear Flow
Clear Flow Core Gateway Controller
Dual Core Gb Gateway with 48v PoE
The Clear Flow Gb Core Gateway is at the heart of a Clear Flow installation and provides routing, control and 4 output ports PoE. 
With an onboard programming and management software, the core gateway is ideal for powering and managing your Clear Flow WiFi system.
Features include management of APs, bandwidth control, VLAN, remote management & multiple LAN/WAN options.
Gigabit Gateway
The central controller for a Clear Flow system
WAN/LAN input/output ports
PoE LAN ports
Remote access
VLAN function
Manage groups of AP's
Bandwidth management system
Rack mountable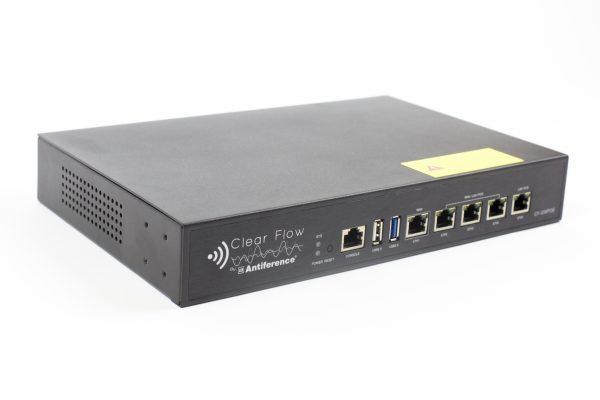 Share the love with your friend
Complete the form below and we'll email your friend about this product
You'll earn 0 reward points with this purchase.
Be one of the first to know!
We're sorry we're out of stock but we can let you know as soon as it's available if you enter your email address below.
Clear Flow gigabit gateway is a networking device that serves as a central point of control for a local area network (LAN). It is designed to provide high-speed internet connectivity and network management capabilities to multiple devices within a home or office environment.
1. Centralized Management: The core gateway controller acts as a central point for managing data traffic and communications between various devices, networks, or protocols.
2. Data Flow Optimization: The controller optimizes the flow of data by ensuring efficient routing and minimizing bottlenecks, which helps maintain smooth and reliable data transmission.
3. Interoperability: It enables communication between different devices and protocols that might not naturally interact, allowing for seamless data exchange across heterogeneous networks.
4. Security: Core gateway controllers often incorporate security features such as firewalls, intrusion detection, and encryption to protect data as it passes through different networks.
5. Scalability: These controllers are designed to accommodate the growing demands of network traffic and data volume. They can handle increased data loads without compromising performance.
6. Protocol Translation: In some cases, a core gateway controller might translate data between different communication protocols, ensuring compatibility and efficient data exchange.
7. Load Balancing: The controller can distribute network traffic across multiple paths or connections, preventing congestion and optimizing performance.
8. Analytics and Monitoring: Core gateway controllers might provide tools for monitoring network performance, collecting data analytics, and identifying potential issues.
9. Integration with IoT and Cloud: As the Internet of Things (IoT) and cloud technologies become more prevalent, core gateway controllers can help bridge the gap between these technologies and traditional networks.
10. Customization and Control: Depending on the product and its features, users might have the ability to configure and customize the behaviour of the core gateway controller to suit their specific networking requirements.
Model: CF-GWPOE
Hardware Specification: Mt7621A Chip; DDR: 512MB; Flash: 32MB
Physical Interface: 1*1000Mbps WAN Port; 1*1000Mbps LAN Port; 3*1000Mbps WAN/LAN Port; 1*USB2.0 Port; 1* USB3.0 Port; 1*Console Port; 1*Power Port
Button: 1*Reset Button; 1*Power Button Power 100~240V AC, 50/60Hz
Indicator: Power, SYS
Power Consumption: 54W
MTBF: 250000H
 IP Index IP31
 Installation Way Desktop, Rack-mounted (Mounts included)
Case: Iron
Physical Features: Product Size: 280*180*44mm
Working Environment: Working Temperature: -10°C~65°C Storage Temperature: -40°C~70°C Working Humidity: 10%~90%RH Non-condensing Storage Humidity: 5%~90%RH Non-condensing