Sonos
Sonos Era 300
The premium smart speaker designed for spatial audio listening—
Stream content over WiFi, Bluetooth®, or using USB-C line-in (requires adapter).
Supports spatial audio with Dolby Atmos Music.
Easy control using the Sonos app, your voice, or the intuitive touch controls.
Two separate microphone controls for convenience and privacy.
Pair two Era 300 speakers with Sonos Arc or Beam (Gen 2) for multichannel surround sound.
Compatible with your other Sonos S2 speakers for multi-room listening.
See Setup when you're ready to add a Sonos Era 300 to your system.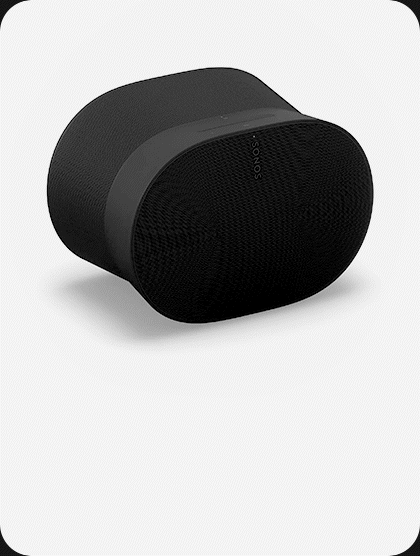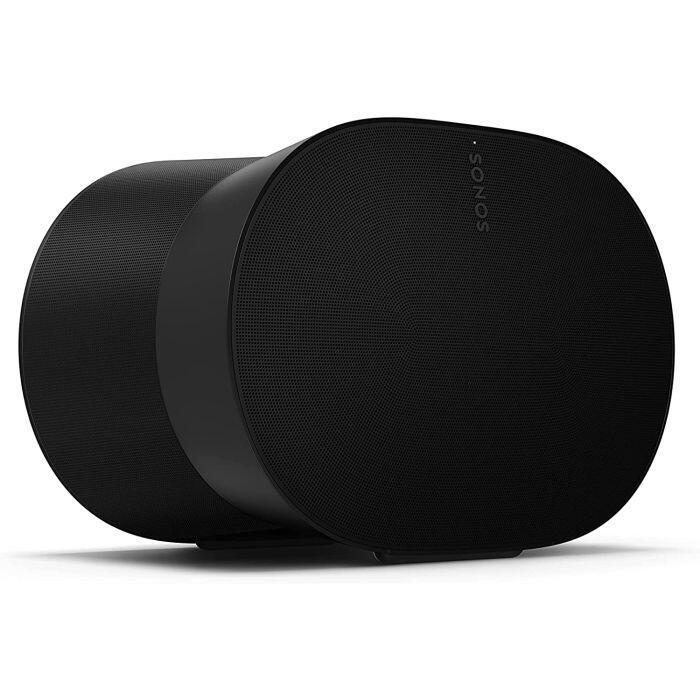 Share the love with your friend
Complete the form below and we'll email your friend about this product
You'll earn 0 reward points with this purchase.
Be one of the first to know!
We're sorry we're out of stock but we can let you know as soon as it's available if you enter your email address below.
Select a location
Trueplay tuning will adjust the sound for wherever you place Era 300, but for the speaker to project sound most effectively, here are a few guidelines:
Era 300 should be placed indoors and have approximately two ft (.61 m) of overhead clearance for optimal sound quality. Placement in an enclosed space like a bookshelf is not recommended as this could impact dispersion and playback clarity.
If you are mounting Era 300 within 2 ft (.61 m) of a ceiling, place it upside down for the best sound.
When Era 300 is placed next to a wall or on a shelf, leave at least 1" (2.5 cm) clearance in back and 8" (20.32 cm) on each side of the speaker.
When using Era 300 speakers as surrounds, leave at least 8" (20.32 cm) clearance around the sides of each speaker.
Traditional stereo setups often have an ideal place to sit in a room for the best listening experience, but with Era 300 the sound is sent in all directions so you'll experience rich detail no matter where you're seated.
Note: Don't position Era 300 vertically or at a steep angle or the audio will stop.
Bluetooth pairing
Turn Bluetooth on in your device settings.
Press and hold the Bluetooth button on the back on the speaker until you hear a tone, then release. The status light blinks blue when the speaker is ready to pair.
Choose Sonos Era 300 from the list of available devices in your Bluetooth settings. Your mobile device will automatically connect next time.
Line-in
Connect an audio device, like a projector, CD player, or turntable (with a built-in phono preamp), to any Sonos product that has a line-in port (Era 300, Era 100, Amp, Port, or Five). Then go to  > Line-In to select the source and start playback.
Note: Era 300 and Era 100 require a Sonos Line-In or Combo Adapter (sold separately). Other products may require a different type of line-in adapter depending on your audio source.
Learn more
Microphone on/off
There are two ways to control the microphones on Era 300:
A universal microphone switch on the back turns all microphones on and off.
A voice services button on top turns voice services on and off without affecting the microphones needed for Trueplay and other microphone-enabled features.
When both are on, voice control and all microphone-enabled features are available.
When both are off, voice control and all microphone-enabled features are unavailable.
When the universal microphone switch is on and the voice services light is off, Trueplay and other microphone-enabled features are available but voice control is off.
Voice services
Use your voice to control your Sonos system with any voice-enabled Sonos product—play and control content, turn the volume up or down, and more.
Sonos Voice Control: control your whole Sonos system with hands-free ease and unmatched privacy. Sonos Voice Control comes ready to use—it only takes a few seconds to add when you set up your speakers. More information
Amazon Alexa: you'll need the Sonos app and the Alexa app with the Sonos skill enabled. You'll make some changes in both apps during setup. Learn more
Siri: you'll need the Apple Home app. Add your AirPlay2-compatible Sonos speakers to the Apple Home app and then use an iPhone, iPad, or Apple TV to ask Siri to play music (currently limited to Apple Music). Learn more
Note: Voice control isn't supported in every country yet—this feature will be available as soon as Sonos and a voice service launch together in your region.
Trueplay™
Trueplay tuning measures how sound reflects off walls, furnishings, and other surfaces in a room, then fine tunes your Sonos speaker to make sure it sounds great no matter where you place it.
During setup, choose the Trueplay option that works best for you and your space. To retune later, go to  > System, choose a room, and select Trueplay.
Advanced tuning
Advanced tuning is custom and precise. It takes about 5 minutes and uses the microphone on an iOS device (running iOS 8 or later) so you'll move around the room while the sound is fine tuned for your space.
Quick tuning
Quick tuning is fast, effortless, and accessible. It takes about a minute and uses the microphone on your Sonos product to detect the environment so there's no need to move around the room during tuning.
Note: Quick tuning is available for both iOS and Android, and is a good choice for smaller rooms, or spaces where it's difficult to move easily.
Auto Trueplay
Portable Sonos products like Sonos Roam and Move can tune themselves automatically. Auto Trueplay uses your speaker's microphone to detect the environment and make periodic tuning adjustments so you get great sound wherever your speaker is and whatever you're listening to.
Specifications
Six Class-D digital amplifiers precision-tuned for the speaker's unique acoustic architecture.
Tweeters
Four tweeters ensure faithful playback of high and mid-range frequencies. The forward-firing mid tweeter provides a smooth centre image while two side-firing mid tweeters create stereo separation. An upward-firing tweeter reflects sound off the ceiling when playing Dolby Atmos content.
Woofers
Two woofers maximize low-end output and are angled left and right to support stereo playback.
Microphones
Far field microphone array
All microphones, including voice control, can be turned off using the microphone switch on the back of the speaker.
Adjustable EQ
Use the Sonos app to adjust bass, treble, and loudness.
Trueplay™
This software measures the acoustics of the room then fine-tunes the EQ. Compatible with iOS and Android devices. (Microphone switch must be on.)
Stereo pair
Turn two speakers into separate left and right channel speakers to create wider, deeper sound.
Dolby Atmos®
Spatial audio technologies, such as Dolby Atmos, allow creators to place individual sounds all around you in 3D space for a more immersive and realistic listening experience.
Home theatre
Add two Era 300 speakers as surrounds for an immersive surround sound experience.
POWER / CONNECTIVITY
WiFi
Using Sonos S2: Connects to WiFi with any 802.11a/b/g/n/ac/ax 2.4/5GHz broadcast-capable router.
Bluetooth
Bluetooth 5.0 supports audio streaming from any Bluetooth enabled device.
Press the Bluetooth button to pair with a Bluetooth device.
2yr Warranty