Triax 102 FF/M - 2 Way Splitter
Triax
Triax 102 FF/M - 2 Way Splitter
Triax
Triax 102 FF/M - 2 Way Splitter
Triax 102 FF/M - 2 Way Splitter with IEC Connector
Splitters with IEC connector.
SKU: 338365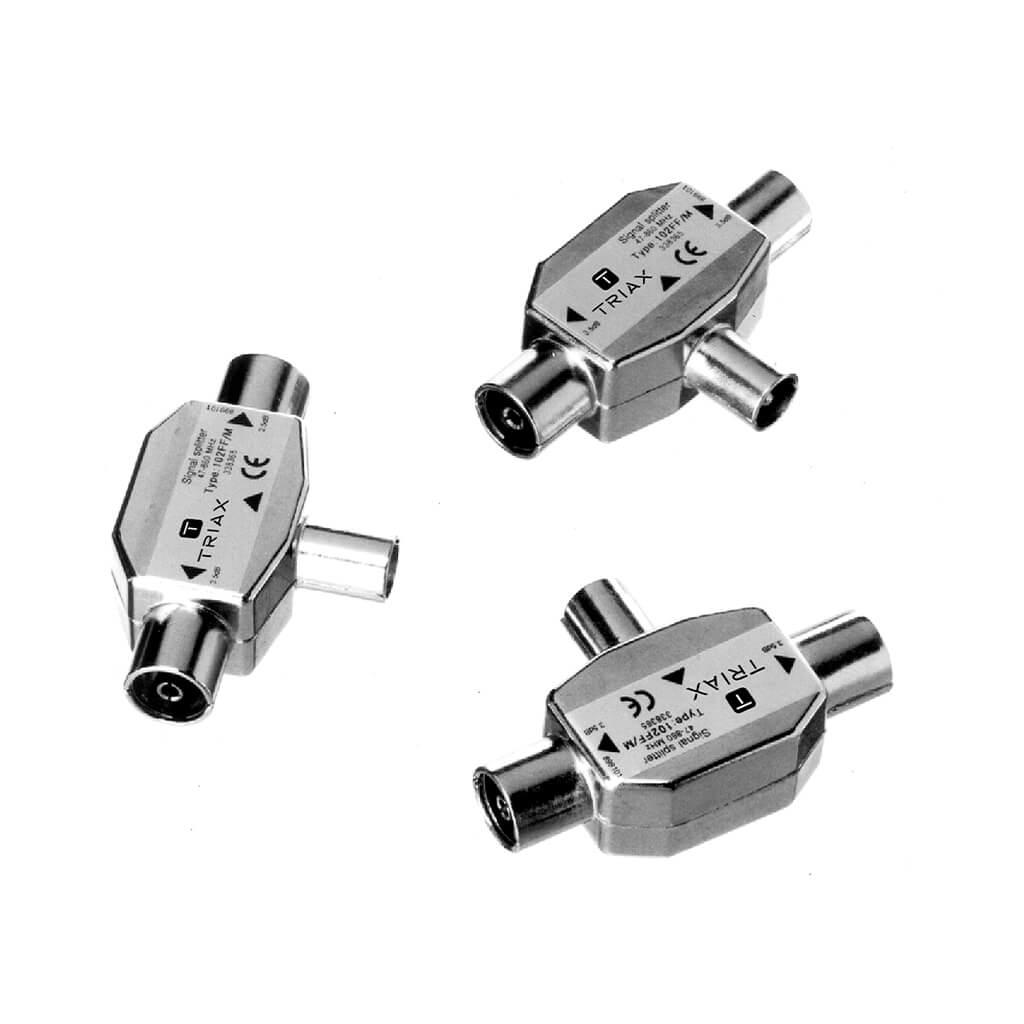 Share the love with your friend
Complete the form below and we'll email your friend about this product
You'll earn 0 reward points with this purchase.
Be one of the first to know!
We're sorry we're out of stock but we can let you know as soon as it's available if you enter your email address below.
Triax 102 FF/M is a 2-way splitter designed for distributing signals in a coaxial cable television or RF (radio frequency) system. It is commonly used in setups where one signal source needs to be split into two separate outputs, allowing multiple devices or connections to receive the same signal simultaneously.
Features of the Triax 102 FF/M 2-Way Splitter with IEC Connector:
Signal Splitting: The primary function of this splitter is to take an incoming signal and divide it into two equal parts. This is useful for sending the same signal to two different devices or connections, such as two TVs, without significant loss of signal quality.
Frequency Range: The splitter is designed to work within a specific frequency range, typically covering the RF frequencies used for cable television and terrestrial broadcasting. This ensures that it can handle a wide range of channels and signals without distortion.
Low Signal Loss: The Triax 102 FF/M splitter is engineered to minimize signal loss during the splitting process. Signal loss can degrade the quality of the received signal, leading to poor picture or sound quality on the connected devices. The splitter's design aims to minimize this loss as much as possible.
IEC Connector: The IEC (International Electrotechnical Commission) connector is a standard type of coaxial connector used for connecting cables to devices like TVs, set-top boxes, and other RF equipment. The Triax 102 FF/M splitter features an IEC connector on the input side, allowing you to easily connect it to your signal source using a standard coaxial cable with an IEC connector.
Durable Build: The splitter is typically built with durable materials that provide shielding against electromagnetic interference (EMI) and ensure long-term reliability in various environments.
Compact Design: The compact size of the splitter makes it easy to install in tight spaces or behind entertainment centers. This is particularly useful when you need to integrate it into an existing setup without causing disruption.
Easy Installation: The splitter is designed for simple and straightforward installation. You connect the IEC connector to the incoming signal source and then connect the two output ports to the devices or connections you want to receive the split signal.
| | |
| --- | --- |
| EAN Number | 5702663383654 |
| Type | COAX splitter |
| Frequency range | 47...862 MHz |
| Insertion loss (in-out) 40-470 MHz | 3.5 dB |
| Insertion loss (in-out) 470-860 MHz | 3.5 dB |
| Impedance | 75 Ω |
| Application | MATV, SMATV 1Ghz |
| DC Passthrough | Yes |
| Environment | Indoor |
| Number of outputs | 2 |
| Connector Type | IEC-male / IEC-female |
| Packing QTY | 1 |
| Packaging Height | 0,020 m |
| Packaging Width | 0,040 m |
| Packaging Depth | 0,060 m |
| Net Weight | 0,036 kg |
| Total Weight | 0,036 kg |

Spec Sheet