Triax 22STC-I - TDcH Compact Headend with CI Interfaces
Triax
Triax 22STC-I - TDcH Compact Headend with CI Interfaces
Triax
Triax 22STC-I - TDcH Compact Headend with CI Interfaces
DVB-S, DVB-S2, DVB-T, DVB-T2 and DVB-C conversion to QAM or COFDM (switchable) with the possibility to decrypt services centrally in the headend.
Built for both wall mounting and 19" racks and equipped with 4 DVB-S/S2 inputs, 1 DVB-T/T2/C input, 16 DVB-S2X tuners, 6 DVB-T/T2/C tuners, 16 QAM or COFDM (switchable) modulators and 8 CI slots.
The TDcH compact headend is optimised and engineered to meet specific TV distribution requirements in hospitality, multi-dwelling units and related sectors with an appealing, competitive cost per service ratio.
Our brand new, intuitive platform smoothly integrates easy installation, an elegant graphical user interface, central decryption, remote access, and straightforward TV service updates with LCN.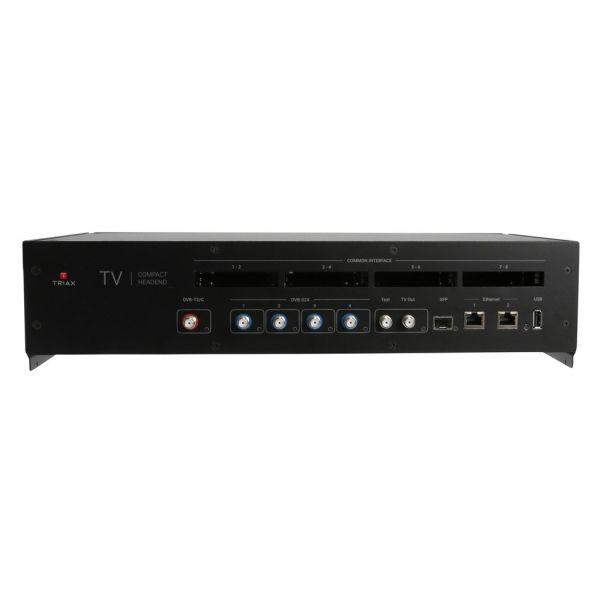 Share the love with your friend
Complete the form below and we'll email your friend about this product
You'll earn 0 reward points with this purchase.
Be one of the first to know!
We're sorry we're out of stock but we can let you know as soon as it's available if you enter your email address below.
4 x SAT IF inputs with integrated multiswitch
1 x Terr / Cable input with integrated splitter
16 x DVB-S2 tuners
6 x DVB-T/T2/C tuners
8 x CI interfaces
16 x QAM or COFDM full band modulators
        -  Electronically adjustable output level
        -  Suitable for adjacent channels
        -  Symbol rates and modulation individually adjustable
Multiplexing & IP pool
        - TV-Service Multiplexing from all inputs at each output  transponder to optimize available bandwidth
        - TV-Service Multiplexing at the CA-modules to reduce the amount of CAM's
Integrated Satellite Channel Router (SCR) multiswitch*
        - Reception of up to 4 satellite positions with each 2 polarizations and 2 frequency bands
Transport Stream Processing
        - Network Information Table (NIT) for complete headend  station
        - LCN (Logical Channel Numbering)
SID, TSID and ONID management
        - To handle conflicts during multiplexing
        - To handle changes if required
PID management
        - To handle PID conflicts
        - PID filtering to reduce audio channels from a TV service
        - Distribute TV services multiple times with different languages
        - In case of service changes to secure no new TV channel tune
EPG management
        - To manage the amount of EPG-data distributed in an output transponder
        - To support TVs with EPG data from all TV services without the need to retune all transponders
Service Filtering with the option for
        -  Remove unwanted services
        -  Remove services for minimizing data rate-
Real-time output load measurement
Dashboard
        - System information and overview without login
HTML user interface via self-signed HTTPS
ORDER INFORMATION
CHARACTERISTICS
| | |
| --- | --- |
| Demodulator Type | DVB-S2X |
| Demodulator Symbolrate | 1...45 Msym/s |
| Input level | 44 – 90 dBμV dBµV |
| LNB current max. | 400 mA |
| LNB V/H programmable | 13/18 V/mA |
| LNB LO/HI programmable | 22 kHz |
| DiSEqC level | 1.0 |
| FFT mode DVB-T | 2k, 8k |
| FFT mode DVB-T2 | 1k, 2k, 4k, 8k, 16k, 32k |
| Constallations DVB-T | QPSK, 16QAM, 64QAM |
| Constallations DVB-T2 | QPSK, 16QAM, 64QAM, 256QAM |
| Code rates DVB-T | 1/2, 2/3, 3/4, 5/6, 7/8 |
| Code rates DVB-T2 | 1/2, 3/5, 2/3, 3/4, 4/5, 5/6 |
| Guard Interval DVB-T | 1/4, 1/8, 1/16, 1/32 |
| Guard interval DVB-T2 | 1/4, 19/128, 1/8, 19/256, 1/16, 1/32, 1/128 |
| Output Type | QAM/COFDM |
| Output QAM Modes | 16, 32, 64, 128, 256 |
| Output level adjustment | 10 dB |
| Output Level System | QAM 95 / COFDM 93 dBµV |
| Output symbol rate | 3,5...7,2 Mbit/s |
| Spurious Signals | > 60dB dB |
| MER | QAM>43 / COFDM>40 dB |
| Cable - symbol rate | 3.5...7.2 Mbit/s |
| Demodulator Viterbi Decoder | 1/2; 2/3; 3/4; 5/6; 7/8; automatically / manually |
| DVB-S2 Modes (8PSK) | 3/5, 2/3, 3/4, 5/6, 8/9, 9/10 |
| DVB-S2 Modes (QPSK) | 1/2, 3/5, 2/3, 3/4, 4/5, 5/6, 8/9, 9/10 |
| DVB-S Modes (QPSK) | 1/2, 2/3, 3/4, 5/6, 7/8 |
| LNB band selection | DiSEqC 1.0 Control 13/18VDC and 22kHz |
| Max. Output level (@ full dig. load) | QAM 95 / COFDM 93 dBµV |
| Modulation scheme | QAM 16, 32, 64, 128, 256 |
| Output channel | S 21 – C 69 |
| Output level | QAM 85...95 / COFDM 83...93 dBµV |
| Satellite - demodulation | QPSK; 8PSK |
| Satellite transponders | 16 |
| Symbol rate DVB-S (QPSK) | 1...45 Mbit/s |
| Symbol rate DVB-S2 (8PSK) | 4.5...45 Mbit/s |
| Symbol rate DVB-S2 (QPSK) | 4.5...45 Mbit/s |
| Viterbi decoder | 1/2; 2/3; 3/4; 5/6; 7/8; automatically / manually |
| Test Point | -20 dB |
| Supported CAM Vendors | Aston, Neotion, SMARDTV, SMiT |
| Supported modules and cards | Conax: Canal Digital (Nordic), Telewizja (PL), T Home (HU) Cryptoworks: ORF (AT), UPC Direct (HU) Irdeto: ORF (AT) Nagravision: Canal Digital (NL), Canal+ (FR), Cyfra (PL), Cyfrowy (PL), Multicanal (ES), UPC, NDS, Viasat (Nordic + Baltic) Viaccess: Canal+ (FR), Eurosport (PL) |
| Transport stream | chip set prepared but not supported with SW1.0 |
CONNECTORS
| | |
| --- | --- |
| Number of inputs | 5 |
| Input Type | SAT-IF |
| Output connector | F connector |
| Connector - SFP cage | 1 x 1000 Base-T (SFP) |
| Connector SAT | 4 |
| External RF OUT | 1 x F connector 75 Ohm |
| Output connectors | 1 x F connector 75 Ohm |
| Output connectors (for RF) | 1 x F connector, 75 Ohm |
| Connector SAT-IF | 4 x F connector, 75 Ohm, 400 mA per input LNB power feed |
| SFP cage | 1 x 1000 Base-T (SFP) |
| USB port | USB 2.0, Type A con |
ELECTRICAL
| | |
| --- | --- |
| Impedance | 75 Ω |
| Number of RF outputs | 1 |
FREQUENCY
| | |
| --- | --- |
| Input frequency range | 950...2150 MHz |
| Output frequency range | 306...862 MHz |
| Channel Raster | 8 MHz |
| Channels | S 21 – C 69 |
| Number of channels | 16 channels in a row, single channel can be switched off |
| Satellite - frequency range | 950...2150 MHz |
RETURN LOSS
| | |
| --- | --- |
| Output Return Loss | >10 dB |
| Return loss SAT inputs | > 10 dB |
| Return loss (RF OUT) | > 10 dB |
OPERATIONAL
| | |
| --- | --- |
| CI slots | 8 x PCMCIA (front access) |
| AC Supply voltage | 100...264 VAC |
| Power Consumption (typ.) | typ. 35 max 90 W |
| Data rate | 83 Mbit/s |
| Ethernet Interface | 2 x 1000 Base-T (RJ 45) |
| DC Supply Voltage | 5 VDC |
| Temperature - operating | -10...+50 °C |
MECHANICAL
| | |
| --- | --- |
| Dimensions product (H x D x W) | 90 x 220 x 430 mm |
| Clips/Grounding strap | Ground clamp |
| Packing QTY | 1 |