42 Strand 2.5mm OFC (Oxygen-Free Copper) Speaker Cable - White - 100m
Chester Digital Supplies Ltd
42 Strand 2.5mm OFC (Oxygen-Free Copper) Speaker Cable - White - 100m
This speaker cable is an entry-level speaker cable for those wanting performance on a modest budget. It's is an ideal upgrade from simple patch cord speaker cables and combines convenience and performance. 
A traditional 42 OFC copper strand design with a flexible PVC jacket, it can be paired with mini, mid or rear speakers in Hi-Fi and AV setups.
While the idea of oxygen-free wire has been called a bit of a gimmick in the world of home theatre and car audio, with some saying it's only marginally more conductive than regular copper wire, the term itself is often used to describe various qualities of wire. There are different standards of "OFC".
In any case, OFC or regular copper wire are both a lot better than copper-clad or pure aluminium.
It's often recommended to buy a gauge larger if you're going with CCA over OFC, but you should just go with OFC wire instead. You don't want to skimp out on quality for something as important as wire, and this way they're all set if you decide to upgrade to a more powerful system down the road. You aren't going to have to re-wire everything.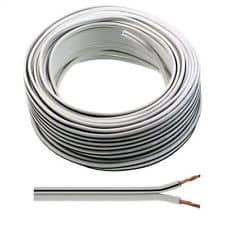 Share the love with your friend
Complete the form below and we'll email your friend about this product
You'll earn 0 reward points with this purchase.
Be one of the first to know!
We're sorry we're out of stock but we can let you know as soon as it's available if you enter your email address below.
2 Strand 2.5mm OFC (Oxygen-Free Copper) Speaker Cable - White - 100m refers to a type of cable that is commonly used for connecting speakers to an amplifier or receiver in a home or professional audio system. The cable consists of two individual strands or wires, each with a cross-sectional area of 2.5 square millimetres (mm²), made of oxygen-free copper (OFC).
OFC is a high-quality copper alloy that is highly conductive and resistant to corrosion, making it an ideal material for audio cables. The cable is typically insulated with a durable and flexible PVC jacket that protects the conductors from damage and provides a safe and reliable connection.
The cable is designed to minimize signal loss and distortion, allowing the audio signal to be transmitted with high fidelity and clarity. The white colour of the cable makes it easy to identify and route in a cable management system.
It's worth noting that the length of the cable can affect its performance, as longer cables can introduce more resistance and signal loss. Therefore, it's important to choose the appropriate length of cable for the distance between the amplifier and speakers in your audio system.
Here are some bullet points that highlight the main uses of 2 Strand 2.5mm OFC Speaker Cable:
Connecting speakers to an amplifier or receiver in a home or professional audio system
Transmitting audio signals with high fidelity and clarity
Minimizing signal loss and distortion
Providing a safe and reliable connection with durable insulation
Allowing for easy identification and routing with a white PVC jacket
Some keywords that could be associated with this type of cable include: