RCA Phono Plug To F Type Socket Adaptor
Chester Digital Supplies Ltd
RCA Phono Plug To F Type Socket Adaptor
Most commonly used for converting an F type male cable into a Phono Composite RCA male connection. 
The converter provides an easy yet effective way to convert from the screw-type connection to an RCA phono connection. 
Made from full Nickle body the small adapter is a robust design that is built to last. 
F type Socket screw 
Type RCA Male Phono Plug 
Full Nickle body 
Small and compact design 
Easy to Install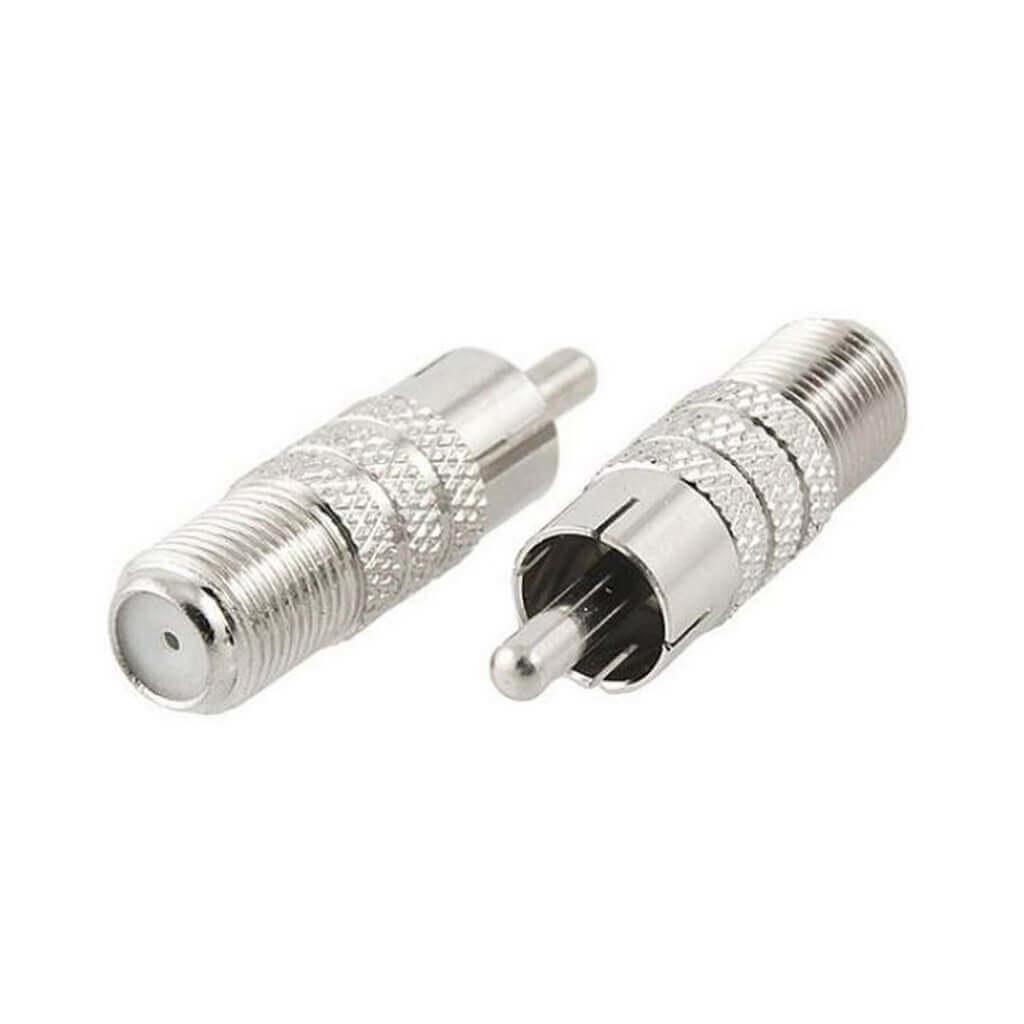 Share the love with your friend
Complete the form below and we'll email your friend about this product
You'll earn 0 reward points with this purchase.
Be one of the first to know!
We're sorry we're out of stock but we can let you know as soon as it's available if you enter your email address below.
RCA Phono Plug to F Type Socket Adapter is a versatile connector that allows you to convert between RCA (also known as phono) and F-type connections. 
Common uses for this type of adapter:
Audio/Video Equipment: If you have audio/video equipment that uses RCA connectors (commonly found on older devices like DVD players, VCRs, and older gaming consoles), and you want to connect it to a newer TV or device with F-type connectors (commonly used for cable/satellite TV or digital antennas), this adapter allows you to bridge the gap.
Cable/Satellite Boxes: Some cable or satellite TV boxes provide both RCA and F-type outputs. If you have an older TV with RCA inputs, you can use this adapter to connect the box to your TV.
Antenna Connections: If you're using an antenna for over-the-air TV signals and your TV has an F-type input while the antenna uses an RCA output, this adapter can help you connect them.
Home Theatre Systems: When integrating different components of a home theatre system, you might encounter a situation where one device uses RCA connectors and another uses F-type connectors. This adapter can be helpful in such scenarios.
Gaming Consoles: Older gaming consoles often have RCA connectors for audio and video output. If you want to connect these consoles to a modern TV with F-type inputs, this adapter can facilitate the connection.
Temporary Setups: In cases where you need a temporary solution, such as connecting a device to a TV for a short period of time, this adapter can come in handy to make quick connections without the need for additional cables.
Signal Distribution: If you're distributing audio or video signals from one source to multiple devices, you might encounter different types of connectors. This adapter can help standardize the connections.
AV Switchers and Splitters: If you're using audio/video switchers or splitters that have a mix of RCA and F-type connections, this adapter can enable you to connect devices with different connectors to the switcher/splitter.
If you're upgrading or retrofitting an older audio/video system with newer components, you might encounter connector compatibility issues. This adapter can help you bridge those gaps.