Unifix 4.5mm Black Round Cable Clip
UniFix
Unifix 4.5mm Black Round Cable Clip
UniFix
Unifix 4.5mm Black Round Cable Clip
4.5mm Unifix Round Cable Clip - 100 Pack
Secures cables and wires to a surface, such as a wall, floor, skirting board, or ceiling.
Can be used internally and externally
Black or White
4.5mm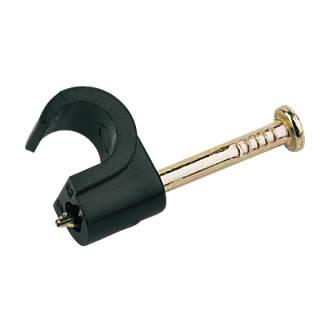 Share the love with your friend
Complete the form below and we'll email your friend about this product
You'll earn 0 reward points with this purchase.
Be one of the first to know!
We're sorry we're out of stock but we can let you know as soon as it's available if you enter your email address below.
Unifix 4.5mm Black or white Round Cable Clips are small plastic devices designed to secure cables and wires in place, preventing them from becoming tangled or creating a mess. These cable clips are used to organize and manage cables, especially in situations where multiple cables need to be routed neatly along walls, ceilings, or other surfaces.
Features and uses of Unifix 4.5mm Black Round Cable Clips:
1. Size and Design:
The "4.5mm" in the name refers to the diameter of the clip's circular opening, which is designed to accommodate cables with a diameter of up to 4.5mm. The round design of the clip allows cables to be easily inserted and secured.
2. Material and Color:
These cable clips are typically made from durable plastic material. The "Black" in the name indicates that the clips are black in color. The color can help the clips blend in with dark surfaces or provide a clean and discreet appearance when securing cables.
3. Cable Management:
The primary purpose of Unifix 4.5mm Black Round Cable Clips is to manage cables and wires by keeping them organized and preventing tangling or clutter. They are commonly used in homes, offices, data centres, entertainment systems, and other places where numerous cables need to be routed in an organized manner.
4. Installation:
The clips usually come with adhesive backing that allows them to be attached to various surfaces, such as walls, ceilings, or the sides of furniture. The adhesive ensures a secure attachment without damaging the surface. Once the clips are in place, cables can be easily inserted and held within the circular opening of the clip.
5. Neat Appearance:
Using these cable clips helps create a tidy and professional-looking cable installation. Cables are held in place and arranged neatly, reducing the risk of tangling or accidental disconnection.
6. Versatility:
These cable clips are versatile and can be used for various types of cables, including electrical cords, Ethernet cables, USB cables, audio and video cables, and more.
7. Application Areas:
Unifix 4.5mm Black Round Cable Clips can be used in a wide range of settings, such as offices, homes, workshops, studios, and commercial spaces. They are particularly useful in places where cable organization is essential for safety, efficiency, and aesthetics.