Unifix 7mm Round Coax Cable Clip
UniFix
Unifix 7mm Round Coax Cable Clip
UniFix
Unifix 7mm Round Coax Cable Clip
7mm Unifix Round Cable Clip - 100 Pack
Secures cables and wires to a surface, such as a wall, floor, skirting board, or ceiling.
Can be used internally and externally.
Brown // White // Black
1= 100 per box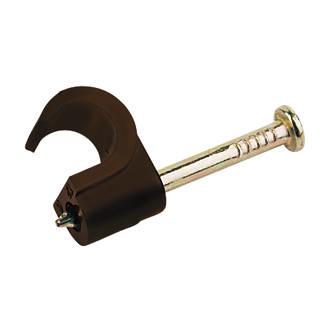 Share the love with your friend
Complete the form below and we'll email your friend about this product
You'll earn 0 reward points with this purchase.
Be one of the first to know!
We're sorry we're out of stock but we can let you know as soon as it's available if you enter your email address below.
Unifix 7mm Round Coax Cable Clips are designed to secure and organize coaxial cables, which are commonly used for transmitting television signals, internet connections, and other data communications. These cable clips are specifically designed to accommodate coaxial cables with a diameter of up to 7mm. Here's what these clips do:
1. Cable Management:
The primary purpose of Unifix 7mm Round Coax Cable Clips is to manage and organize coaxial cables. Coaxial cables can be thicker and bulkier than other types of cables, making them more challenging to route neatly and keep in place. These cable clips help prevent the coaxial cables from becoming tangled, twisted, or creating a messy appearance.
2. Cable Security:
By securely holding coaxial cables in place, these clips help prevent accidental disconnections, which could lead to signal loss or interruption in services like television or internet. The clips ensure that the coaxial cables remain reliably connected to their respective devices or connectors.
3. Installation:
Unifix 7mm Round Coax Cable Clips are typically designed with an adhesive backing, allowing them to be easily attached to surfaces such as walls, ceilings, baseboards, or furniture. The clips have a circular opening that accommodates the coaxial cable, ensuring a snug fit and preventing the cable from slipping out.
4. Neat Appearance:
Using these cable clips results in a cleaner and more organized cable installation. Coaxial cables can often be seen in entertainment centers, home theaters, offices, and networking setups. Neatly routed and secured cables contribute to a tidier and more professional-looking environment.
5. Cable Protection:
Coaxial cables can be susceptible to wear and tear if left loose or unsecured. By holding them in place, these clips help protect the coaxial cables from physical damage and extend their overall lifespan.
6. Versatility:
While they are designed for coaxial cables, these clips can also be used for other types of cables with similar diameters, depending on their compatibility.
7. Application Areas:
Unifix 7mm Round Coax Cable Clips find applications in various settings, including homes, offices, commercial spaces, and entertainment venues. They are particularly useful in areas where coaxial cables need to be routed and organized for optimal performance.