All-Rack 1U Network Blanking Panel
All-Rack
All-Rack 1U Network Blanking Panel
All-Rack
All-Rack 1U Network Blanking Panel
1u Blank Pannel
1U network blanking panel is a blank plate that is used to cover unused space in a network rack or cabinet. The "1U" designation refers to the height of the panel, which is one rack unit, or 1.75 inches (44.45mm) tall.
Blanking panels are important in network installations because they help to maintain proper airflow and cooling within the rack or cabinet. Without blanking panels, open spaces in the rack can create hot spots where equipment generates excess heat, which can cause the equipment to malfunction or fail.
Blanking panels are typically made of metal or plastic and are designed to be easily installed and removed from the rack. They may have a smooth surface or may be perforated to allow for airflow while still blocking out light and dust.
In addition to improving airflow and cooling, blanking panels also help to improve the overall appearance of the network rack or cabinet, giving it a more professional and organized look. They can also help to prevent accidental damage to equipment by blocking access to the space between the installed equipment and the edges of the rack.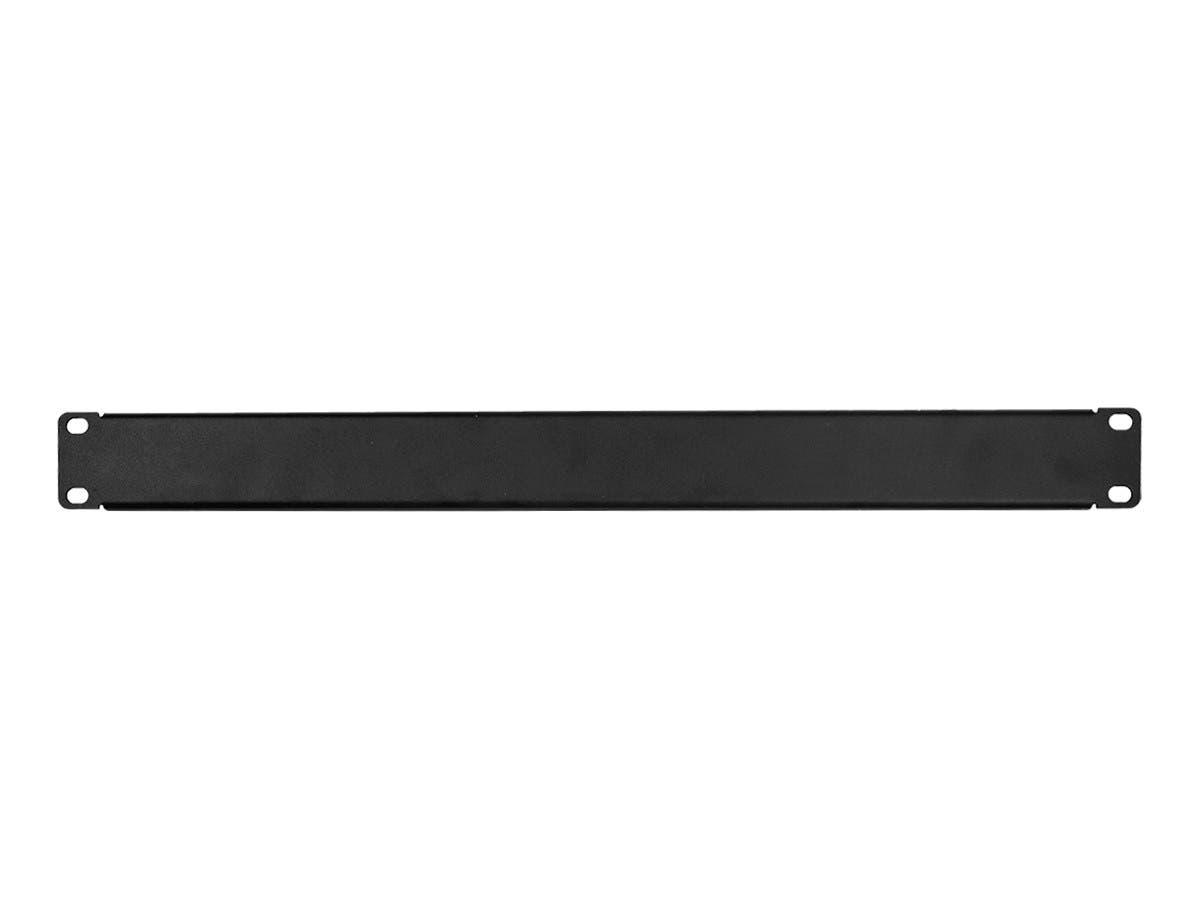 Share the love with your friend
Complete the form below and we'll email your friend about this product
You'll earn 0 reward points with this purchase.
Be one of the first to know!
We're sorry we're out of stock but we can let you know as soon as it's available if you enter your email address below.
Rack Compatibility: The blanking panel is designed to fit standard 19-inch network racks, which are commonly used for housing networking equipment, servers, and other IT infrastructure.
1U Height: The panel occupies 1U of vertical rack space, which is equivalent to 1.75 inches (44.45mm). It ensures that the blanking panel seamlessly integrates into the rack layout without wasting valuable space.
Improved Airflow: By filling empty rack units, the blanking panel helps optimize airflow within the rack. It prevents hot air from recirculating and guides cool air through the active equipment, reducing the risk of overheating.
Cable Management: The blanking panel contributes to better cable management by providing a clean and organized appearance. It prevents cables from drooping or being tangled in unused rack units.
Enhanced Rack Aesthetics: The panel has a professional and sleek design that improves the overall appearance of the rack. It creates a uniform and polished look by filling gaps and empty spaces.
Easy Installation: The blanking panel typically comes with mounting hardware, such as screws or clips, to facilitate easy installation. It can be quickly and securely attached to the front or rear of the rack.
Durable Construction: The panel is made from sturdy and durable materials to withstand the rigors of a network environment. It is designed to provide long-lasting performance and durability.