Antiference DMSD01B Modulator
Antiference
Antiference DMSD01B Modulator
Conexer Single AV DVB-T Modulator

Single input CVBS to DVB-T/C modulator for delivering digital content over a coaxial cable system Compatible with all digital tuner Freevew TV sets and set-top-boxes UHF/VHF output options Channel name edit, LCN and optional Windows based programming software RF loop out Compatible with Distribution Amplifiers, 
Product Description
Single input CVBS digital modulator
DVBT/C output
MPEG2 video compression
Compatible with all Freeview TV sets
LED backlit front panel control
USB Windows programming software
Channel name edit & LCN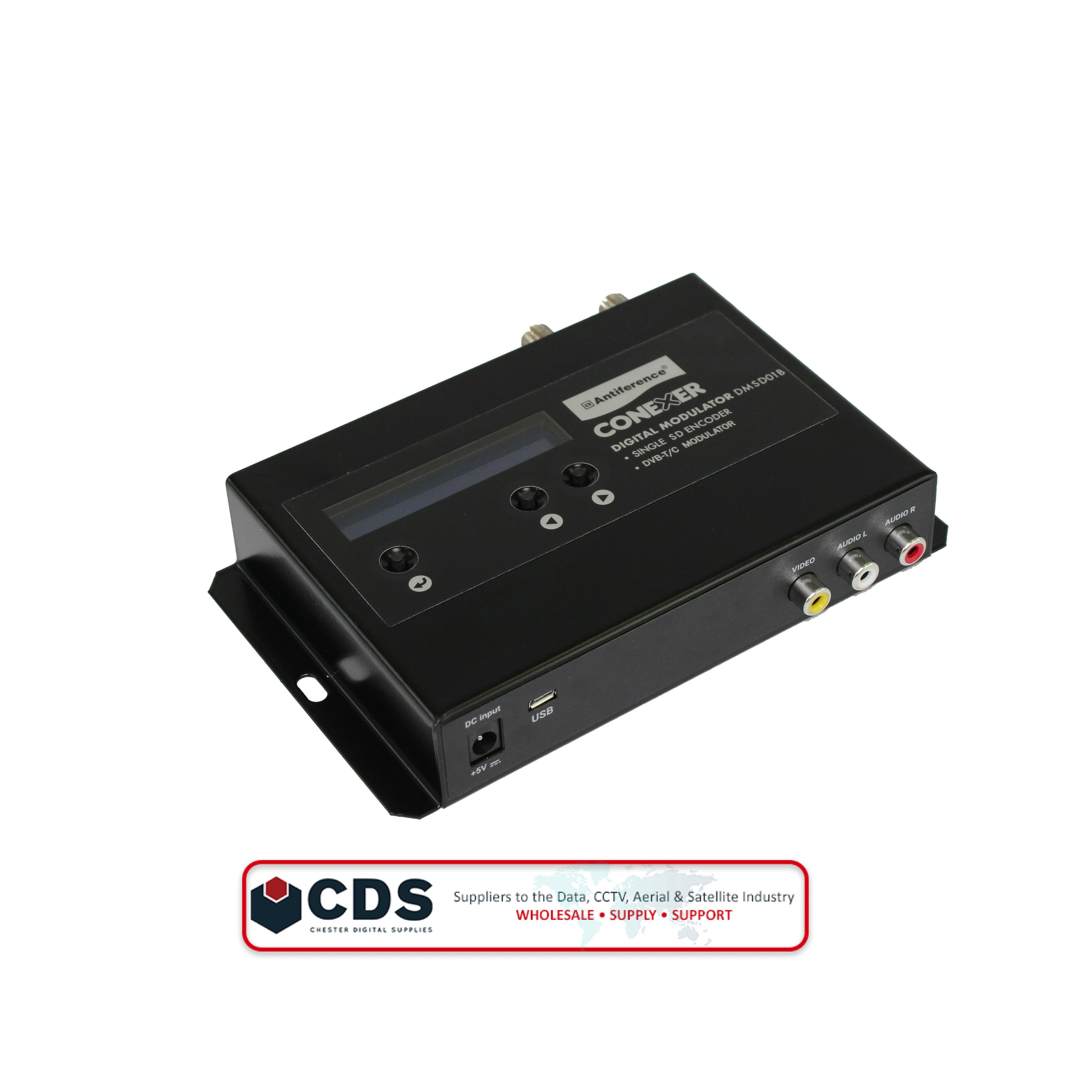 Share the love with your friend
Complete the form below and we'll email your friend about this product
You'll earn 0 reward points with this purchase.
Be one of the first to know!
We're sorry we're out of stock but we can let you know as soon as it's available if you enter your email address below.
Antiference Single Input CVBS AV Modulator is an electronic device that allows you to convert a composite video signal, also known as CVBS (Composite Video Baseband Signal), and an audio signal into a modulated RF (Radio Frequency) signal. The modulated signal can then be distributed over a coaxial cable and received by a TV or other device equipped with an RF tuner.
The Single Input CVBS AV Modulator typically has one input for the composite video signal and a separate input for the audio signal. It modulates the signals to a specific frequency that can be selected using the device's controls, usually in the VHF or UHF range, before being output via a coaxial cable.
Single Input CVBS AV Modulators are commonly used in commercial and industrial applications, such as in hotels, hospitals, and sports bars, where multiple video sources need to be distributed to multiple TVs using an existing coaxial cable network. They are also used in residential settings where an older TV with only an RF tuner needs to receive a video signal from a newer device with composite video output.
Single Input CVBS AV Modulators are valued for their simplicity and cost-effectiveness, as they allow a single video source to be distributed to multiple displays without the need for expensive distribution equipment or rewiring of the existing infrastructure.
Video input                                           Input                                           CVBS on RCA connections
                                                             Resolution modes                         480p -576p 
                                                             Compression                                 H.264 / MPEG2-SD / MPEG2 - bitrate 128-384 Mbit/s
Audio input                                            Input RCA
                                                              Audio Bitrate                               100....20 Mbit/s
                                                             Compression                                AAC-LC / MPEG1 - L1 – bitrate 128-320 Kb/s
DVB Processing                                   Table insertion                              PAT, PMT, SDT, NIT
                                                              Configuration                               Channel/network name, SID, LCN, TSID, ONID, NID, versions, audio, video PIDs.
DVB-T output                                        Output frequency /                          level 170-230 MHz + 470-862 MHz / > 85 dBμV
                                                              Constellation - FEC                       QPSK/16QAM/64QAM - 1/2, 2/3, 3/4, 5/6, 7/8
                                                              Guard interval                                1/4, 1/8, 1/16, 1/32
                                                              Mode -                                            MER 2K/8K - 33 dB                                                               Power                                                  DC 2.1 mm connector                    +5V
                                                              Consumption                                 10 Watts
Dimensions                                          LxWxH                                             170x130x35mm
                                                              Weight                                            0.6kg

Spec Sheet