Jelly Crimp Joiner Connectors
PROception
Jelly Crimp Joiner Connectors
The connector has 2 holes, and wires can be connected without isolation and stripping. It belongs to the butt joint of UY wire connector, which changes the traditional method of twisting and welding complex cables. It is very suitable for connecting wires between small and medium power cables, which is convenient and quick.
Excellent quality and sophisticated design provide corrosion resistance and prevent the connection from being affected by air and humidity. It can be compressed once, and sealed with silicone grease, waterproof and anti-corrosion, you don't have to worry about being damp and affecting the use experience.
Quality copper sheet, a plastic protective layer with good electrical conductivity and external insulation. All materials used in the connector are non-toxic, harmless, and skin-friendly. 100 UY connectors, model K1, are very suitable for conductors with an inner diameter of 0.4-0.7mm.
100 Jelly Crimps per bag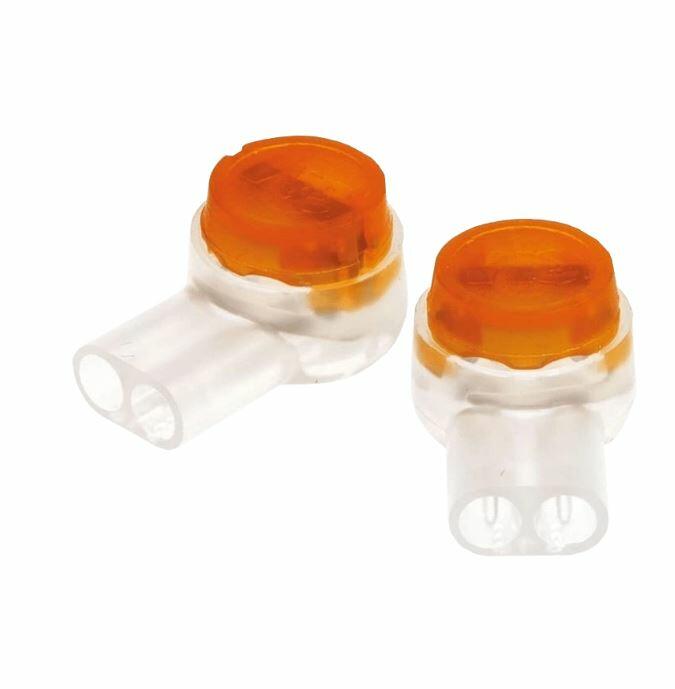 Share the love with your friend
Complete the form below and we'll email your friend about this product
You'll earn 0 reward points with this purchase.
Be one of the first to know!
We're sorry we're out of stock but we can let you know as soon as it's available if you enter your email address below.
Jelly crimp joiner connectors, also known as gel-filled connectors or waterproof connectors, are commonly used in electrical and telecommunications applications to securely connect and insulate wires while providing protection against moisture and environmental factors. They are particularly useful in situations where traditional crimp connectors might be exposed to water, humidity, or other potentially damaging elements. Here are a few applications where jelly crimp joiner connectors can be used:
Outdoor Wiring: Jelly crimp joiner connectors are often employed in outdoor wiring projects, such as connecting landscape lighting, security cameras, and outdoor speakers. These connectors help prevent water intrusion, ensuring a reliable connection even in wet or damp conditions.
Telecommunications: In telecommunications installations, particularly for buried or exposed cables, jelly crimp connectors can protect splices and connections from moisture, soil, and other contaminants that might affect signal quality or degrade the integrity of the connection.
Automotive Wiring: Vehicles have various wiring systems that can be exposed to harsh conditions, including moisture and vibrations. Jelly crimp joiner connectors can be used to create secure and water-resistant connections in automotive wiring projects, such as repairing damaged wires or extending cables.
Marine Applications: Given the high levels of moisture and exposure to saltwater in marine environments, jelly crimp joiner connectors can be used to create reliable connections for boat electronics, navigation lights, and other electrical components on watercraft.
Irrigation Systems: Jelly crimp connectors are suitable for joining wires in irrigation systems, ensuring that connections remain insulated and waterproof in the presence of soil moisture and water flow.
Industrial Wiring: In industrial settings, where machinery and equipment might be subjected to various environmental conditions, these connectors can help maintain the integrity of electrical connections and prevent downtime due to moisture-related issues.
Renewable Energy Installations: Solar panels and wind turbines are often exposed to changing weather conditions. Jelly crimp joiner connectors can be used to connect and protect wires in renewable energy systems, ensuring the longevity and efficiency of the installations.
Temporary Installations: In situations where temporary electrical connections are needed, such as events, fairs, or construction sites, jelly crimp connectors can provide a reliable solution that can be easily disconnected and reconnected when needed.