Sonos
Sonos Era 100
SONOS ERA 100
Featuring next-gen acoustics and new levels of connectivity, Era 100 transforms any room with the finely tuned stereo sound and rich bass your music deserves. Easily play all your audio content using WiFi, Bluetooth®, and 3.5 mm line in.¹ Enjoy hands-free control with your voice.
Era 100 must be set up over WiFi with the Sonos app before playing audio. Line in requires an auxiliary cable and the Sonos Line-In Adapter, both sold separately.
Availability of voice services varies by country and language.
Key Features
Powered by a 47% faster processor, the next-gen dual-tweeter acoustic architecture produces detailed stereo separation while a 25% larger midwoofer deepens the bass.
Place this speaker anywhere and everywhere you want to listen. The compact design fits beautifully on your bookshelf, kitchen counter, desk, or nightstand.
Stream from all your favourite services over WiFi. Pair a Bluetooth® device with the press of a button. Connect a turntable or other audio source using an auxiliary cable and the Sonos Line-In Adapter.
Go from unboxing to unbelievable sound in just a few minutes. Simply plug in the power cable, connect your phone or tablet to WiFi, and open the Sonos app.
Enjoy free music, original content, and thousands of live stations on Sonos Radio. Play music with hands-free ease and unmatched privacy using Sonos Voice Control. Plus, access new features and services with regular software updates.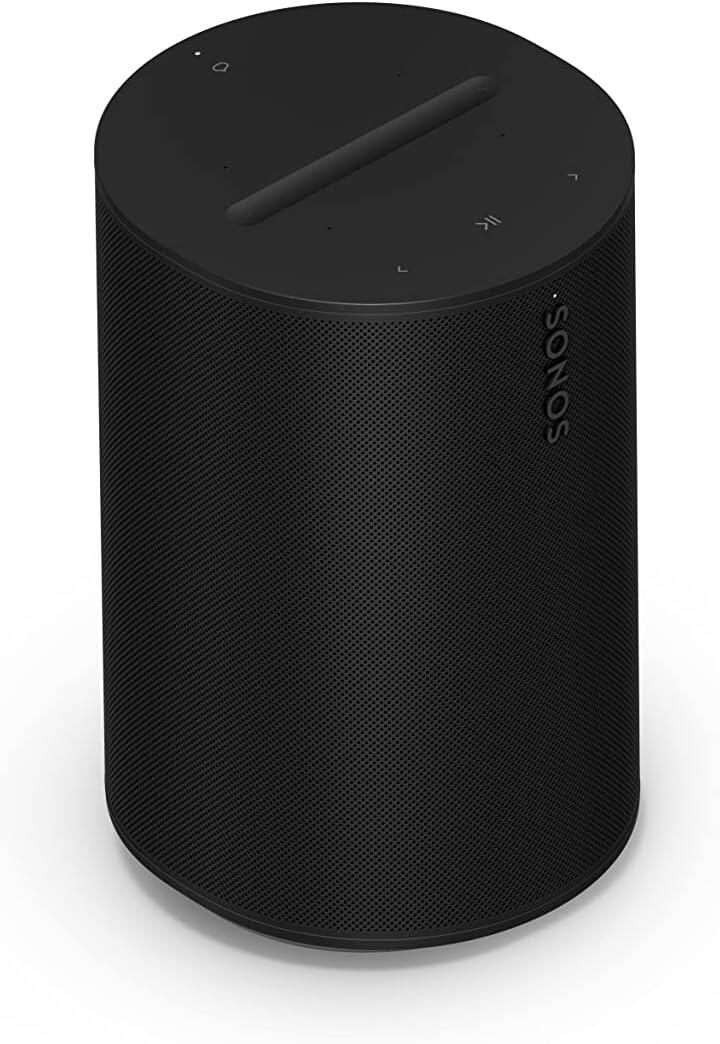 Share the love with your friend
Complete the form below and we'll email your friend about this product
You'll earn 0 reward points with this purchase.
Be one of the first to know!
We're sorry we're out of stock but we can let you know as soon as it's available if you enter your email address below.
Sonos is a well-known brand that specializes in wireless audio products and smart speakers. They offer a range of speakers, soundbars, and audio components that can be integrated into multi-room audio systems

Select a location
You can put your speaker just about anywhere. For the best performance, here's a few guidelines:
Era 100 is made to give you powerful sound anywhere—Trueplay tuning balances the sound for wherever it's placed, and whatever you're listening to.
When Era 100 is placed next to a wall or on a shelf, leave at least 1" (2.5 cm) of space around the back of the speaker for best performance.
If you're using Era 100 speakers as surrounds, leave at least 8" (203 mm) clearance around each speaker.
Bluetooth pairing
Turn Bluetooth on in your device settings.
Press and hold the Bluetooth button on the back on the speaker until you hear a tone, then release. The status light blinks blue when the speaker is ready to pair.
Choose Sonos Era 100 from the list of available devices in your Bluetooth settings. Your mobile device will automatically connect next time.
Line-in
Connect an audio device, like a projector, CD player, or turntable (with a built-in phono preamp), to any Sonos product that has a line-in port (Era 300, Era 100, Amp, Port, or Five). Then go to  > Line-In to select the source and start playback.
Note: Era 300 and Era 100 require a Sonos Line-In or Combo Adapter (sold separately). Other products may require a different type of line-in adapter depending on your audio source.
Learn more
Microphone on/off
There are two ways to control the microphones on Era 100:
A universal microphone switch on the back of Era 100 turns all microphones on and off.
A voice services button on top of Era 100 turns voice services on and off without affecting the microphones needed for Trueplay and other microphone-dependent features.
When both are on, voice control and all microphone-enabled features are available.
When both are off, voice control and all microphone-enabled features are unavailable.
When the universal microphone switch is on and the voice services light is off, Trueplay and other microphone-enabled features are available, but voice control is off.
Voice services
Use your voice to control your Sonos system with any voice-enabled Sonos product—play and control content, turn the volume up or down, and more.
Sonos Voice Control: control your whole Sonos system with hands-free ease and unmatched privacy. Sonos Voice Control comes ready to use—it only takes a few seconds to add when you set up your speakers. More information
Amazon Alexa: you'll need the Sonos app and the Alexa app with the Sonos skill enabled. You'll make some changes in both apps during setup. Learn more
Siri: you'll need the Apple Home app. Add your AirPlay2-compatible Sonos speakers to the Apple Home app and then use an iPhone, iPad, or Apple TV to ask Siri to play music (currently limited to Apple Music). Learn more
Note: Voice control isn't supported in every country yet—this feature will be available as soon as Sonos and a voice service launch together in your region.
Trueplay™
Trueplay tuning measures how sound reflects off walls, furnishings, and other surfaces in a room, then fine tunes your Sonos speaker to make sure it sounds great no matter where you place it.
During setup, choose the Trueplay option that works best for you and your space. To retune later, go to  > System, choose a room, and select Trueplay.
Advanced tuning
Advanced tuning is custom and precise. It takes about 5 minutes and uses the microphone on an iOS device (running iOS 8 or later) so you'll move around the room while the sound is fine tuned for your space.
Note: Advanced tuning is the best choice for large rooms (open concept spaces may experience less precise tuning).
Quick tuning
Quick tuning is fast, effortless, and accessible. It takes about a minute and uses the microphone on your Sonos product to detect the environment so there's no need to move around the room during tuning.
Note: Quick tuning is available for both iOS and Android, and is a good choice for smaller rooms, or spaces where it's difficult to move easily.
Auto Trueplay
Portable Sonos products like Sonos Roam and Move can tune themselves automatically. Auto Trueplay uses your speaker's microphone to detect the environment and make periodic tuning adjustments, so you get great sound wherever your speaker is and whatever you're listening to.
Go to  > System, and select your portable speaker to turn on auto Trueplay.
Set up stereo pair
Pair two Sonos speakers in the same room for an even wider, stereo experience. One speaker serves as the left channel and one serves as the right channel.
Note: The Sonos speakers in a stereo pair must be the same type.
Place the speakers 8 to 10 feet apart. Your favourite listening position should be 8 to 12 feet from the paired speakers—less distance increases bass, more distance improves stereo imaging.
Go to  > System.
Select one of the speakers you want to use in the stereo pair, then choose Set Up Stereo Pair to get started.