Sonos
Sonos Port
Bring the Sonos experience to your existing stereo or receiver, and enjoy endless possibilities for multiroom listening.
Connect Port to your traditional audio equipment to stream music, radio, audiobooks, and more from all your favorite services. 
Control is easy with the Sonos app and Apple AirPlay 2. 
Expand your sound system any time by adding Sonos speakers around your home. Everything works together over WiFi.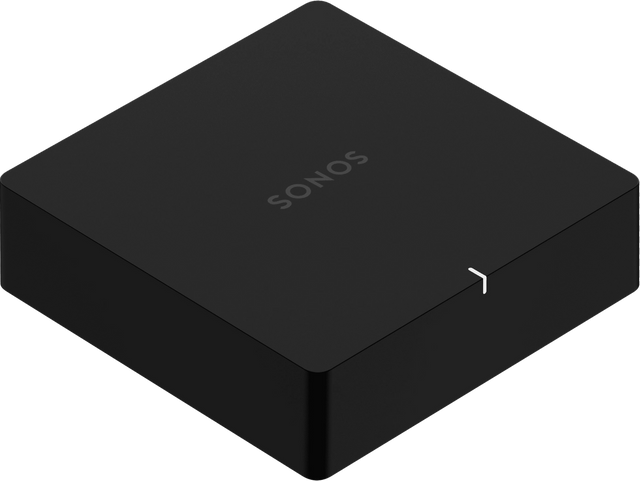 Share the love with your friend
Complete the form below and we'll email your friend about this product
You'll earn 0 reward points with this purchase.
Be one of the first to know!
We're sorry we're out of stock but we can let you know as soon as it's available if you enter your email address below.
Sonos Port is a versatile audio component designed to integrate traditional audio equipment with modern streaming and multi-room audio technology. It allows users to transform existing audio setups into part of the Sonos ecosystem, enabling wireless streaming, synchronization, and control across multiple rooms or zones within a home or commercial space.
Key features and characteristics of the Sonos Port include:
Audio Streaming Integration: The Sonos Port bridges the gap between traditional audio systems and modern streaming services. It connects to your existing audio equipment, such as receivers, amplifiers, or powered speakers, and allows you to stream music from various online platforms like Spotify, Apple Music, and more.
Multi-Room Audio: With the Sonos ecosystem, the Port enables synchronized audio playback across different rooms or zones. This means you can play the same music throughout your home or choose to play different tracks in different areas, all controlled from a central app or device.
Analog and Digital Connectivity: The Port offers both analog and digital audio inputs and outputs. This makes it compatible with a wide range of audio equipment, including turntables, CD players, TVs, and more. It also provides flexibility in connecting to different types of speakers and systems.
Control via Sonos App: The Sonos app acts as a centralized control hub for managing playback, volume, and content selection across all your Sonos devices, including the Port. The app is user-friendly and allows you to access your favorite streaming services, playlists, and radio stations.
Voice Control: The Sonos Port is compatible with voice assistants such as Amazon Alexa and Google Assistant, depending on region and availability. This enables you to control your audio playback and perform other tasks using voice commands.
High-Quality Sound: Sonos is known for its commitment to delivering high-quality audio experiences. The Port maintains audio fidelity as it streams music, ensuring that your existing audio equipment can still produce excellent sound.
Integration with Smart Home Systems: The Port can be integrated into larger smart home setups using platforms like IFTTT (If This Then That) and other automation systems, allowing you to incorporate audio into your broader home automation routines.
Compact Design: The Sonos Port features a compact and sleek design that can easily fit into your existing audio setup without taking up much space.
Audio line-in to bring your record player, CD player, or other audio source into the Sonos ecosystem.
Audio line-out through either analogue (RCA) or digital (coaxial) for connecting amplified audio equipment.
12V trigger turns on your stereo or receiver automatically when a signal is sent so there are no extra steps or remote needed.
Adjustable bass and treble controls to optimise sound performance. Adjust volume by individual room or by groups of rooms.
Dimensions - H x W x D
1.6 x 5.4 x 5.4 in. (41 x 138 x 138 mm)
Weight
1.04 lb (0.472 kg)
Product finish
Matte black
Light
LED indicates status.
Power supply
Auto-switching 100-240 V, 50-60 Hz AC universal input.
Ethernet ports
Two 10/100 Mbps Ethernet ports. Wire directly to your router if WiFi is unreliable.
WiFi, not Bluetooth
Connects to your home WiFi network with any 802.11a/b/g/n, 2.4 and 5 GHz broadcast-capable router for uninterrupted wireless streaming.
Apple AirPlay 2
Works with AirPlay 2 on Apple devices iOS 11.4 and higher.
System requirements
Amplified audio equipment with analogue or digital audio inputs, or an audio source with audio output, and broadband internet.