Whyte Series 9 Multiswitch
Whyte Technologies
Whyte Series 9 Multiswitch
Whyte Series 9 is a range of 9 wire line powered Cascading Multiswitches. 
The Whyte Series 9 range comes fitted with Pro-Tap™ Technology. Developed by Whyte Technologies, a Pro-Tapis an in-built "Protean Tap" which enables the installer to easily select tap attenuation of 0, -10 or -20dB whilst still maintaining a trunk through loss of only 4dB. IRS System pre-planning is virtually not required as tap loss settings are selected at the commissioning stage.
4 Years Warranty
Red Compliant
Line Powered cascading Multiswitch
Separate SAT & TERR Pro-Taps™ for ease of installation
Comes with Earth Bars fitted
Use as standalone when powered with a Whyte PSU
SAT gain 10dB / TERR gain 8dB
Gain Control on all inputs
Colour coded inputs and outputs
LED Power Indicator & Inbuilt 4G LTE filter
Uses receiver power to reduce demands on PSU
Switchable 12V DC Supply to Terrestrial input
Comes with 9 F-Type couplers for easy connection to all Series 9 products
Use Whyte Series 9 Launch Amplifiers & Splitters to build large scale IRS Systems
Allow 2/3 days delivery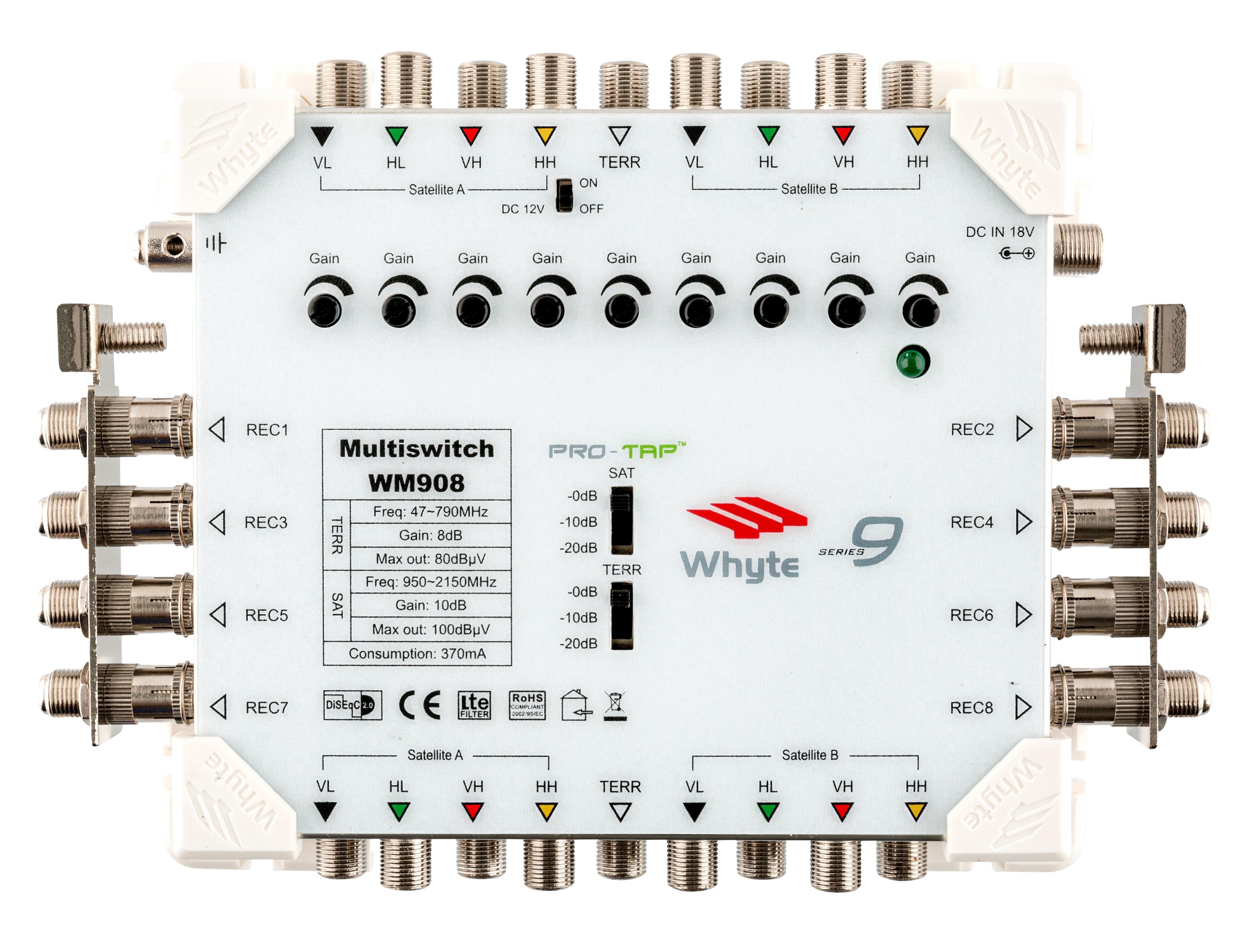 Share the love with your friend
Complete the form below and we'll email your friend about this product
You'll earn 0 reward points with this purchase.
Be one of the first to know!
We're sorry we're out of stock but we can let you know as soon as it's available if you enter your email address below.
Whyte 9-wire cascade multiswitch is a device used in satellite television distribution systems to route signals from multiple satellite dishes to multiple receivers or set-top boxes. It is commonly used in multi-dwelling units (MDUs) like apartment buildings or condominiums where multiple residents have individual satellite TV subscriptions.
Here's how a 9-wire cascade multiswitch works:
Multiple Satellite Dishes: In an MDU, there are often multiple satellite dishes, each pointing to a different satellite or satellite cluster. These dishes receive signals from various satellites, which carry different channels and programming.
9-Wire Configuration: The term "9-wire" refers to the number of coaxial cables or wires that are used to connect the multiswitch to the satellite dishes and the receivers. Each satellite dish usually requires a certain number of wires (commonly 4, 5, or 6), and a 9-wire cascade multiswitch can accommodate the connections from multiple dishes.
Switching Function: The multiswitch has the ability to switch between the various satellite signals it receives from the dishes and send the selected signals to the appropriate receivers. This switching function is crucial because it allows each receiver to access the programming it subscribes to, regardless of which satellite the channels are broadcast from.
Cascade Capability: The term "cascade" in the name suggests that these multiswitches can be daisy-chained or cascaded together to accommodate even more satellite dishes and receivers. This is useful in larger MDUs where multiple dishes and receivers are needed.
A 9-wire cascade multiswitch is a key component in a satellite television distribution system, allowing for the efficient distribution of satellite signals from multiple dishes to multiple receivers in multi-unit buildings, such as apartments or condominiums. It helps ensure that each resident can access the channels and programming they desire. The specific configuration and capabilities of multiswitches can vary, so it's important to choose the right one for the particular setup and number of dishes and receivers involved.