110 Punch Down Tool for RJ45
PROception
110 Punch Down Tool for RJ45
110 Punch Down Tool for RJ45 and Telephone
Introducing the PROPUNCH110, the ultimate tool for efficient wire punching in both RJ45 and telephone applications. This versatile tool is equipped with a 110/66 blade, making it suitable for IDC connectors and 8P8C keystone jacks. Streamline your wire termination process and achieve professional results with ease.
Efficient Wire Punching
The PROPUNCH110 is designed to simplify wire punching tasks. Its 110/66 blade allows for quick and effortless termination of wires on IDC connectors, ensuring reliable connections for your network or telephone systems. Save time and effort with this all-in-one tool.
Multiple Applications
With its compatibility for both RJ45 and telephone wires, the PROPUNCH110 offers versatile functionality. Whether you're working on network installations, telecommunication projects, or wiring for various systems, this tool has you covered.
Precision and Reliability
The PROPUNCH110 is engineered for precision and reliability. Its sturdy construction ensures durability and consistent performance. Punch down wires with confidence, knowing that you'll achieve secure connections every time.
Ergonomic Design
This tool is designed with user comfort in mind. Its ergonomic handle provides a comfortable grip, reducing hand fatigue during extended use. The compact and lightweight design makes it easy to handle and manoeuvre in tight spaces.
Professional-Grade Tool
Upgrade your wire termination toolkit with the PROPUNCH110. It is a professional-grade tool that meets the demands of network installers, telecommunications technicians, and DIY enthusiasts alike. Achieve professional results with this reliable and efficient wire punching tool.
Punch down CAT6 and CAT5e wires effortlessly
Compatible with 110 and 66 IDC connectors
All-in-one tool for RJ45 and telephone wire...
Designed for safe and secure wire termination.
Compact and user-friendly design for easy...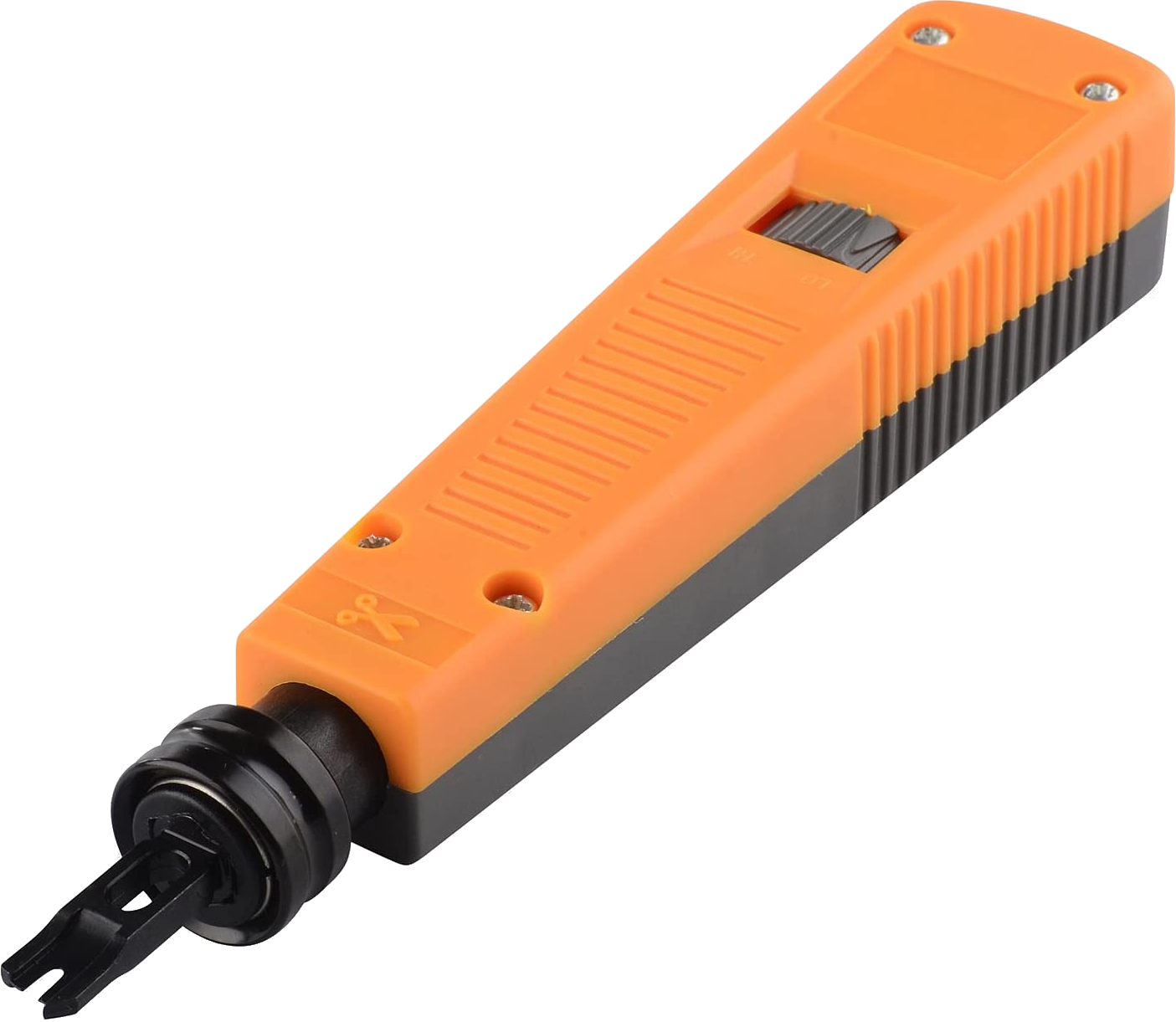 Share the love with your friend
Complete the form below and we'll email your friend about this product
You'll earn 0 reward points with this purchase.
Be one of the first to know!
We're sorry we're out of stock but we can let you know as soon as it's available if you enter your email address below.
Proception 110 Punch Down Tool is a handheld tool used in telecommunications and networking to terminate and connect wires, typically in a structured cabling system using a 110 block. RJ45 connectors are commonly used for Ethernet connections, and the punch down tool is often used to terminate the individual wires from an Ethernet cable onto a patch panel, wall jack, or other networking equipment.
Here's how it works:
Preparation: The Ethernet cable's outer insulation is stripped off, revealing the twisted pairs of wires inside. These wires are typically color-coded and follow a standard pattern.
Termination: Each individual wire in the Ethernet cable is aligned with its corresponding slot or terminal on a 110 block or a patch panel. The punch down tool is then used to push the wire into the terminal, ensuring a secure connection. The tool's impact forces the wire into place and cuts off the excess, creating a solid connection without the need for soldering or crimping.
110 Block: A 110 block is a type of connection block designed for high-density terminations in telecommunications and networking applications. It has a series of terminals where wires are inserted and terminated. The punch down tool's name comes from the action of "punching down" the wire into these terminals.
Patch Panels and Euro Modules: In structured cabling systems, patch panels and wall jacks are used to organize and manage network connections. They have rows of terminals that correspond to each Ethernet cable. The punch down tool is used to terminate the wires from the cables onto these terminals, creating a clean and organized setup.
By using a 110 Punch Down Tool, network installers and technicians can quickly and efficiently terminate numerous cables, ensuring proper connectivity and signal integrity in networking and telecommunications infrastructure.