Antiference ATR269 - Professional Cable Tester
Antiference
Antiference ATR269 - Professional Cable Tester
Antiference
Antiference ATR269 - Professional Cable Tester
The device can test LAN, coax and telephone cable systems providing details on where problems may lie. Features include cable length test, short or open circuit test plus testing of the twisted pairs in CAT5e or CAT6 cables. 
The screen is back-lit for ease of use in dark spaces and there is a protective carry case supplied. Tests and displays pin-to-pin wiring configuration of LAN, Telephone & Coaxial cables Suitable for use with UTP (unshielded) and STP (shielded) Cat5, Cat5E, Cat6, Cat6A also Coaxial cables Loop-back and Remote operating modes indicate cable continuity, wiring configuration (and type of fault) and the type of cable being tested TDR (Time Domain Reflectometer) technology is used to measure cable lengths between a range of 1 to 350 meters TDR is also used to indicate the distance to a short or open circuit. 
Auto-off mode (except in TONE MODE) prolongs battery life A low-battery condition is displayed when it is time to change the battery The backlit LCD screen has four lines of 16 characters. Tone mode for F-Set probe fault location or identification 24 memory locations for storing test results
Ideal for Testing Shielded or unshielded, CAT5, CAT6, CAT7, Coax cable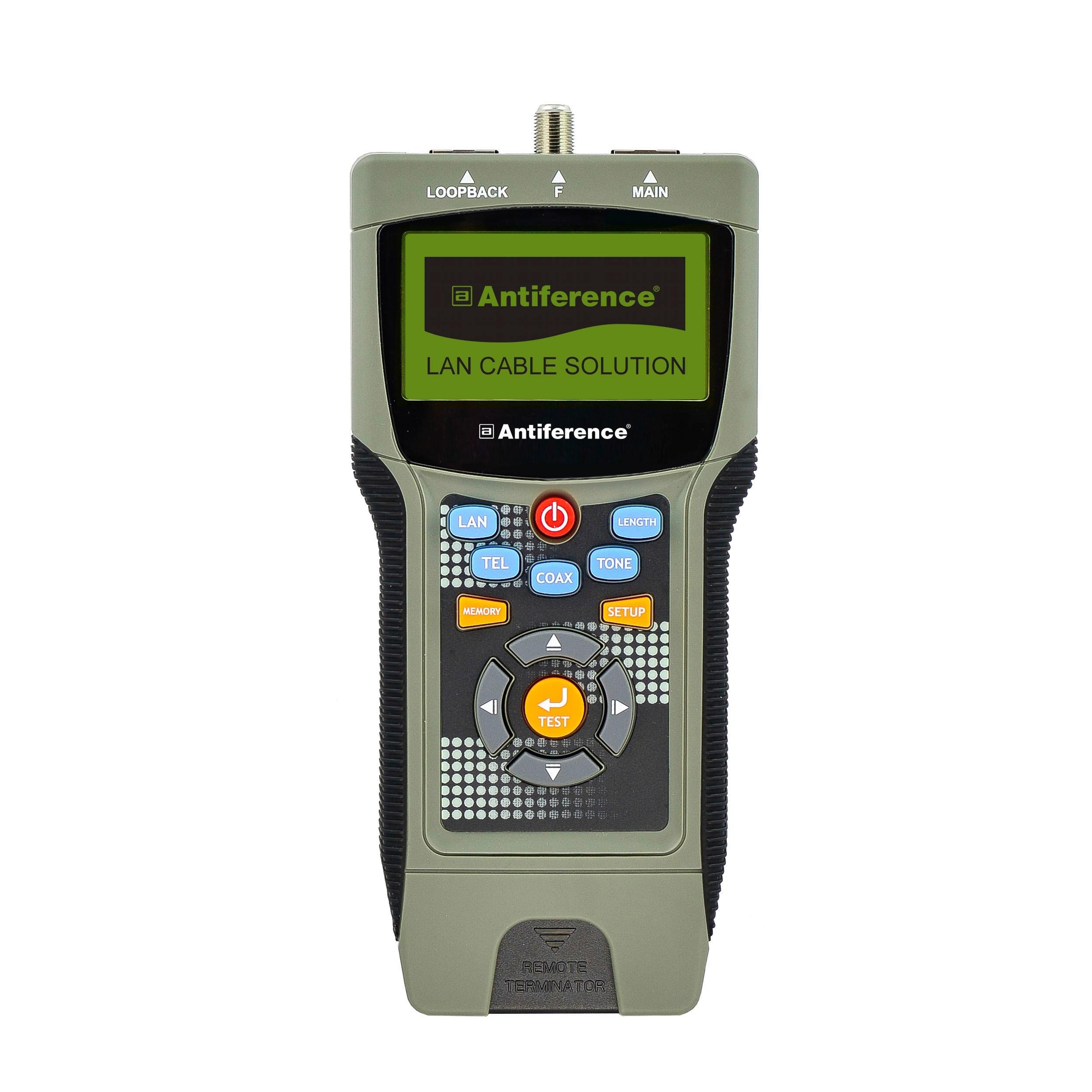 Share the love with your friend
Complete the form below and we'll email your friend about this product
You'll earn 0 reward points with this purchase.
Be one of the first to know!
We're sorry we're out of stock but we can let you know as soon as it's available if you enter your email address below.
Antiference ATR269 Professional Cable Tester is a specialized tool used to test and diagnose various types of cables commonly found in networking, telecommunications, and audio-visual installations. It helps professionals ensure that cables are properly terminated, connected, and functioning as intended. Here's more about the Antiference ATR269 Professional Cable Tester:
1. Cable Testing Versatility:
The ATR269 Professional Cable Tester is designed to test a wide range of cables, including LAN (Ethernet) cables, Coaxial cables, and telephone cables. This versatility makes it suitable for various industries and applications.
2. Pin-to-Pin Testing:
The tester checks each pin or connector in the cable to ensure they are properly connected and that there are no open circuits, shorts, or crossed connections.
3. LED Indicators:
The tool often features LED indicators that light up to indicate the status of each pin or connection. This makes it easier for technicians to identify any issues at a glance.
4. Testing Modes:
The tester might offer different testing modes, including automatic and manual modes. Automatic testing involves connecting the cable and letting the tool perform the tests, while manual mode allows the user to test specific pins individually.
5. Connectivity Diagnosis:
The ATR269 Cable Tester helps diagnose cable connectivity problems, making it a valuable tool for troubleshooting and identifying faults in cables.
6. Quick and Accurate Results:
Using a cable tester like the ATR269 speeds up the testing process and provides accurate results, reducing the need for manual inspection and guesswork.
7. Professional Use:
The ATR269 Professional Cable Tester is designed for professional use in industries that rely on reliable cable connections, such as IT, networking, telecommunications, and audio-visual installations.
8. Maintenance and Installation:
The tool is particularly useful during cable installation, maintenance, and repair tasks. It ensures that new installations are properly connected and helps locate and fix faults in existing setups.
9. Time and Cost Efficiency:
By quickly identifying cable faults, the tester helps technicians save time and reduces downtime caused by faulty connections. This can lead to cost savings and improved efficiency in various projects