Antiference Cable Tracer / Probe
Antiference
Antiference Cable Tracer / Probe
Cable tracer/tone tool for locating damages in cables. 
This tool can be used with any tone generator device and is compatible with the Antiference ATR269 Professional Cable Tester (when in 'tone' mode. 
Send tone down the damaged cable and find the location with this handy tool. 
Features include a telephone line polarity test, volume control & earphone jack for use in noisy environments.
Locate damages in coax or CAT cables
For use with a tone generator
Compatible with ATR269
Telephone cable line polarity tester 
LED signal strength indicator Earphone jack for use in noisy environments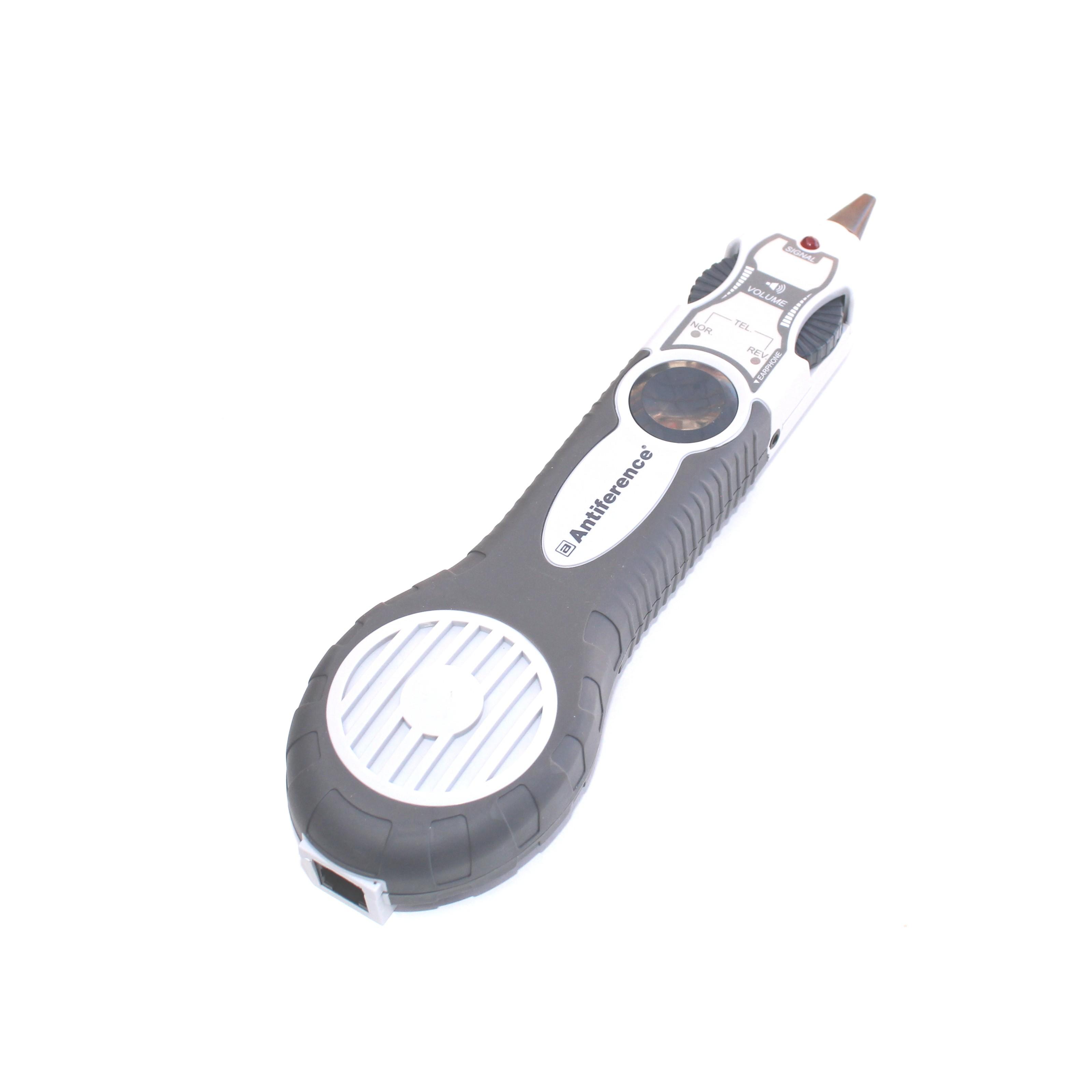 Share the love with your friend
Complete the form below and we'll email your friend about this product
You'll earn 0 reward points with this purchase.
Be one of the first to know!
We're sorry we're out of stock but we can let you know as soon as it's available if you enter your email address below.
Antiference cable tracer/probe is a tool used by professionals in various fields, including networking, telecommunications, and electrical work, to identify and trace cables or wires within a complex network or wiring system. It consists of two main components: a transmitter and a receiver.
Here's how a cable tracer/probe works:
Transmitter: The transmitter is connected to one end of the cable or wire that you want to trace. It sends out a signal, usually in the form of an electrical or electromagnetic signal, onto the cable. This signal can be generated in various ways, including by applying a tone or by injecting a voltage onto the cable.
Receiver: The receiver, often called a probe, is used to detect the signal emitted by the transmitter. The user moves the probe along the cable's path, and when it comes into proximity with the cable carrying the signal, it produces an audible and/or visual indication. This indication helps the user locate and follow the path of the cable.
The cable tracer/probe serves several purposes:
Cable Identification: It helps identify specific cables in a bundle or within a wall or ceiling without the need to physically trace them visually. This is particularly useful in scenarios where cables are hidden or tangled.
Fault Detection: Cable tracers can also be used to identify faults or breaks in cables. By tracing the cable's path and listening for changes in the signal, technicians can pinpoint the location of a break or damage.
Network Mapping: In networking environments, cable tracers are used to map out network connections, making it easier to manage and troubleshoot network infrastructure.
Cable Verification: When setting up new connections or making changes to existing ones, cable tracers can verify that the correct cable has been connected to the intended destination.
Cable Labelling: Cable tracers are often used in conjunction with cable labeling systems to ensure that each cable is correctly identified and labelled for future reference.