CK Tools Screwdriver Bits Set/41
CK Tools
CK Tools Screwdriver Bits Set/41
CK Tools
CK Tools Screwdriver Bits Set/41
Screwdriver Bit Set of 41 - Mixed
Premium quality S2 alloy steel for exceptional strength & durability
Precision machined tip for an exact fit & damage free screwing
25 mm bits
Contents of set: 2 x PH1, 4 x PH2, 2 x PH3, 4 x PZ1, 8 x PZ2, 4 x PZ3; 2 x 4.0 mm, 2 x 5.5 mm, 2 x 6.0 mm, 2 x 8.0 mm (slotted); 1 x TX15, 1 x TX20, 1 x TX25, 1 x TX30; 1 x 3.0 mm, 1 x 4.0 mm, 1 x 5.0 mm, 1 x 6.0 mm (hexagon); 1 x bit holder
SKU :T4509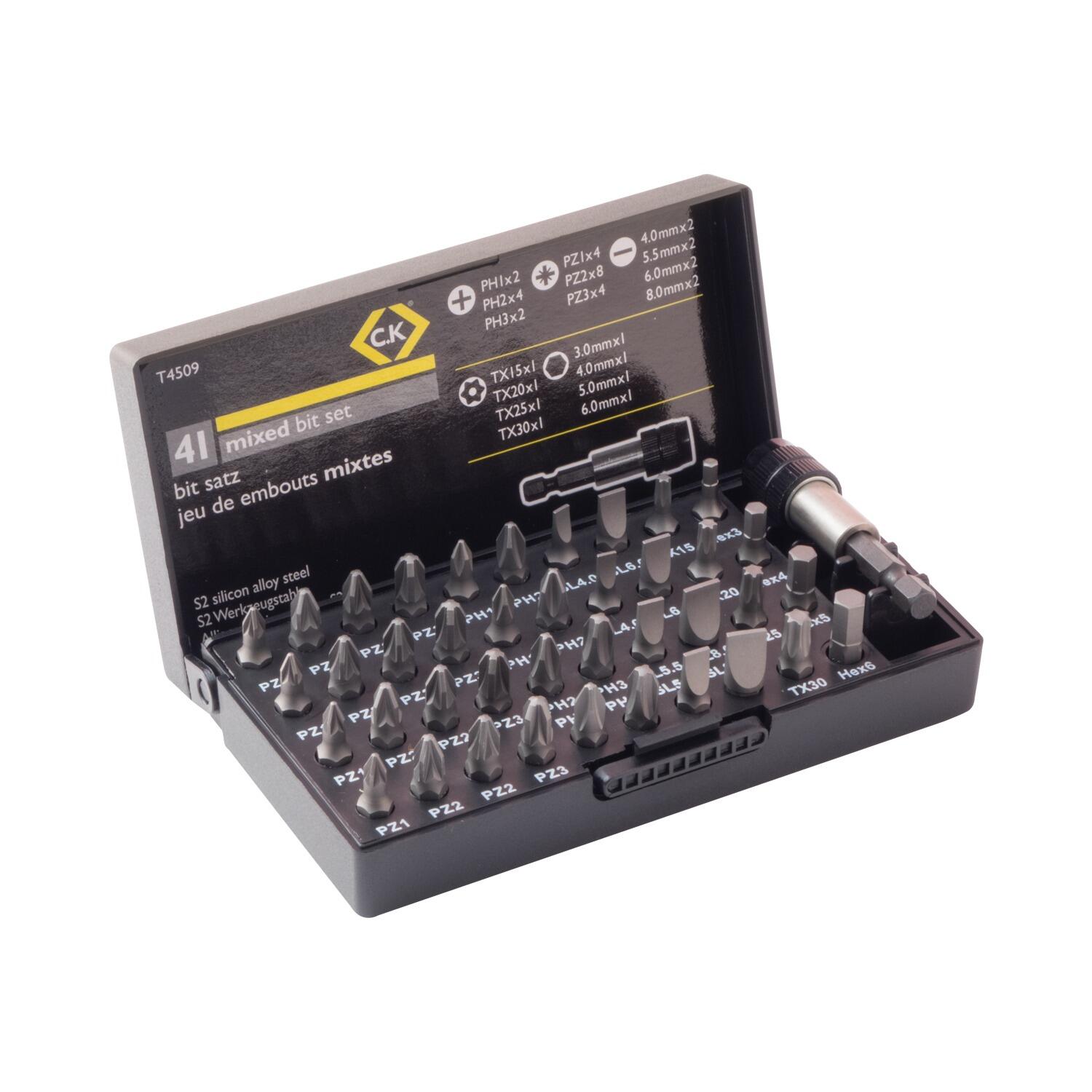 Share the love with your friend
Complete the form below and we'll email your friend about this product
You'll earn 0 reward points with this purchase.
Be one of the first to know!
We're sorry we're out of stock but we can let you know as soon as it's available if you enter your email address below.
CK Tools Screwdriver Bit Set of 41 - Mixed is a toolset designed for use with screwdrivers or power drills. It includes a variety of screwdriver bits made from premium quality S2 alloy steel, which is known for its exceptional strength and durability. These bits are used for driving and removing screws in various applications. Here are some key features and contents of this set:
Premium Quality S2 Alloy Steel: S2 alloy steel is a high-quality material known for its strength and durability. It is ideal for withstanding the stress and wear associated with screwdriving tasks.
Precision Machined Tip: The bits in this set have precision-machined tips, ensuring an exact fit into screw heads. This precise fit helps prevent stripping or damaging the screws during use.
25 mm Bits: The bits in this set have a length of 25 millimeters (approximately 1 inch).
Contents of Set: The set includes a wide range of bits for various types of screws and fasteners.  
Contents:
Phillips (PH) bits: 2 x PH1, 4 x PH2, 2 x PH3
Pozidriv (PZ) bits: 4 x PZ1, 8 x PZ2, 4 x PZ3
Slotted bits: 2 x 4.0 mm, 2 x 5.5 mm, 2 x 6.0 mm, 2 x 8.0 mm
Torx (TX) bits: 1 x TX15, 1 x TX20, 1 x TX25, 1 x TX30
Hexagon (hex) bits: 1 x 3.0 mm, 1 x 4.0 mm, 1 x 5.0 mm, 1 x 6.0 mm
Bit holder: 1 x bit holder