Pigtail FC/UPC, SM, 9/125, 0,9mm, G652D fiber, 1m
Chester Digital Supplies Ltd
Pigtail FC/UPC, SM, 9/125, 0,9mm, G652D fiber, 1m
Fibre optic pigtails are typically used to link the fibre optic cable with fibre optic equipment. 
The connector side of the pigtail is used to link the equipment, while the other side is fusion spliced together with the fibre cable. 
By splicing together the fibre glasses, it can reach a minimum insertion loss.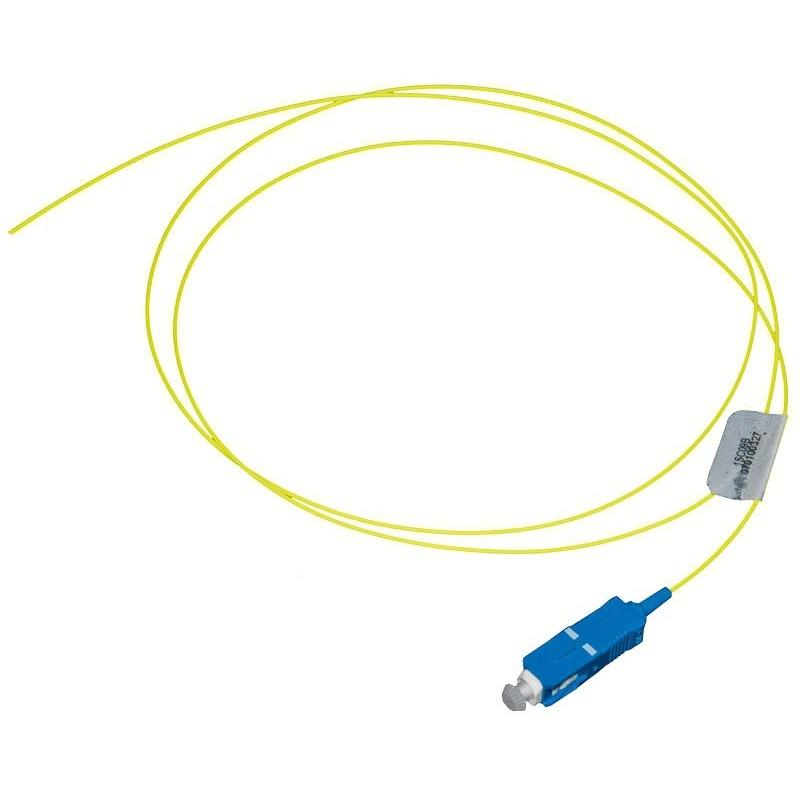 Share the love with your friend
Complete the form below and we'll email your friend about this product
You'll earn 0 reward points with this purchase.
Be one of the first to know!
We're sorry we're out of stock but we can let you know as soon as it's available if you enter your email address below.
Pigtail FC/UPC, SM, 9/125, 0.9mm, G652D fibre, 1m" is a fibre optic pigtail. 
Pigtail: A pigtail is a short length of fibre optic cable with a connector on one end and exposed fibres on the other end. It is typically used to terminate or splice into a longer fibre optic cable.
FC/UPC: FC stands for "Fibre Connector," and UPC stands for "Ultra Physical Contact." FC/UPC is a type of fiber optic connector that ensures low insertion loss and back reflection. It features a threaded coupling mechanism, which provides a secure connection.
SM: SM stands for "Single Mode." Single-mode fiber has a small core diameter (typically 9/125 microns) that allows only one mode or ray of light to propagate through the fiber. It is commonly used for long-distance telecommunications and high-speed data transmission.
9/125: This specification refers to the core and cladding diameters of the fibre optic cable. In this case, the core diameter is 9 microns, and the cladding diameter is 125 microns.
0.9mm: This is the outer diameter of the fiber optic cable. It specifies the size of the cable, which in this case is 0.9 millimetres.
G652D fiber: G652D is a specific type of single-mode fiber that conforms to the ITU-T G.652D standard. It is optimized for transmission at 1310 nm and 1550 nm wavelengths, commonly used in telecommunication networks.
1m: This specifies the length of the pigtail, indicating that it is 1 meter long.
In summary, "Pigtail FC/UPC, SM, 9/125, 0.9mm, G652D fiber, 1m" describes a single-mode fiber optic pigtail with an FC/UPC connector, using a 9/125 micron core and cladding, a 0.9mm outer diameter, and G652D fiber type. The pigtail is 1 meter long.
Specification:
Fire Performance - LSZH applications flame resistance IEC 60332-1
Ferrule Material - Full zirconia
Insertion Loss - Max. 0.3dB typical 0.2dB
Operating Temperature -40ºC to +85ºC