Proception 8mp CCTV Balun
PROception
Proception 8mp CCTV Balun
8mp Balun With Tail One end. Carries Video and Power down one CAT cable.
An 8MP Power and Video Balun for CAT5 and CAT6 cable.
Compatible with all resolutions up to 8mp and most modes (TVI, AHD, CVI and Analogue)
Nominal power is 12v but can carry up to 48v.
Always ensure the cable is wired correctly (Check instructions on the back of the Balun pack).
Incorrect wiring WILL damage either camera or Balun and void warranty.
Sold in packs of 2.
Power & video down a single cable
Gold plated BNC reduces signal loss
Compact to install in the tight spaces
60 dB crosstalk & noise immunity
Indicated LED lights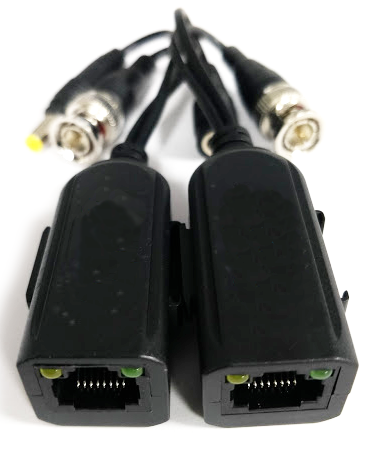 Share the love with your friend
Complete the form below and we'll email your friend about this product
You'll earn 0 reward points with this purchase.
Be one of the first to know!
We're sorry we're out of stock but we can let you know as soon as it's available if you enter your email address below.
Procepction 8MP balun with a tail on one end is a device used in surveillance and security camera systems to transmit both video and power signals over a single CAT (Category) cable. The term "8MP" refers to the maximum resolution supported by the balun, which is 8 megapixels. Here's a breakdown of the key features and functions of this type of balun:
1. Balun:
A balun (short for "balanced-unbalanced") is an electronic device designed to convert signals between balanced and unbalanced forms. In the context of security cameras, a balun allows you to convert the video signal from the camera into a format suitable for transmission over a CAT cable. This can help maintain signal quality over longer distances.
2. Video and Power Transmission:
The 8MP balun with a tail is designed to transmit both video and power signals over a single CAT cable. This means that you can connect your security camera to the balun on one end and connect the other end of the balun to your recording or monitoring equipment using a CAT cable. This setup simplifies cabling, as you only need one cable to transmit both video and power signals, reducing the need for separate power cables.
3. 8 Megapixel Support:
The term "8MP" indicates that the balun is capable of supporting security cameras with a maximum resolution of 8 megapixels. This resolution provides a high level of detail, making it suitable for capturing clear images and videos, especially in scenarios where identifying finer details is important.
4. Tail on One End:
The "tail" refers to an extension or an additional length of cable attached to one end of the balun. This extension provides flexibility in connecting the balun to your camera or equipment, especially in situations where the camera or equipment might be located a bit farther away or in hard-to-reach areas.
5. CAT Cable Use:
CAT cables, commonly known as Ethernet cables, are widely used for networking purposes. They consist of twisted pairs of wires, which makes them suitable for transmitting both data and power signals. Using a single CAT cable for both video and power transmission simplifies the installation process and reduces cable clutter.
Video Format NTSC, PAL , and SECAM
Frequency Response DC to 5MHz
Attenuation0.5dB typical
CMRR 60 dB
Impedance Coax, Male BNC 75 ohms 
RJ45 100 ohms
Working environment
Working Temperature -10℃ to +50℃
Storage Temperature -30℃ to +70℃
Humidity 0 to 95%
Wire Type UTP
Connector Male BNC, RJ45
Handle Power Yes
Case ABS Plastic
Dimension 63mm*33mm*25mm with 12cm cable
Power-Distance Chart:
Using this product, cameras can be powered at extended distances, please refer to the chart below for more information.
Power Supply Voltage: 24VAC // 28VAC // 13VDC
Resultant Voltage: 21VAC // 21VAC // 10VDC
100mA Camera: 300m // 700m // 300m
300mA Camera: 100m // 230m // 100m
500mA Camera 60m // 140m // 60m