Haydon Single Channel POC & HD Video Balun
Haydon
Haydon Single Channel POC & HD Video Balun
Haydon
Haydon Single Channel POC & HD Video Balun
Single Channel POC & HD Video Balun
The video balun is a passive (non-amplified) device that allows the transmission of real-time CCTV HD video, power and data signal via cost-effective Unshielded Twisted Paired (UTP) cable for application of POC camera and POC DVR. 
This is also compatible with all HD-TVI, HD-CVI, AHD cameras up to 4K and CVBS analogue cameras. Male BNC allows connection directly to the camera and Turbo DVR. 
Push-pin terminal block allows tool-less connection of UTP cable output. Used in pairs, eliminates costly and bulky coaxial cable. 
The superior interference rejection and low emissions allow video signals to coexist in the same wire bundle as telephone, datacom. 
This allows the use of a shared or existing cable plant. There is built-in surge suppressor to protect video equipment against damaging voltage spikes. Its crosstalk and noise immunity ensure quality video signals. 
Built in Cable Strain Relief
Easy Cable install one button press.
 Real-time transmission over UTP cat5e/6
Compatible with all HD-TVI/CVI/AHD/CVBS and POC analogue camera
Low crosstalk and noise suppression
Built-in solid state TVS (Transient Voltage Suppressor) for surge protection
Wave Filter Design, Anti-Static Design
Power and video signals transmit over one twist pair cable
60 dB crosstalk and noise immunity
Exceptional interference rejection
ABS engineering plastic housing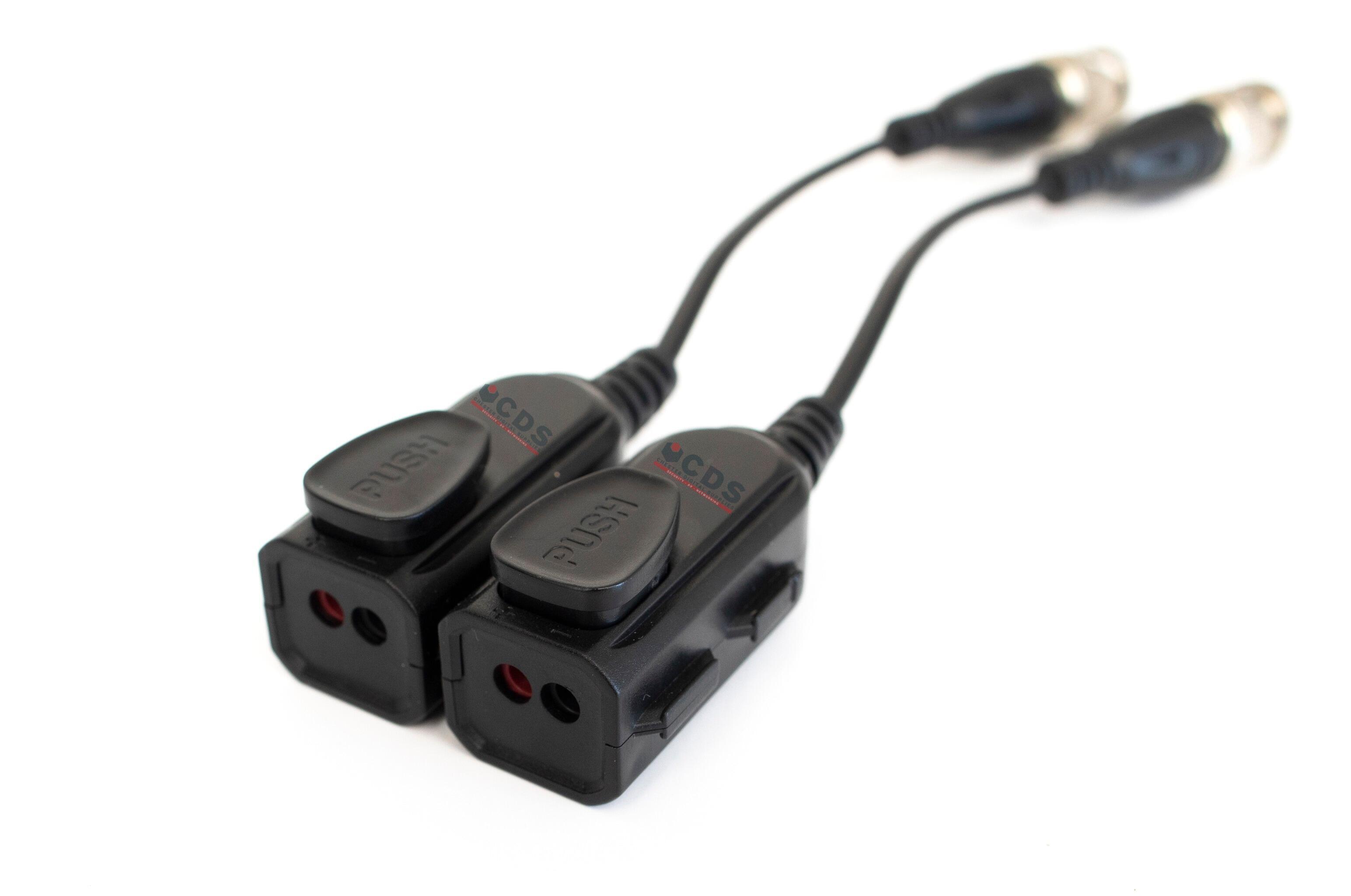 Share the love with your friend
Complete the form below and we'll email your friend about this product
You'll earn 0 reward points with this purchase.
Be one of the first to know!
We're sorry we're out of stock but we can let you know as soon as it's available if you enter your email address below.
Hayden Single Channel POC & HD CCTV Video Balun is a device used in video surveillance systems to transmit high-definition (HD) video signals and power over a single twisted pair cable. Let's break down the key components of this description:
Single Channel: This refers to the fact that the balun is designed to handle a single video channel, which typically means transmitting video from a single security camera. In more complex systems, multiple baluns might be used to transmit video from multiple cameras.
POC: POC stands for "Power Over Coax" or "Power Over Cable." It's a technology that allows both video signals and power to be transmitted over the same cable. In the context of a POC & HD CCTV Video Balun, this means that the balun is capable of carrying both the video signal and the necessary power to the camera over a single twisted pair cable.
HD CCTV: HD CCTV stands for "High-Definition Closed-Circuit Television." It refers to the use of high-resolution cameras and recording systems in video surveillance, which allows for clearer and more detailed video footage compared to standard-definition systems.
Video Balun: A video balun is a device used to convert a video signal from its standard format (e.g., analogue) into a different format that can be transmitted over a different type of cable (e.g., twisted pair cables commonly used in networking). Baluns are used to extend the reach of video signals and to maintain signal quality over longer distances.
Hayden Single Channel POC & HD CCTV Video Balun is a specialized device used to transmit high-definition video signals and power from an HD CCTV camera over a single twisted pair cable using Power Over Coax technology. 
This simplifies the cabling setup and can make installations more cost-effective and efficient, especially in situations where running separate cables for video and power would be cumbersome or impractical.

Spec Sheet