TRIAX Ethernet over Coax Gigabit Kit
Triax
TRIAX Ethernet over Coax Gigabit Kit
Triax
TRIAX Ethernet over Coax Gigabit Kit
Simple TV & Data Distribution with a Gigabit network over existing coax cables TEoC GigaKit 
The Smart Choice :-
Enjoy fast, stable, reliable and safe ethernet around the home using existing TV coax cable and TV points. 
Boost Home Entertainment Networks Laptops, Smart TV's, Gaming Consoles all require a fast and reliable broadband connection to maximise their potential. 
TRIAX TEoC GigaKit uses G.hn technology. G.hn Technology G.hn is an ITU standard used to deliver High Speed Broadband over legacy cabling. With the growing demands on home entertainment networks, the technology enables performance levels which Wi-Fi solutions are often unable to meet. Goodbye Wi-Fi Dead Spots Connect places Wi-Fi cannot reach with IP over Coax. 
The TEoC GigaKit enables fast and strong ethernet signals in rooms far from the router or those affected by thick or foil insulated walls. Perfect for MDU installations Overcome bandwidth congestion in MDU's. 
Simple to install with Plug & Play technology One button push to pair devices. Easy to use GUI.
In The Box 1 x Controller, 1 x PoC Receiver, 1 x TV + Data Combiner, 1 x 48V PSU for PoC (Power over Coax). Additional TEoC Receivers required to expand Network. TV + Data Combiner to be used with GigaKit to diplex TV Signal into the Network. Simply add / attach a Wi-Fi Access Point to the TEoC Receiver for improved in-room Wi-Fi
SKU :- 310500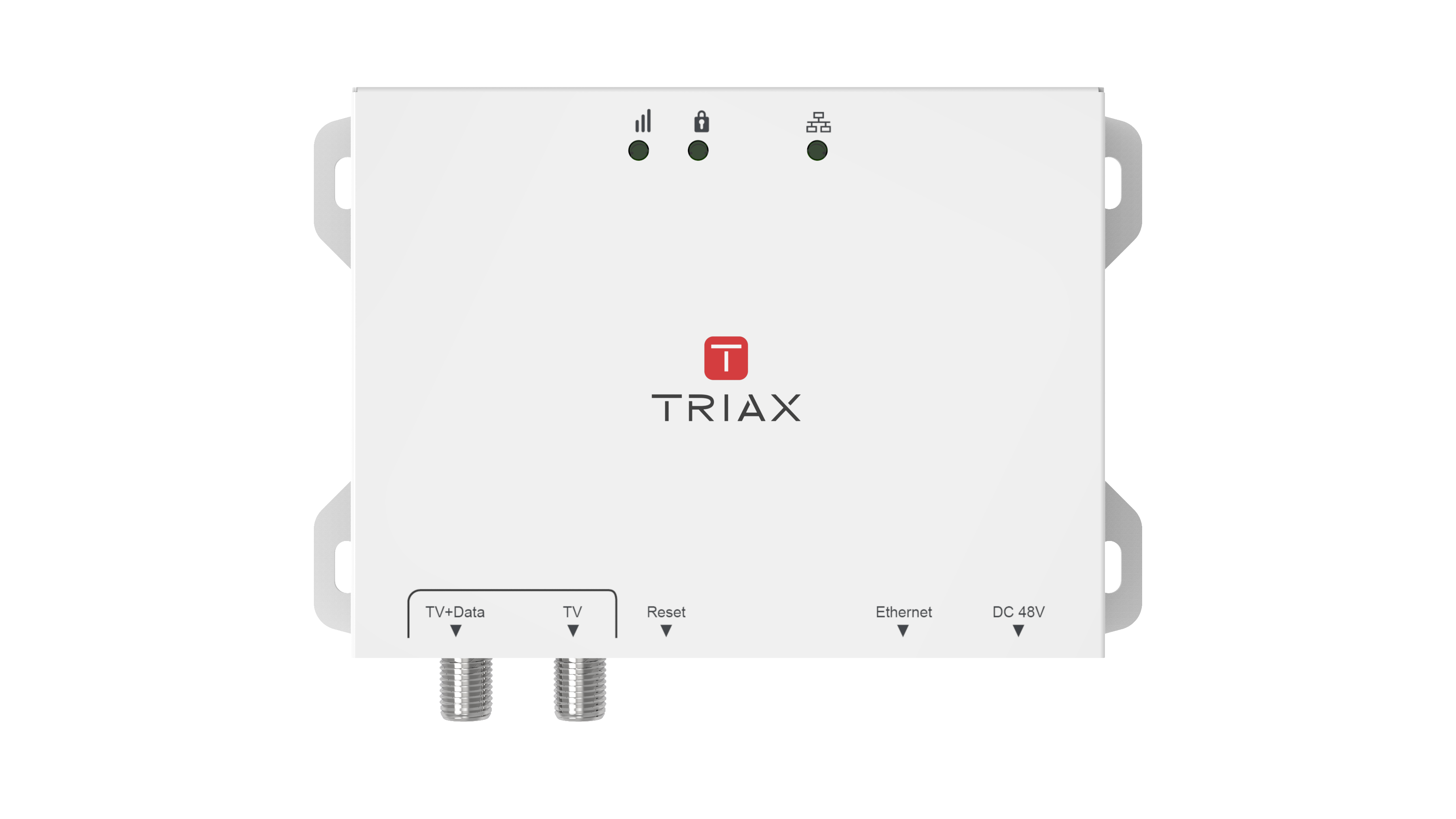 Share the love with your friend
Complete the form below and we'll email your friend about this product
You'll earn 0 reward points with this purchase.
Be one of the first to know!
We're sorry we're out of stock but we can let you know as soon as it's available if you enter your email address below.
Triax TV and data distribution with a Gigabit network over existing coaxial cable infrastructure is a technology and networking solution that leverages the existing coaxial cable television (TV) infrastructure to provide both high-speed data and television services. This technology is often used by cable providers to offer faster internet connections and additional services to their subscribers without the need for extensive rewiring.
Coaxial Cable Infrastructure: Coaxial cables are traditionally used for transmitting television signals. Many homes and businesses already have coaxial cables installed for this purpose. These cables are capable of carrying a wide range of frequencies, making them suitable for transmitting data as well.
Gigabit Network: The term "Gigabit network" refers to a network with the capacity to transmit data at speeds of up to 1 gigabit per second (1 Gbps). This is significantly faster than older cable internet technologies.
Technology and Hardware: To enable data and TV distribution over existing coaxial cables at Gigabit speeds, providers use advanced networking equipment and modems that are designed for this purpose. This may include DOCSIS (Data Over Cable Service Interface Specification) 3.1 or later, which is a standard for transmitting data over coaxial cables.
Data Transmission: Data, including internet data, is transmitted over the coaxial cables using these advanced technologies. This allows for high-speed internet access with Gigabit speeds, making it suitable for streaming, online gaming, and other bandwidth-intensive activities.
TV Distribution: Television signals can also be transmitted over the same coaxial cables. This is often done using IPTV (Internet Protocol Television) technology, which converts TV signals into data packets that can be sent over the network. Subscribers can then receive TV channels and video-on-demand services via their internet connection.
Quality and Bandwidth Management: Providers can manage the quality of service and allocate the necessary bandwidth for both data and TV services to ensure a seamless user experience.
Subscriber Equipment: Subscribers typically need a modem or gateway that is compatible with the Gigabit network over coax. This equipment can be provided by the service provider or purchased by the subscriber.
Installation and Upgrade: If the existing coaxial cable infrastructure is not already capable of supporting Gigabit speeds, upgrades may be required, such as replacing older cables and connectors with higher-quality ones.
No new cables required Create a high speed data network using existing TV coax cables. Less disruption for your clients. 
Stay connected with wired connectivity For a fast, stable and reliable Gigabit network. Many devices with built-in Wi-Fi can suffer poor connectivity as the router is often in a different location. TEoC GigaKit delivers router speeds quickly and easily without installing new cabling. 
Immune from interference Shielded TV coax cables are not affected by devices around the home. 
Reduce buffering Faster downloads and content sharing (including HD & 4K content) to other devices on the home network. 
Passes Terrestrial TV signal TEoC GigaKit allows both TV and data to be carried simultaneously through the coax network. 
Connect a Wi-Fi Access Point Increase coverage around the home and eliminate Wi-Fi dead spots. 
Online Gaming Fast and stable connection with lower latency creates a more immersive experience for gamers with smoother game play and faster response times. 
Supports long cable runs Access beyond the reach of Wi-Fi or CAT6a cable. 
Save time and improve margins Unleash the power of existing coax cables, quick plug & play set-up and easier cable termination. 
Easily Expandable Create a basic network, then just add the required number of receivers for whole home coverage. 
Up to 8 TV Points can be supported from a single Controller for fast, reliable broadband connectivity in up to 8 locations.