Reyee Gigabit Unmanaged Switch
Ruijie | Reyee
Reyee Gigabit Unmanaged Switch
ES100 Series Unmanaged Switch 

Easy, Reliable and Cost Effective 
With limited lifetime free Ruijie cloud service, Reyee switches are easy to set up and manage, making them the perfect choice for growing SMB business 
Ruijie Reyee RG-ES105GD/ RG-ES108GD are cost-effective unmanaged access switches with metal casing designed for SMEs. The RG-ES100 Series supports plug-and-play without requiring any configuration, which can meet the requirements of various scenarios such as wired, wireless and surveillance networks.
Highlight Features
Unmanaged switch, which is visible on Ruijie Cloud APP
Large buffer for smooth data transmission
Intelligent PoE management
High network reliability
High-quality design
Adaptation to various scenarios
3 year Warranty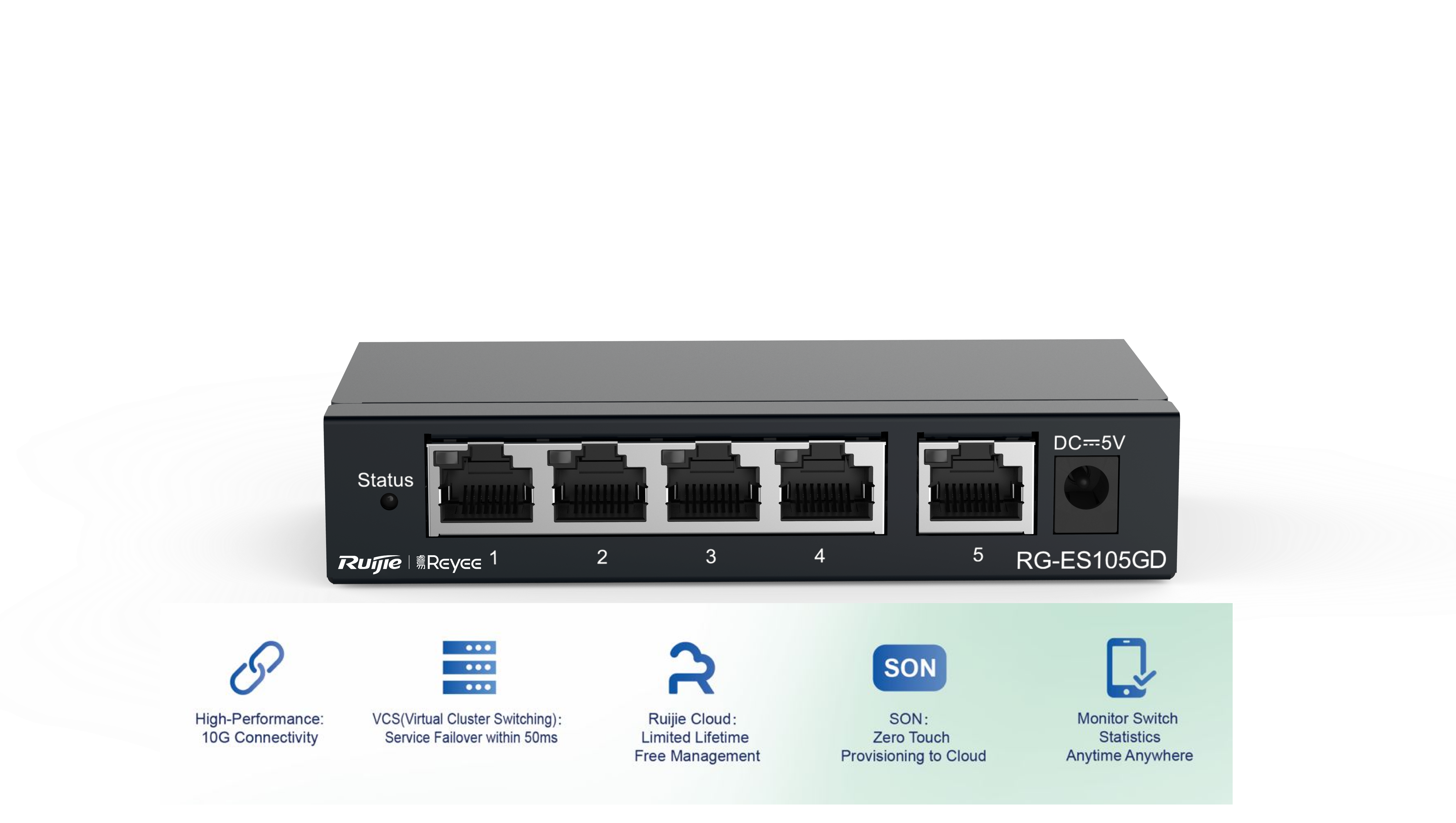 Share the love with your friend
Complete the form below and we'll email your friend about this product
You'll earn 0 reward points with this purchase.
Be one of the first to know!
We're sorry we're out of stock but we can let you know as soon as it's available if you enter your email address below.
Ruijie \ Reyee unmanaged switch's, also known as an unmanaged network switch, is a type of network switch that operates at the data link layer (Layer 2) of the OSI (Open Systems Interconnection) model.
It is called "unmanaged" because it lacks the advanced management features found in managed switches. 
Key characteristics of unmanaged switches:
Plug-and-Play: Unmanaged switches are designed to be easy to set up and use. You can typically just plug them into your network, and they will begin forwarding network traffic without any configuration.
No Configuration Options: Unlike managed switches, which offer features like VLAN support, Quality of Service (QoS) settings, and SNMP (Simple Network Management Protocol) for monitoring and management, unmanaged switches have no user interface or configuration options. They have a fixed set of settings that cannot be adjusted.
Cost-Effective: Unmanaged switches are generally less expensive than managed switches, which makes them a cost-effective choice for small-scale and simple network setups.
Basic Functionality: Unmanaged switches primarily perform the basic function of connecting devices within a local area network (LAN). They use MAC (Media Access Control) addresses to forward Ethernet frames to the appropriate devices on the network.
Small to Medium-Sized Networks: Unmanaged switches are commonly used in small to medium-sized networks, home networks, and environments where simplicity and cost savings are more important than advanced network management features.
No Remote Configuration: Since unmanaged switches lack remote management capabilities, any changes or troubleshooting typically require physical access to the switch.
While unmanaged switches are straightforward and easy to use, they are not suitable for all network scenarios. In larger and more complex networks, managed switches are preferred because they offer greater control, flexibility, and monitoring capabilities. Managed switches are typically used in enterprise networks, data centres, and other environments where fine-grained control and optimization are essential.